Under
Their Wings
Amid fluctuating COVID-19 measures across Wake County, students with autism find structure at 3 Bluebirds Farm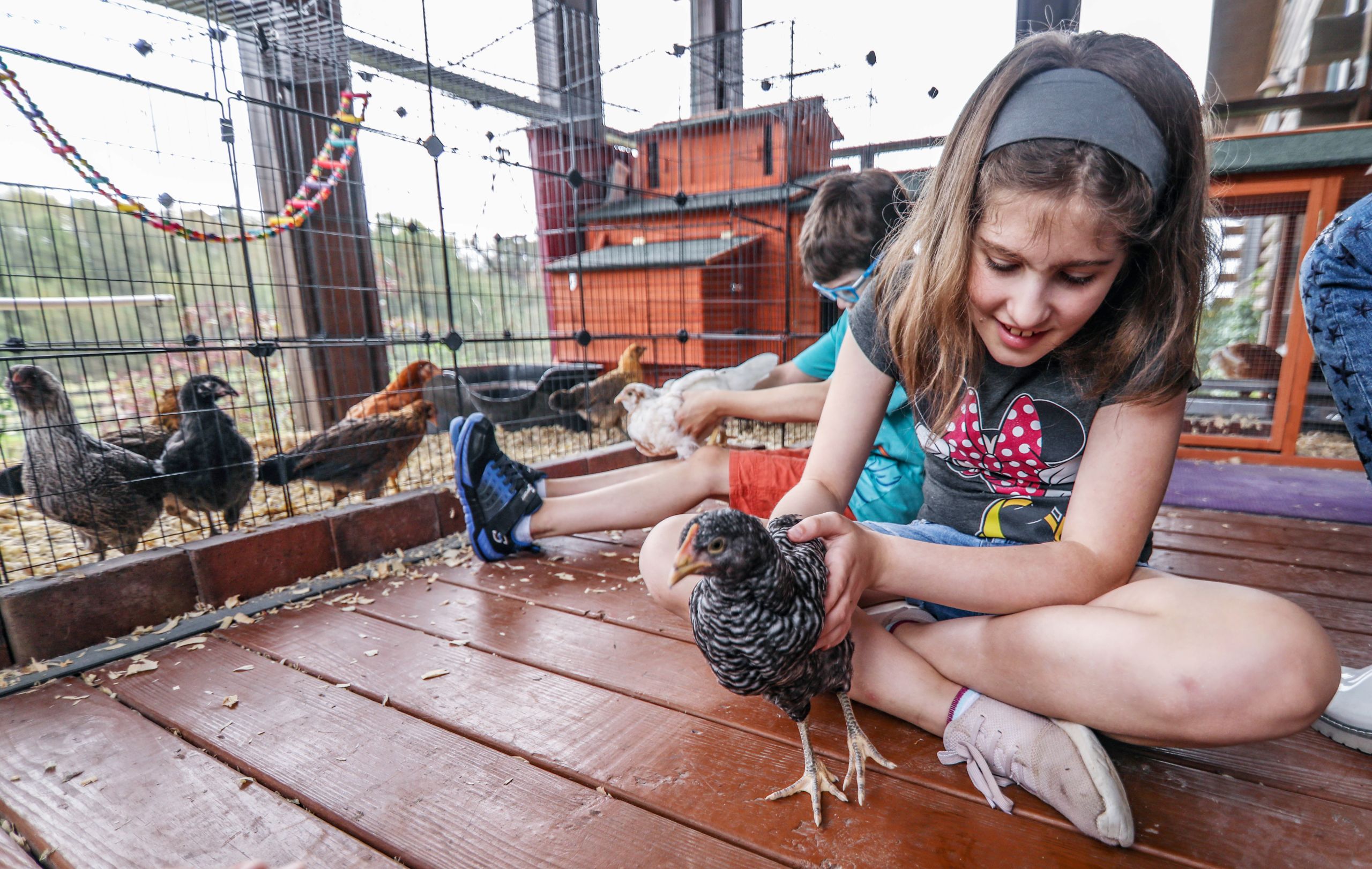 Leanne Menzo spent 100 days learning about autism from a black binder. Her 9-year-old daughter, Addie, was diagnosed with autism at 3 years old, and the binder was given to the family by Addie's doctor. At the time, the family was moving around and doctors everywhere  told Menzo that Addie's case was "complicated."
"The greatest advice they can possibly give you is exposure," Menzo said. "Exposure is key. So you're supposed to take your child out or take your adult out, and you're supposed to expose them to a world that is not exactly ready for them."
While exposure to the outside world has been limited during the COVID-19 pandemic, students with autism face a new set of challenges that have been exacerbated by fluctuating measures regarding hybrid instruction in the Wake County School System. Approximately one year after the onset of the pandemic, parents with students in special education programs still find themselves left behind by Wake County.
Despite the challenges of enduring a pandemic as a parent, Menzo was assisted by 3 Bluebirds Farm, a nonprofit south of Raleigh. Three years ago, Menzo discovered the farm and found comfort in the fact that the activities of the camp revolved around Addie and not her diagnosis. The nonprofit is dedicated to assisting children and young adults with autism in a year-round camp setting, which has helped individuals with autism who are struggling throughout the pandemic.
Erin O'Loughlin, the founder of 3 Bluebirds Farm and the year-round Camp Bluebird which Addie attends, feel the issue of fluctuating special education funding and aid stretches beyond Wake County, the largest school district in North Carolina, and has only been exacerbated by the pandemic. 
"I can, without a doubt, say this is not just a Wake County problem. This is a nationwide problem," O'Loughlin said. "And what COVID-19 did was basically shine a light on a problem that's always been here, and that is special needs classes and special needs services do not get enough funding."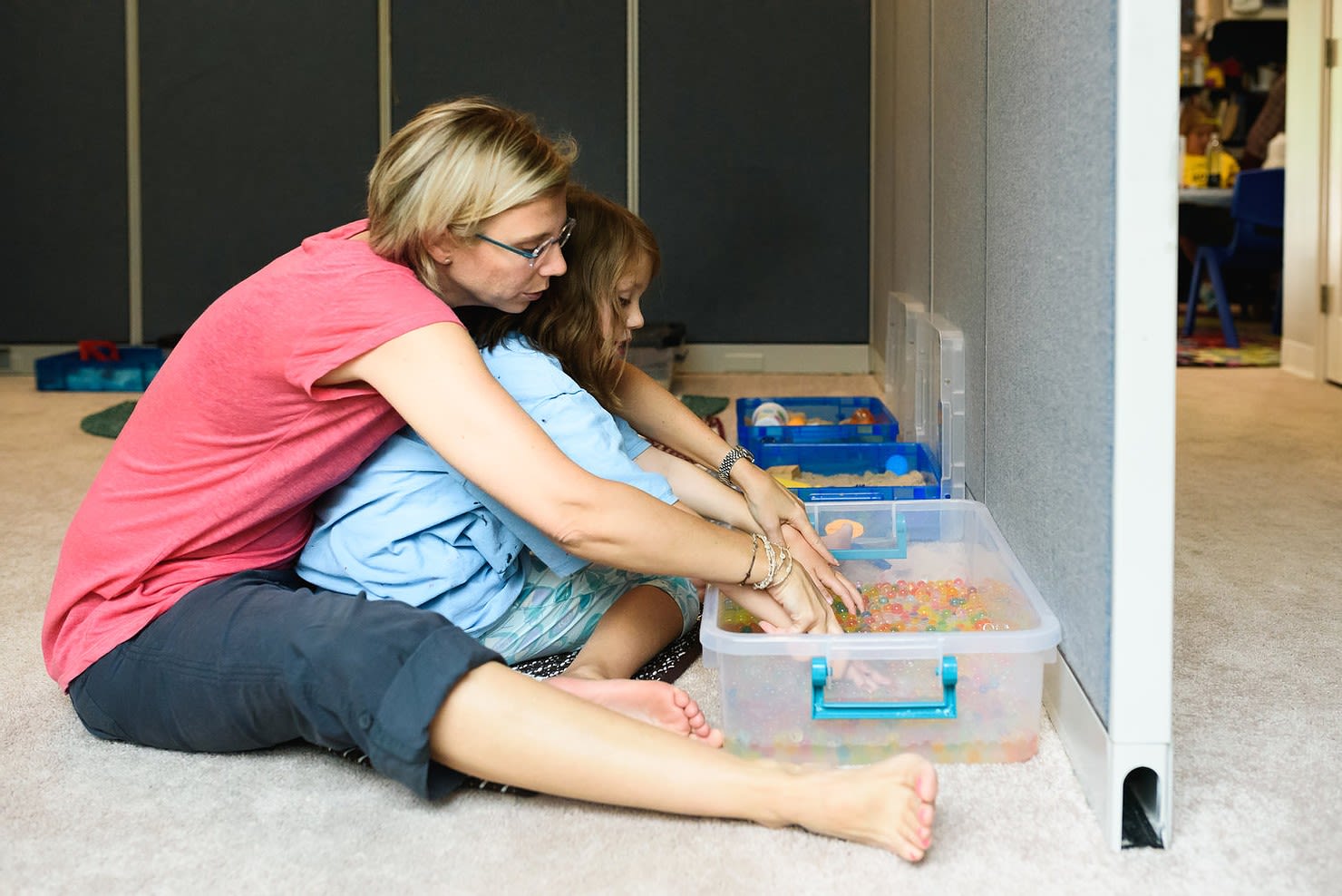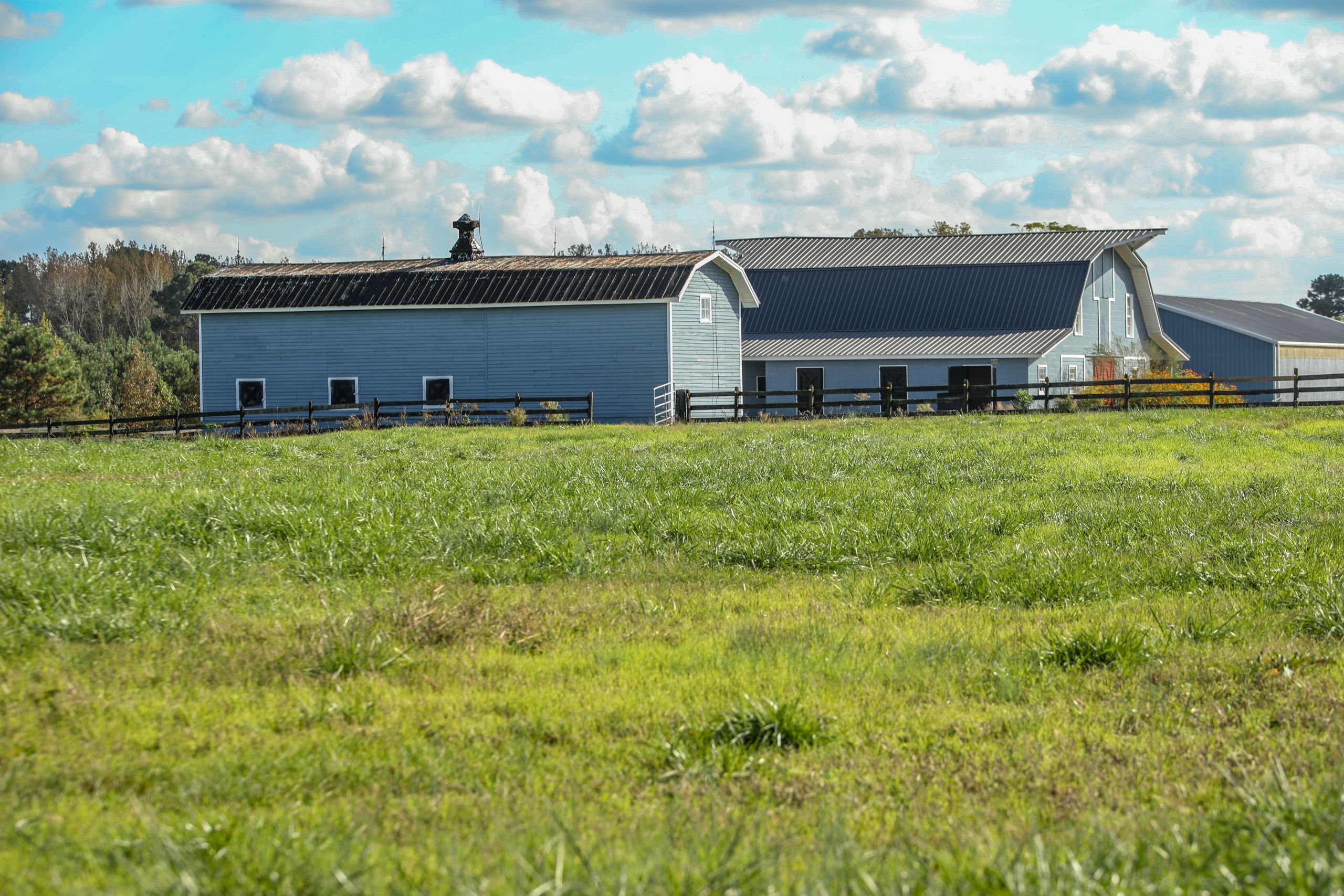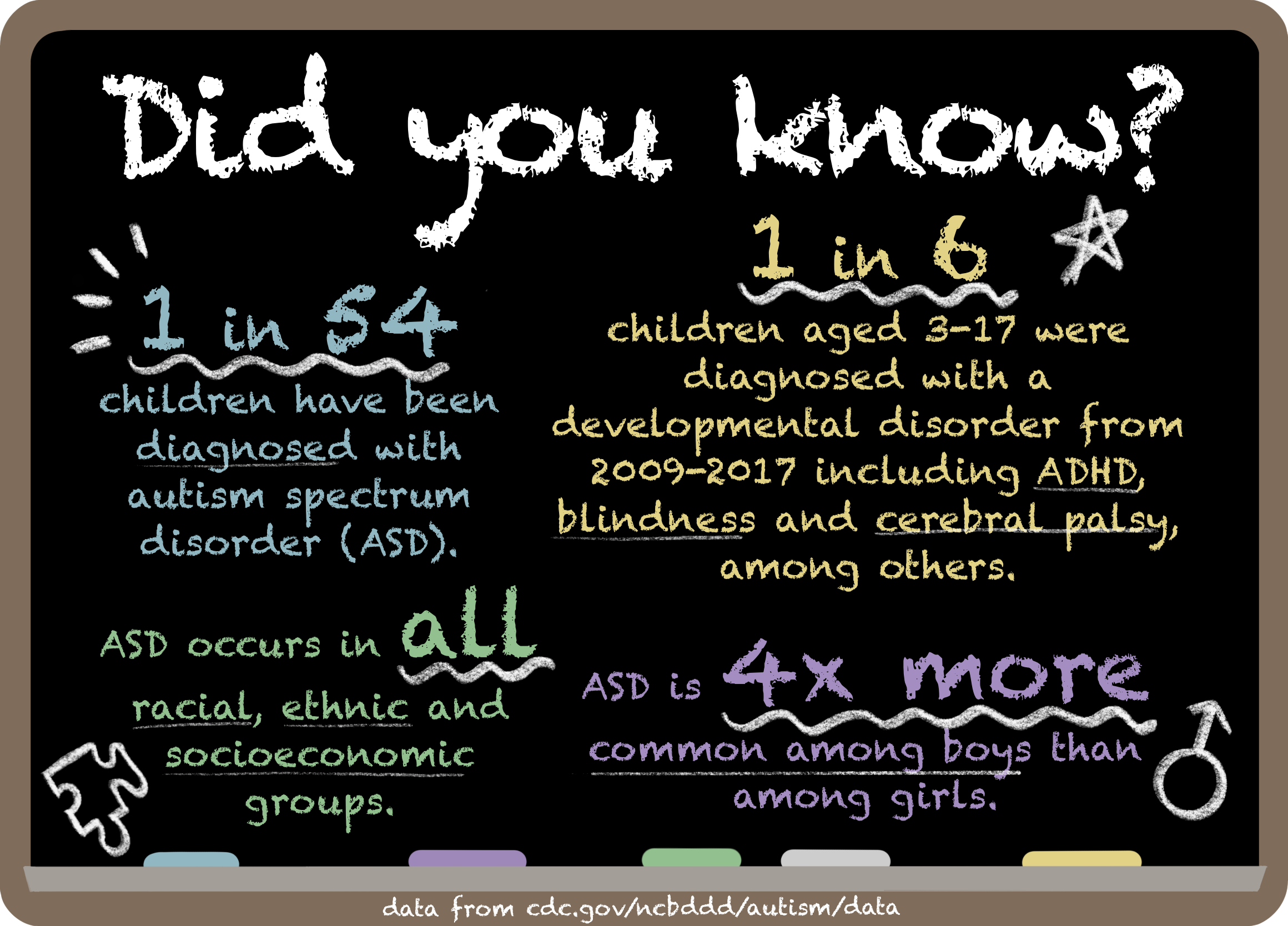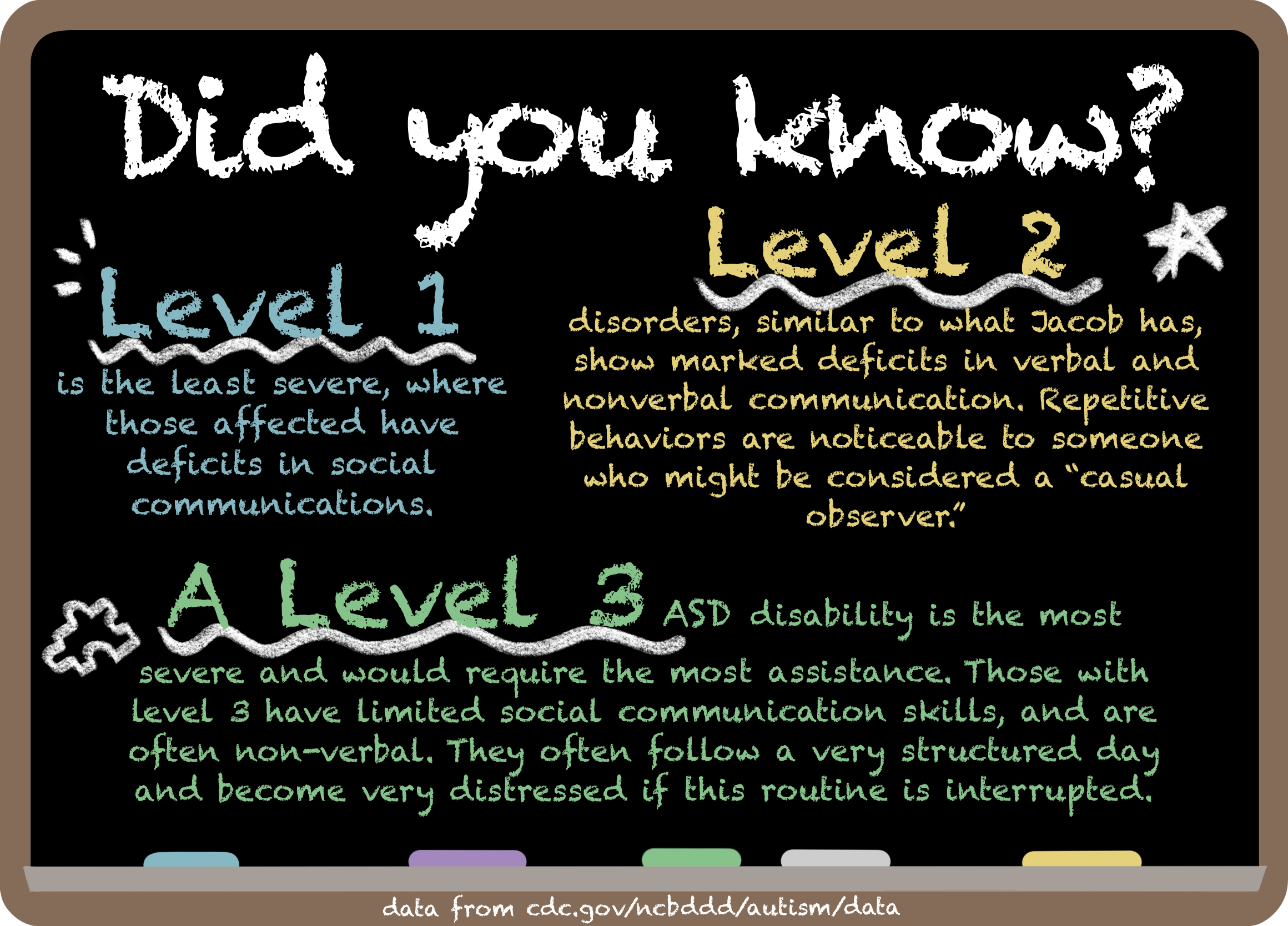 A bird's-eye view
Autism Spectrum Disorder, or ASD, is considered to be a spectrum because no two diagnoses of autism are the same. This provides a unique challenge to families and doctors, as there are many ways the disability manifests itself. The disorder affects the development of the brain, often in areas of social interaction, communication skills and cognitive function. 
With more information on autism, doctors are better able to provide a diagnosis earlier in a child's life. The earlier a diagnosis, the sooner the correct resources can be given to the child and their family. For Mary Spears and her son, Jacob, who attends 3 Bluebirds Farm, early diagnosis was key for helping his development.
Spears knew her son had developmental issues when he was 9 months old. Jacob, who is now 9 years old, did not walk until he was 2 and did not talk until he was 5. At first, Jacob communicated with crying and tantrums, Spears said.
"That was very challenging because I had never left him with anyone but my mom. He is kind of physically demanding." Spears said. "I could tell that he wanted to. He was trying. He just couldn't form the words."
Now, Jacob does talk. Spears said it's not a lot, but it's enough to know what he wants and needs.
"We're happy because I know there are some kids that are always nonverbal," Spears said.
Stephen Byrd, a disability classroom management specialist and an Elon associate professor of education, said for people with autism, having a structured day can help alleviate the stressors that trigger meltdowns due to the disability. 
Structure, though, is a difficult thing to find during a pandemic. The uncertainty that comes with COVID-19 can cause fear or anxiety, even for non-disabled people. This stress can be intensified for people with autism.
"I think that maybe that has something to do with the nature of the disability," Byrd said. "It can make them very afraid. For someone who is all about structure and is very literal, hearing that 10 million people are going to be sick is very distressing.".
At the farm, campers are given opportunities to spend time outdoors and play with others. According to Andrea Rasmussen, Director of Programs at 3 Bluebirds, group time is essential for children with autism. [Abby Gibbs/Elon News Network].
Scroll through and listen to the sounds of Camp Bluebird
At 3 Bluebirds Farm, camper Daniel enjoys free time outside on a tricycle. The farm, based outside of Raleigh, caters to mostly Level 3 individuals.
Campers play during the 'dance party' at 3 Bluebirds farm.
Pegues comforts camper Diego after becomes briefly overwhelmed. Pegues is thankful that parents "have faith in her" when working with their children at the farm.
Winging it
Last March, Wake County Public Schools suspended in-person classes and shifted the entire school system online because of the coronavirus. This left students with autism and high support needs as well as their parents with few resources to provide their children with a quality education. 
As a result of the pandemic, O'Loughlin and the rest of the 3 Bluebirds team adapted to try to become a better resource for children with autism and their families. Even in the midst of the coronavirus pandemic, O'Loughlin did not want to give up on providing services to children when she felt they needed it the most.
Administrators and volunteers at the farm provide campers with a daily schedule of activities and can work individually with students on incorporating sensory and communication skills into their lives. 
"We're providing the support they need as well and inviting the community into our place so that they can learn about what their needs are and still have a very calm comfort zone for individuals as well," she said.
Arayel Pegues, 19, has worked at the farm since she was 16. Even with a tight schedule, the year-round camp provides her with an opportunity to learn from all campers and to understand their individual needs. 
"They just keep you on your toes. It's really exciting," Pegues said. "You learn different things. I learned about different things with the kids every day because not every case of autism is the same."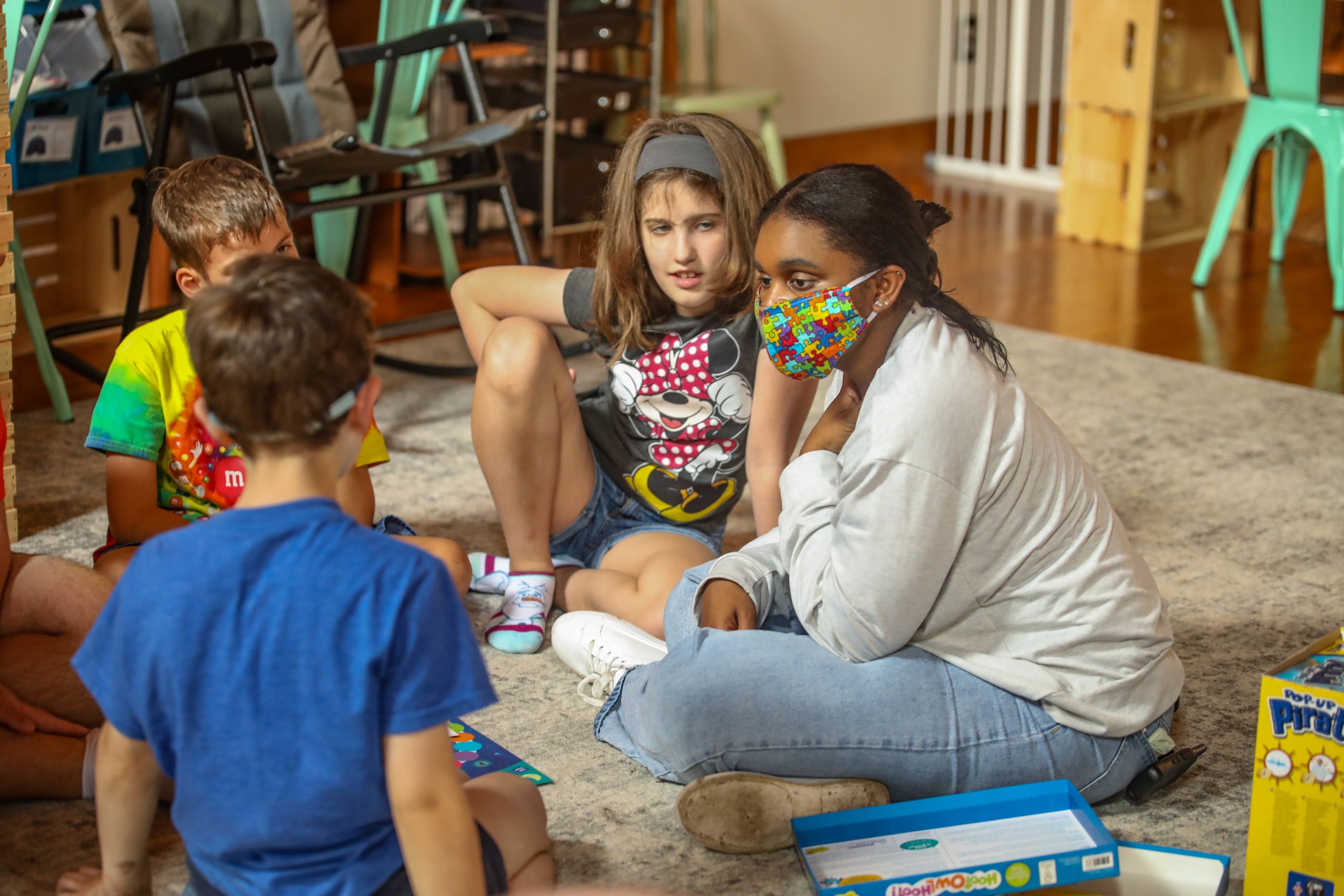 Pegues plays a group game with campers as a part of their team-building and group activity exercises.
Pegues plays a group game with campers as a part of their team-building and group activity exercises.
Listen to Pegues' experience with the campers at 3 Bluebirds Farm.
Dani Lane, Elon assistant professor of education who specializes in inclusive education, said the differences in ways the disability appears in students can affect the way they interact with others and prefer to learn. She said autism also affects the manner in which these students learn during the COVID-19 pandemic. 
Lane said while some aspects of online learning might be more difficult for students with autism, the transition hasn't been bad for all of them. 
"It's hard to put a blanket statement that COVID is negatively impacting all students because it really depends on that student," Lane said. "A lot of it depends on home life as well. If I'm a student with autism and I have my mom at home who's educated and is supporting and providing me the structure I need, I'm probably having a much better experience than if my parents are not at home."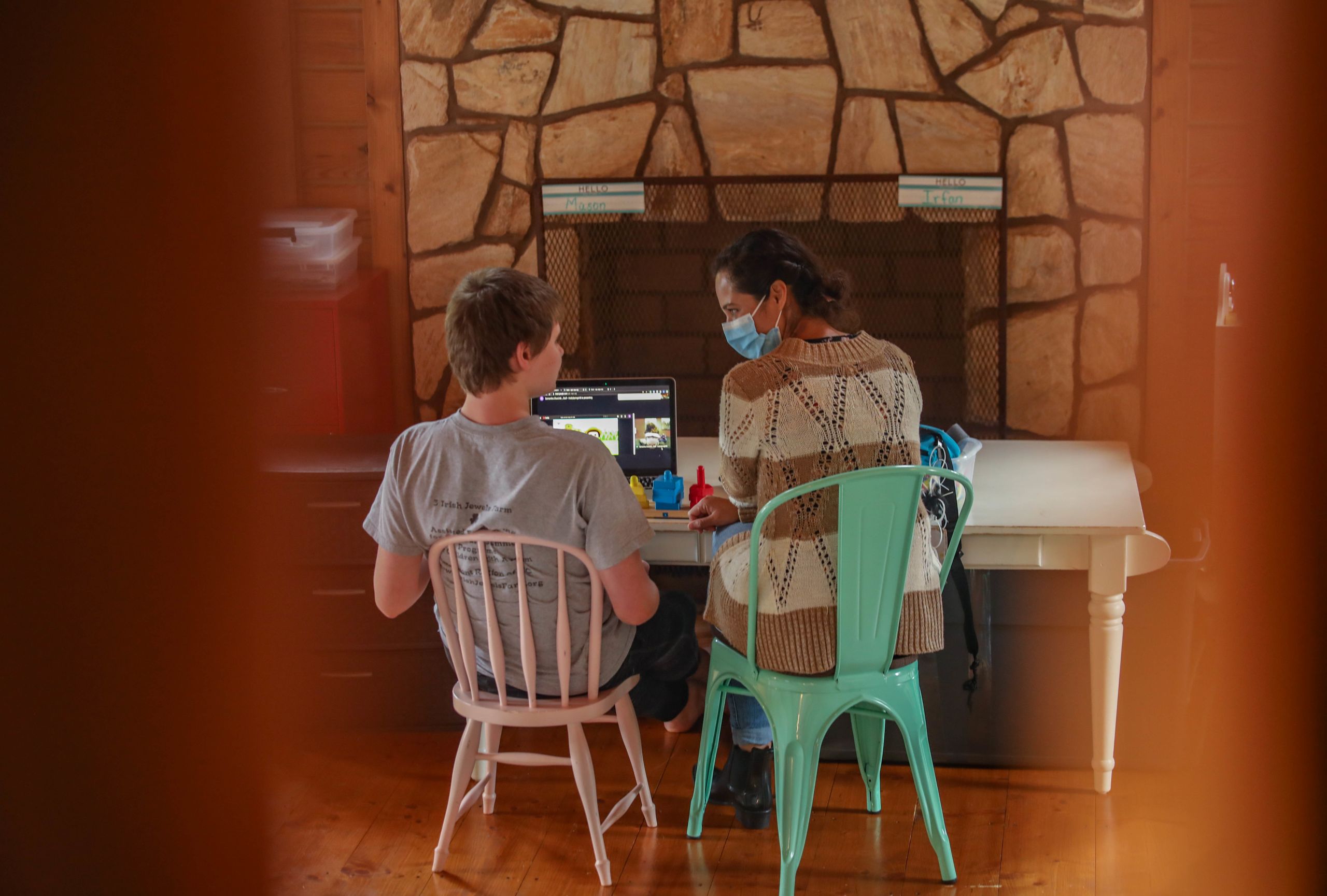 Rasmussen works with O'Loughlin's son, Marcus, on his remote learning activities for the day with his teacher.
Rasmussen works with O'Loughlin's son, Marcus, on his remote learning activities for the day with his teacher.
However, Spears — the mother of Jacob — said the transition to online classes has been anything but easy for her child.
"My son does not do the virtual stuff," she said. "Even when we're sitting with him trying to get him to do 30 minutes in the morning, it just goes to pot most days."
Jacob's parents have tried various ways to make his online classes less overwhelming but have yet to find a solution.
"He tries to touch the keys and then we set up in the dining room. My husband puts a laptop on the side where he can't reach it and we put an external TV there for the monitor. He just sits there for a little bit and then it goes downhill," Spears said. 
His mother recalls countless times she has had to end his classes early after tantrums and meltdowns because of how overwhelming virtual learning is for Jacob.
"And then we've had a couple days where he said he just doesn't want to do it [virtual learning]..."
Listen to hear more about Jacob's experience with online learning.
---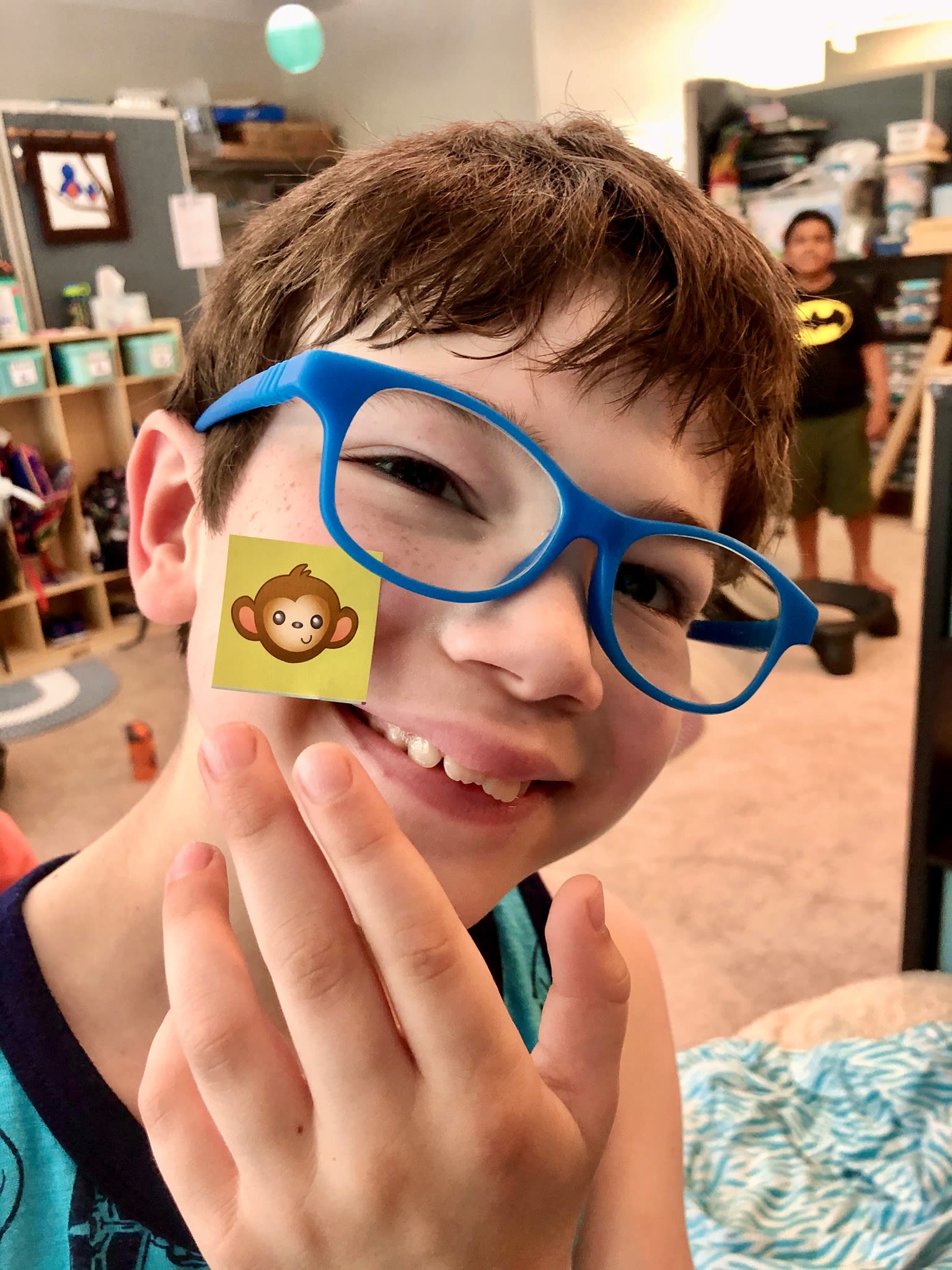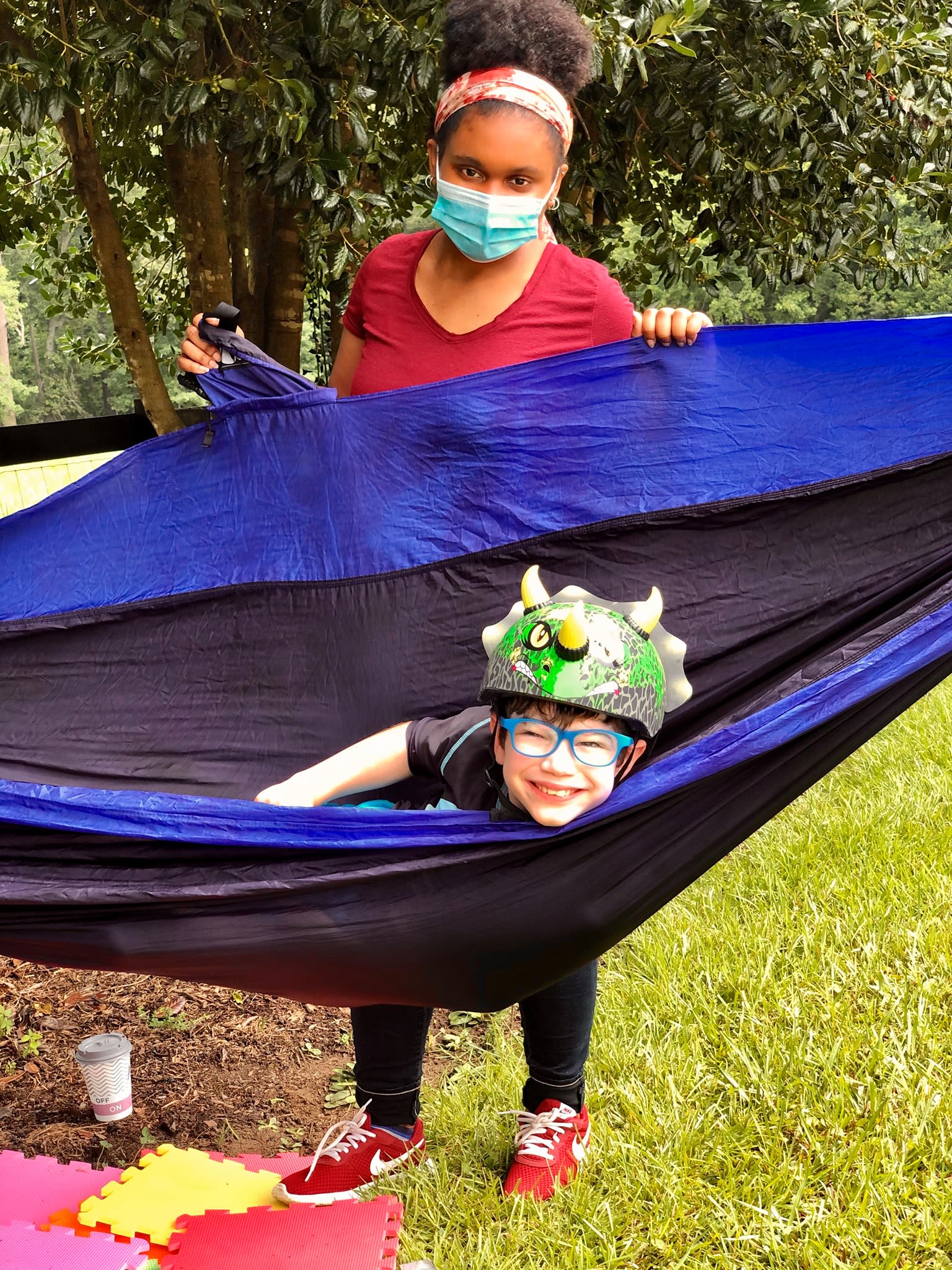 At the farm, students receive mandatory assistance with remote learning from LaTonia McIntyre, a lead program assistant.
Flocking together
Susan Caldwell also feels frustrated with the fluctuating schedule of the Wake County school system when it comes to her son Cameron's education.  Regardless of how she helps her son — who also attends 3 Bluebirds' year-round camp— she knows that there is nothing she can do that will make him sit at a computer. 
"He gets mildly aggressive," Caldwell said. "He does not like having to learn on the computer, so we've had to go through great efforts with Wake County to make them understand that our child is not going to be on the computer for four to five hours a day."
While Caldwell is happy to have Cameron back in the classroom after Wake County recently transitioned to in-person instruction under North Carolina's Plan B, other students had the option to remain in the county's virtual academy for the rest of the year. 
Still, Caldwell wants Cameron to abide by the school's COVID-19 protocols and wear a mask, which she has been working on with him at home. 
"It's a heroic effort for parents, for people like myself to try to encourage my child to keep the mask on," Caldwell said. "Even though my physician has signed off on him not having to wear a mask, I still think it's really important that they do."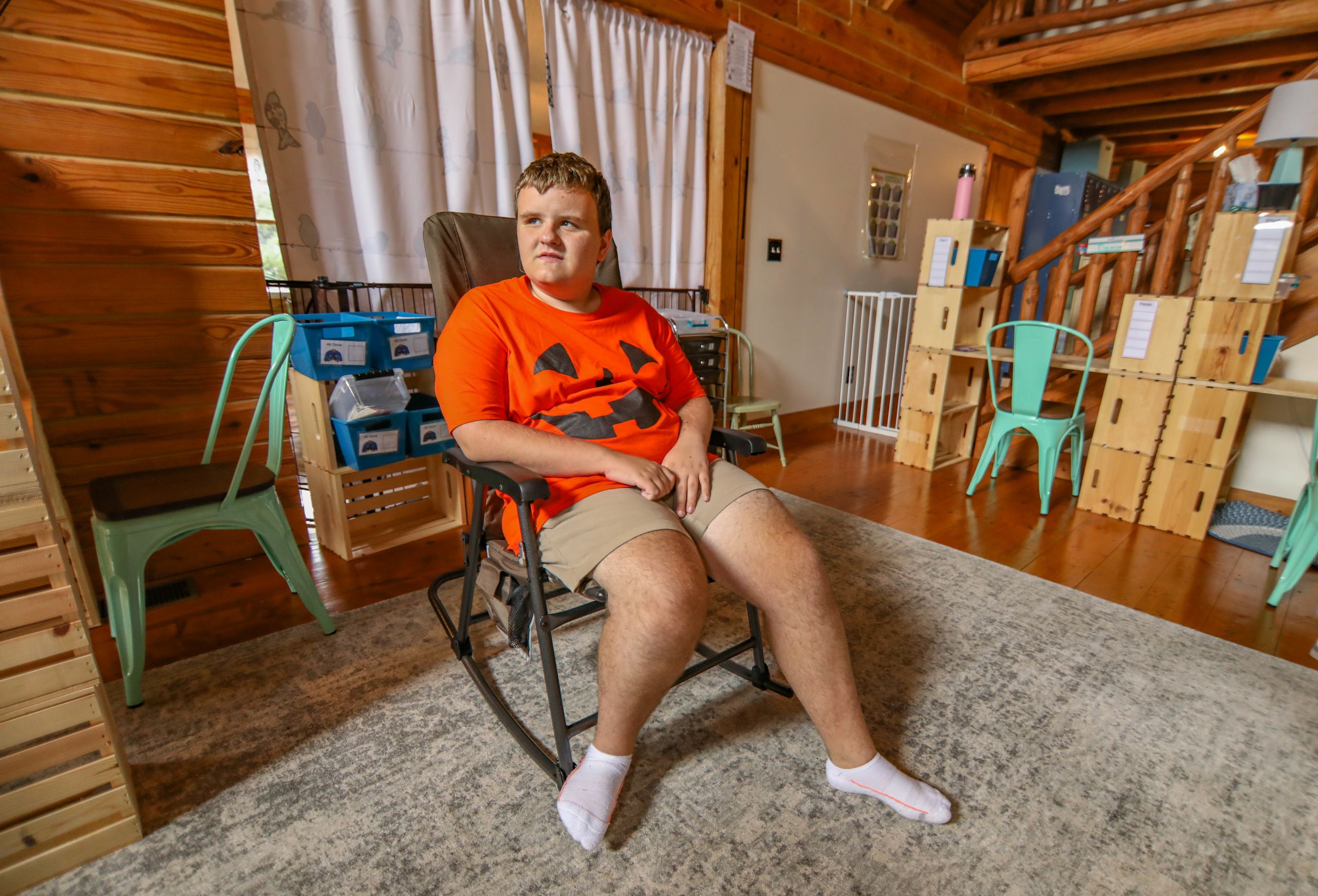 Cameron sits inside the main activity room at the farm. [Abby Gibbs].
Cameron sits inside the main activity room at the farm. [Abby Gibbs].
Caldwell is dissatisfied with the efforts of Wake County to accommodate children with disabilities in a remote education setting, which has "let a lot of families down."
While she is appreciative of the teachers who have gone above and beyond for Cameron, she wants to increase inclusivity within the school system. She is planning on running for a Wake County school board seat in 2022 to advocate for her child.
"There needs to be some people who have a positive influence there, people who have kids just like Cameron, my son, on the school board who can really stick up for those kids."
Ruffled Feathers
While COVID-19 has constrained students' in-person instructional time, Wake County still faces budgetary fluctuations from the pandemic that can affect other services children with autism can receive. 
In district's the 2020-21 budget allocated only $3,218,634 of state funding for children with disabilities, a decrease of 16% from the previous year's $3,867,878. 
This was a decrease from the 2019-20 categorical allotment of $3,867,878 by the state for Wake County Public Schools. 
Beside the lack of state funding and for services for children with disabilities, a $41 million decrease in federal funding is apparent in the 2020-2021 budget proposal. 
In a letter accompanied to Wake County Public Schools' budget for 2020-21, School Board Chair Keith Sutton wrote that COVID-19 would hamper the services provided by the schools.
"We also know it falls far short of the educational needs exposed by this pandemic," Sutton wrote. 
Multiple Wake County Public School System communications officers did not respond to Elon News Network's repeated requests for comment in time for the publishing of this article.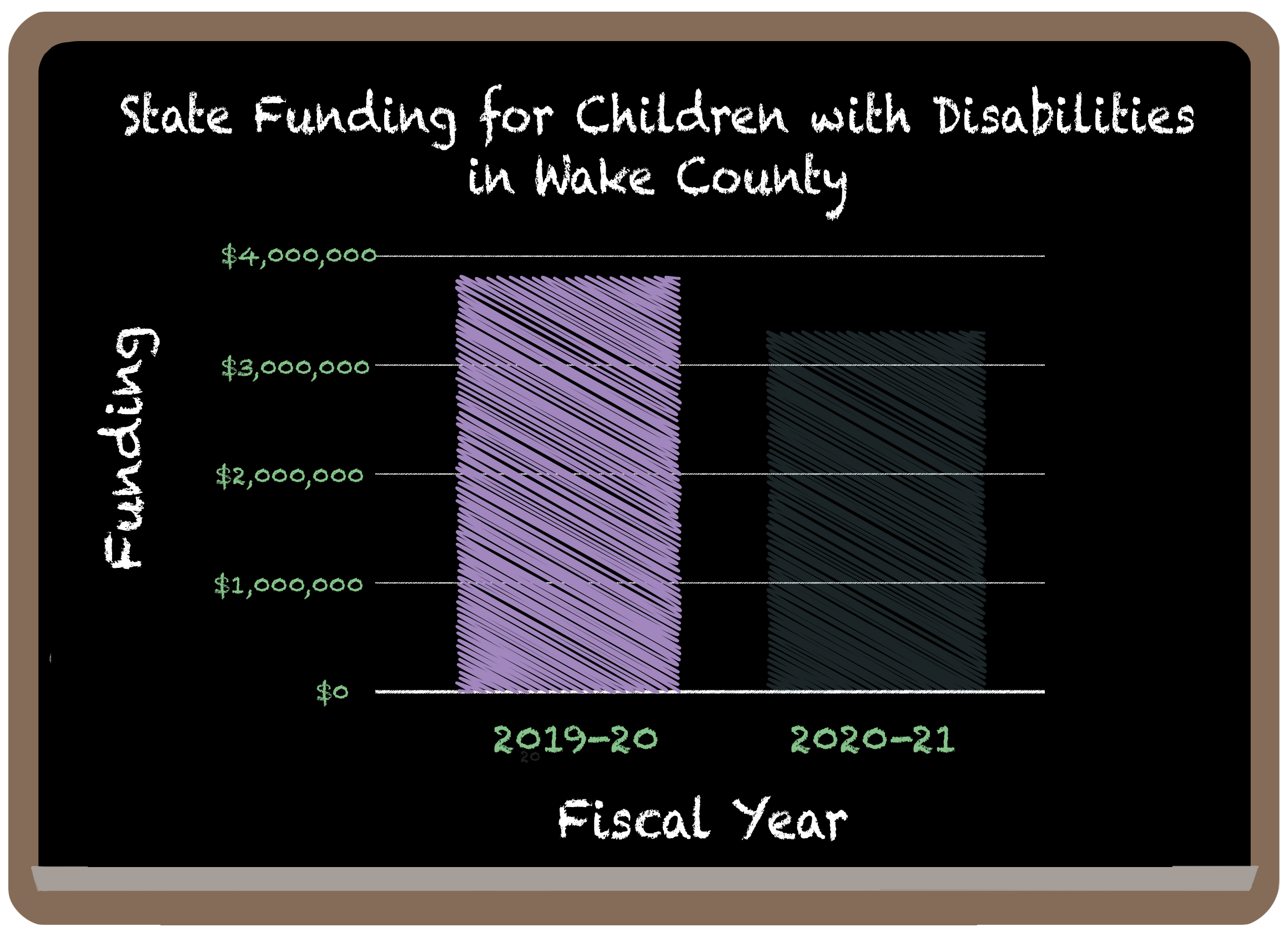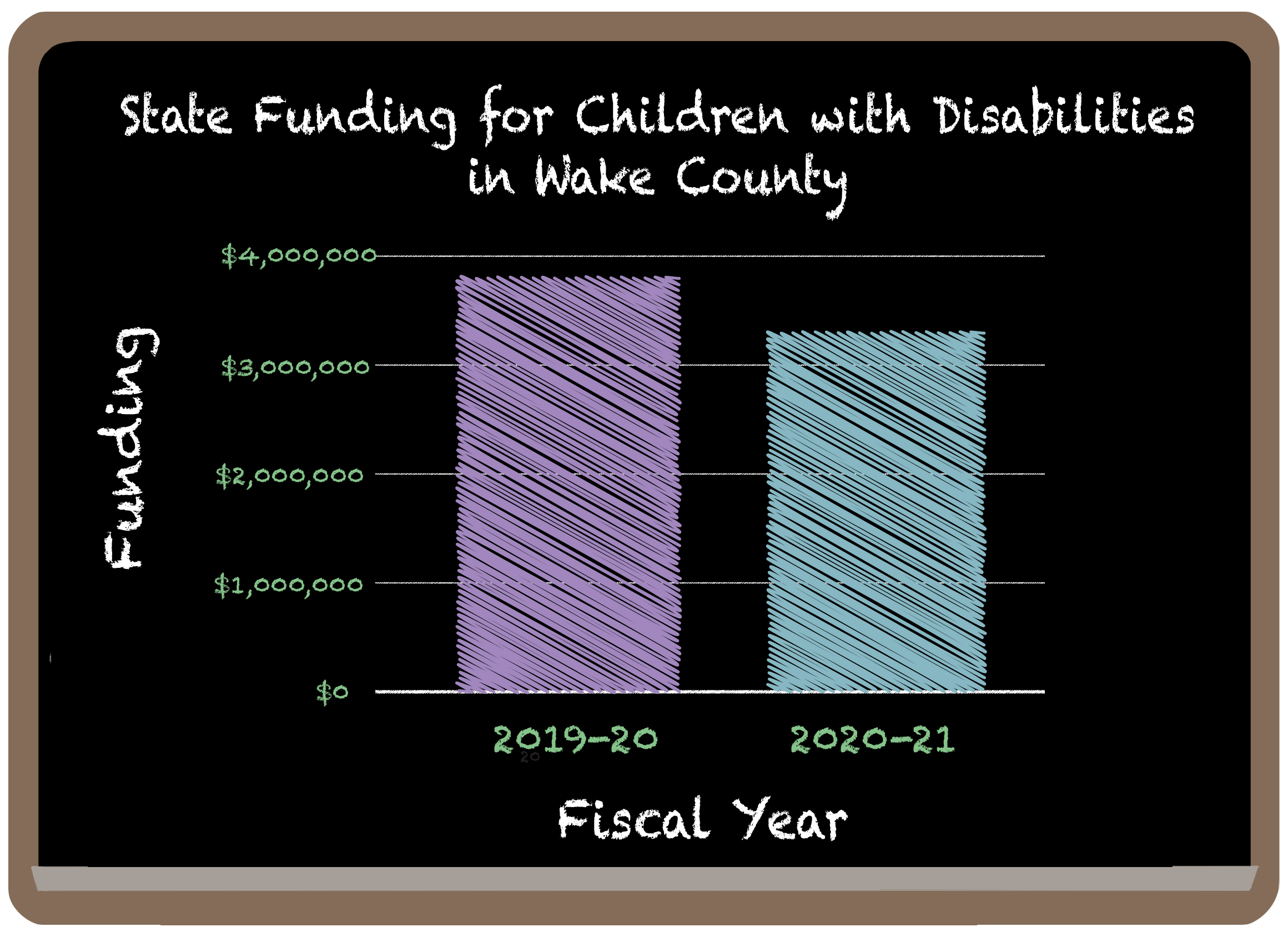 Back to the nest
For O'Loughlin, the lack of funding and resources for children with autism is personal. After her son was diagnosed with autism, she sought ways to help individuals with high-support needs such as her son and other people with autism find a way to seek additional services and care. O'Loughlin eventually settled on starting her own nonprofit, Camp Bluebird, a year-round camp designed to help children with autism. 
The farm also includes other opportunities such as Take Flight clubs, which work with teenagers with autism. Now, Camp Bluebird has transitioned to 3 Bluebirds Farm. After O'Loughlin moved to the property last November, the farm is still in the process of reconfiguring the space to best serve children with autism that have high support needs. 
This fall, 3 Bluebirds put on a Trunk or Treat as a fundraiser for the nonprofit which was held at the farm.
Pegues, the farm's 19-year-old program assistant, was stunned when she saw the nonprofit's new space while she helped her mother, who is a lead program assistant for 3 Bluebirds Farm.
"I actually started to cry. Knowing how long Erin and her family and Andrea and my mom have been wishing for a place like this to come here. It's been eight long years, and they really have to work so hard," Pegues said.
With vegetable gardens scattered around the farm's main building, as well as a cage with two rabbits and a chicken coop, children with autism and their families can explore a myriad of sensory activities. Not only can this space provide more opportunities as the children grow up, but the farm's volunteers and workers like Pegues are equally invested in their future.
"It's kind of emotional too, because you know them since they were so little, and then when they grow up, it's like three or four years and now you're like, 'wow they're really growing up and they're doing a lot better,'" Pegues said. 
Students help grow some vegetables and other produce in one of the many planter boxes located on the farm. [Abby Gibbs]
Scroll through and listen to the sounds from 3 Bluebirds Farm
Daniel and Jacob ride together on a tricycle.
Campers play outside during their break.
Jacob holds one of the farm's therapy chickens. [Abby Gibbs] .
At the farm's Trunk or Treat event, tractors and Halloween decor is set up. [Abby Gibbs].
The campers enjoy lunch time at the farm.
Diego plays with a puzzle.
Taking flight
O'Loughlin's goal for 3 Bluebirds Farm was to make children with autism and their families feel at home when they walk onto the farm. 
Spears and her son felt at home almost immediately. On their initial visit to Camp Bluebird five years ago, Spears recalls Jacob throwing rice, used in a sensory activity, across the room when first meeting O'Loughlin...
Listen to hear more about Jacob's experience
When Jacob put his hands in the rice and started throwing it everywhere, Spears admits she was worried he wouldn't get into Camp Bluebird and that they didn't have any other options. However, O'Loughlin has a child with autism, so Spears said she can better understand Jacob's behavior. 
"I know that teachers who teach these kids every day obviously have a level of understanding because I deal with it every day," Spears says. "But it's different when you're a parent and you deal with it 24 hours, 365 days a year. When I started freaking out about him throwing the rice, she was like, 'it's not a big deal' and told me not to worry about it."
When the pandemic disrupted schedules across schools in Wake County and the rest of the nation, O'Loughlin immediately sought ways to provide services for her campers.
"Erin came and said, you know, we're gonna make an attempt. Our kids need something, we're gonna wear the masks. We're gonna take temperatures. And I was like, 'thank the Lord' because the kid needed to get into some kind of routine," Spears said.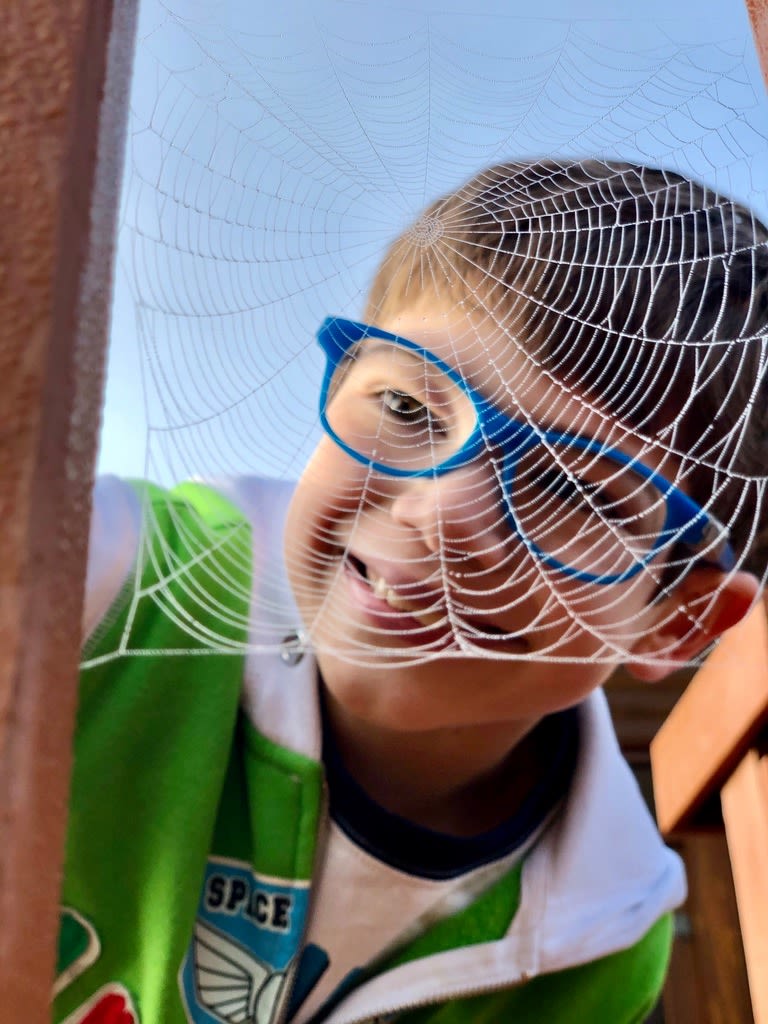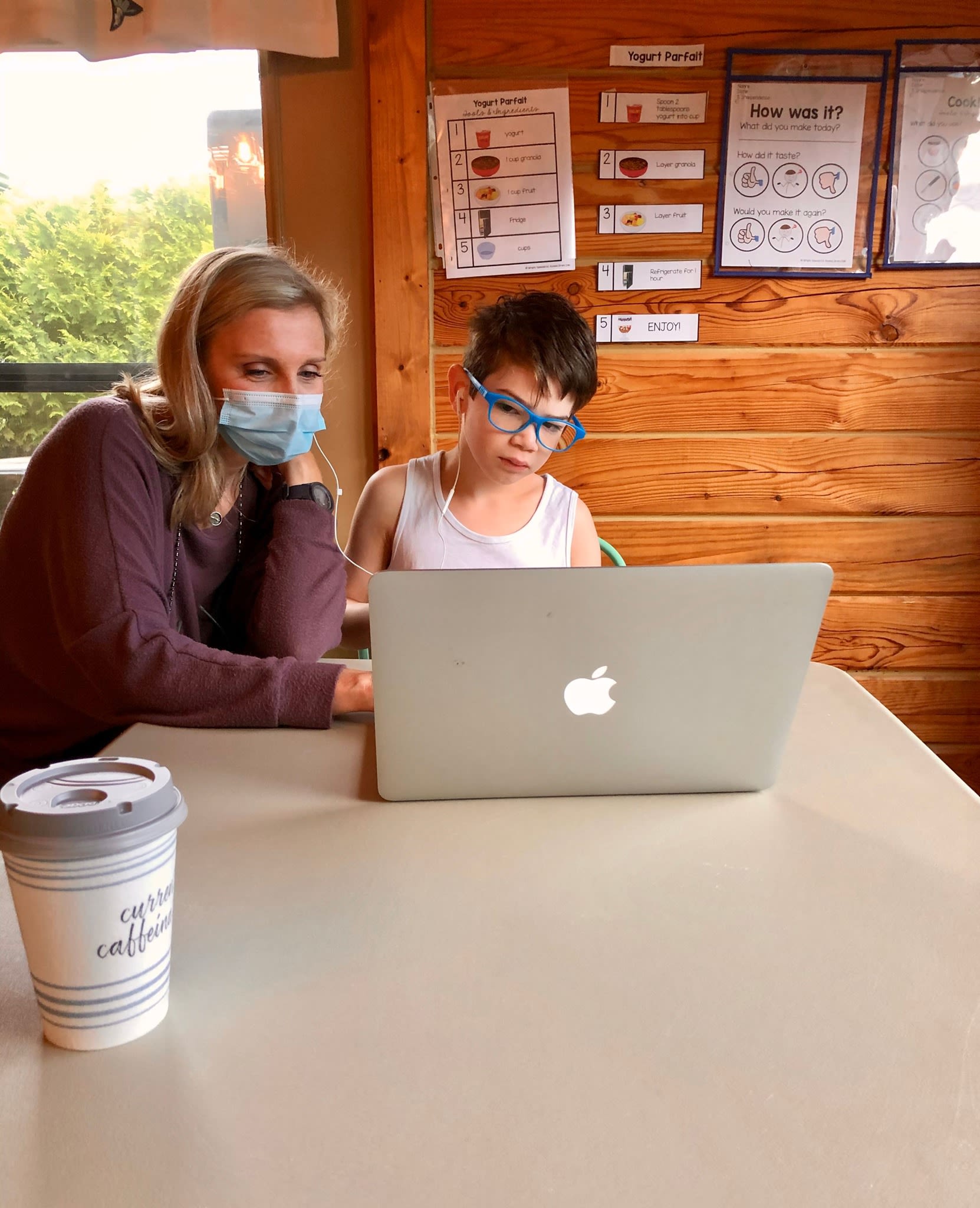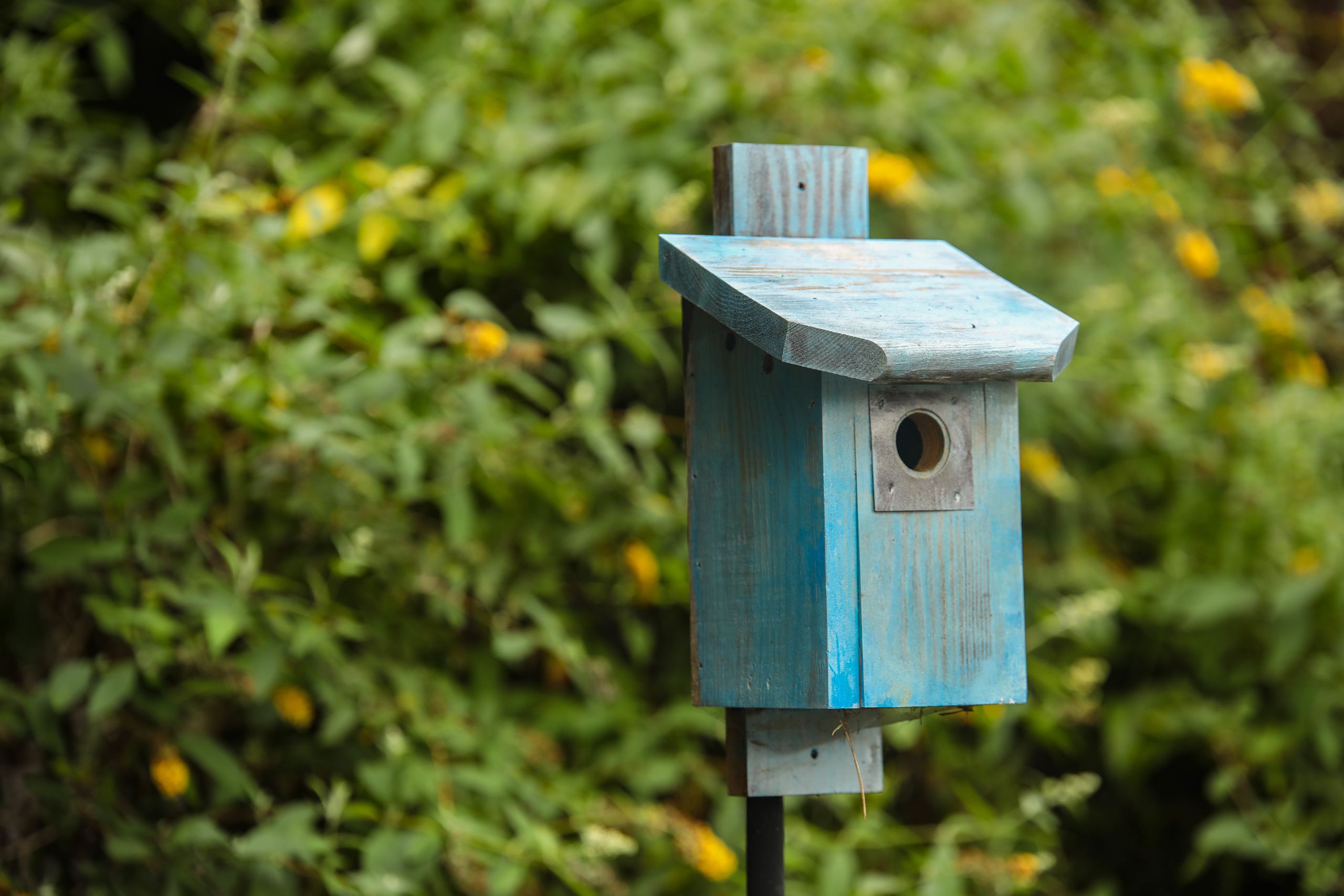 In addition to the Spears family, Menzo and her daughter Addie now think of 3 Bluebirds Farms as their home as well. While Addie has only been attending camp since 2017, Menzo says it has only gotten better every year.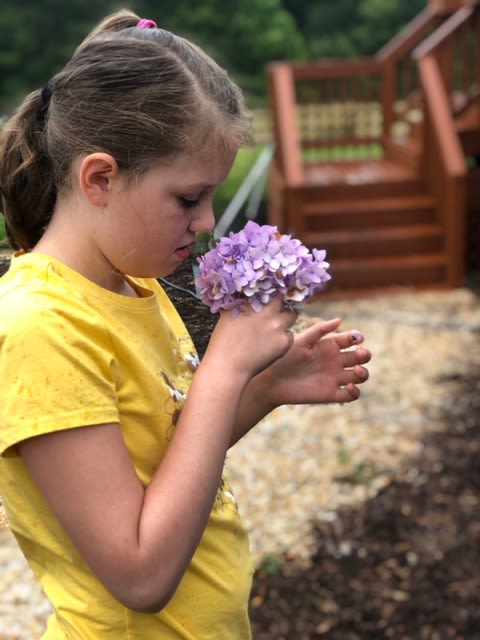 Since Addie has been at Camp Bluebird, the journey since Addie's diagnosis continues to change. She has slowly developed better speech, but still has sensory issues. At times, Menzo said, the journey is dark.
"It's kind of like you're going down a really dark path and you know that there's an end somewhere, but there's no light around you," Menzo said.
"You're always looking for little beacons of light everywhere to make sure you're on the right path."
But like every day with a child with autism – it is impossible to predict the future, especially during a pandemic. The truth is, no one will really understand the challenges that come with it, Menzo said.
"One of the greatest things I always say is the whole journey in and of itself is predictably unpredictable," she said. "Good luck trying to plan something that's probably going to turn out totally different."