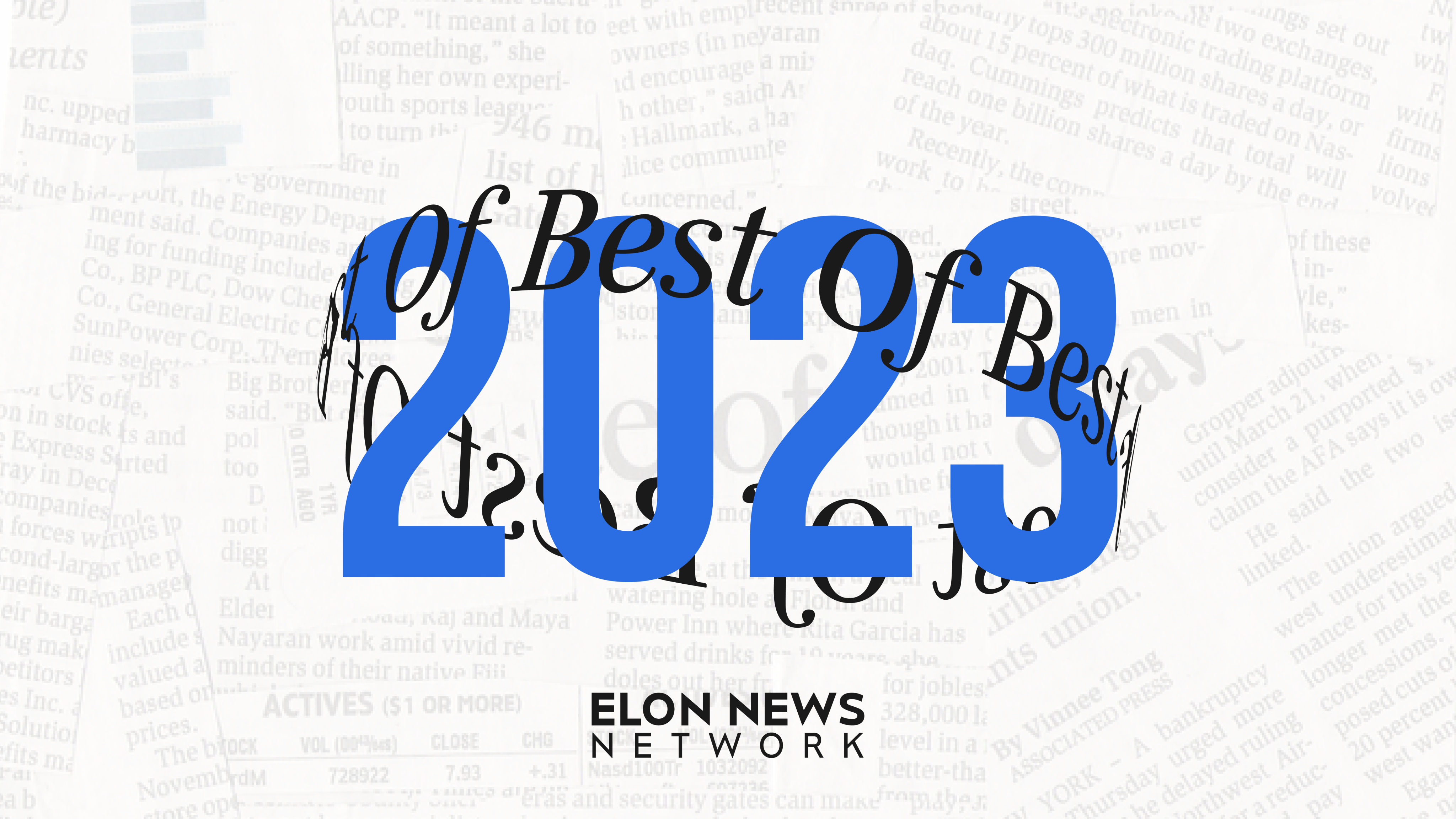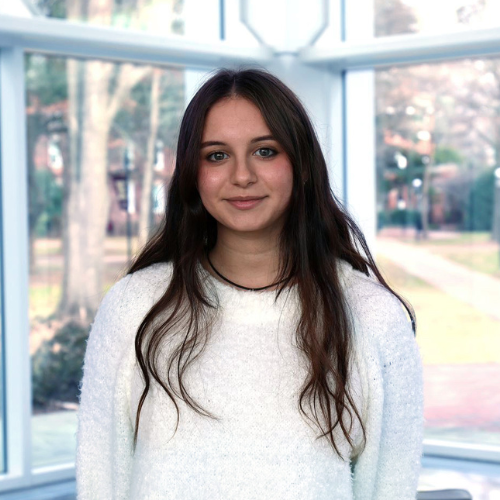 Letter from the Editor
Sophie Rosenthal | Managing Editor of The Pendulum
Elon News Network's annual Best Of edition surveys students, faculty and staff on what they think are the best parts of the local community — from academics to dining and more. The goal of the Best Of edition is to create a guide to our campus and local community. We hope our readers will use Best Of to find new favorites and revisit old ones.
This past year has seen both a return to normalcy and the introduction of new facets of our community. While in some ways Elon is back to standard, in others, it has grown.
Over the past two months, my team of reporters, editors and designers have worked to find the best of Best Of. They spoke with students, faculty, staff, business owners and more, immersing themselves in the community in order to best represent it.
I can't wait for you all to experience this edition of The Pendulum. Happy new year, and welcome to Best Of 2023.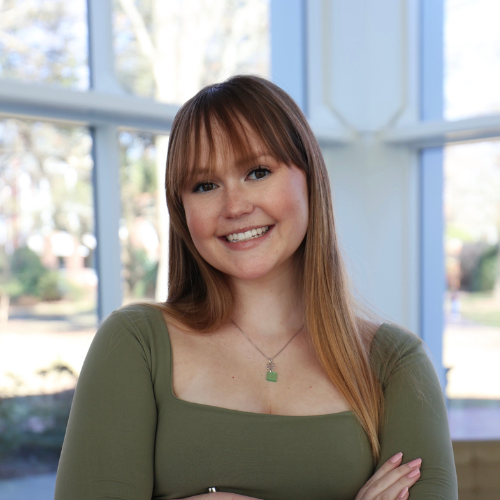 Letter from the Designer
Caroline Mitchell | Design Chief
As the Design Chief for Elon News Network, one of the most exciting parts of my role is the publication of our annual "Best Of" special edition. Throughout my time working at Elon News Network and specifically on this edition, I have had the amazing opportunity to learn more about myself and my love for design. It has also taught me what it means to be a part of a community and how to lead and encourage those around me.
The Elon community is colorful, energetic and bright, which I wanted to amplify throughout my design process. I was also inspired by bright colors and typography trends when thinking about this year's Best Of design. Each section has a unique layout and color palette that come together to create a cohesive design. I chose to do this because I wanted to create something visually appealing and attention-grabbing for readers.
My successes this past year would not have been possible without the help of all those that have worked alongside me to create designs like this. I am excited about what is coming next in the new year and for the future of this organization as a whole.
This experience has been so important to me, and I am grateful every day to creatively represent Elon students through my work. I hope you enjoy Best Of 2023!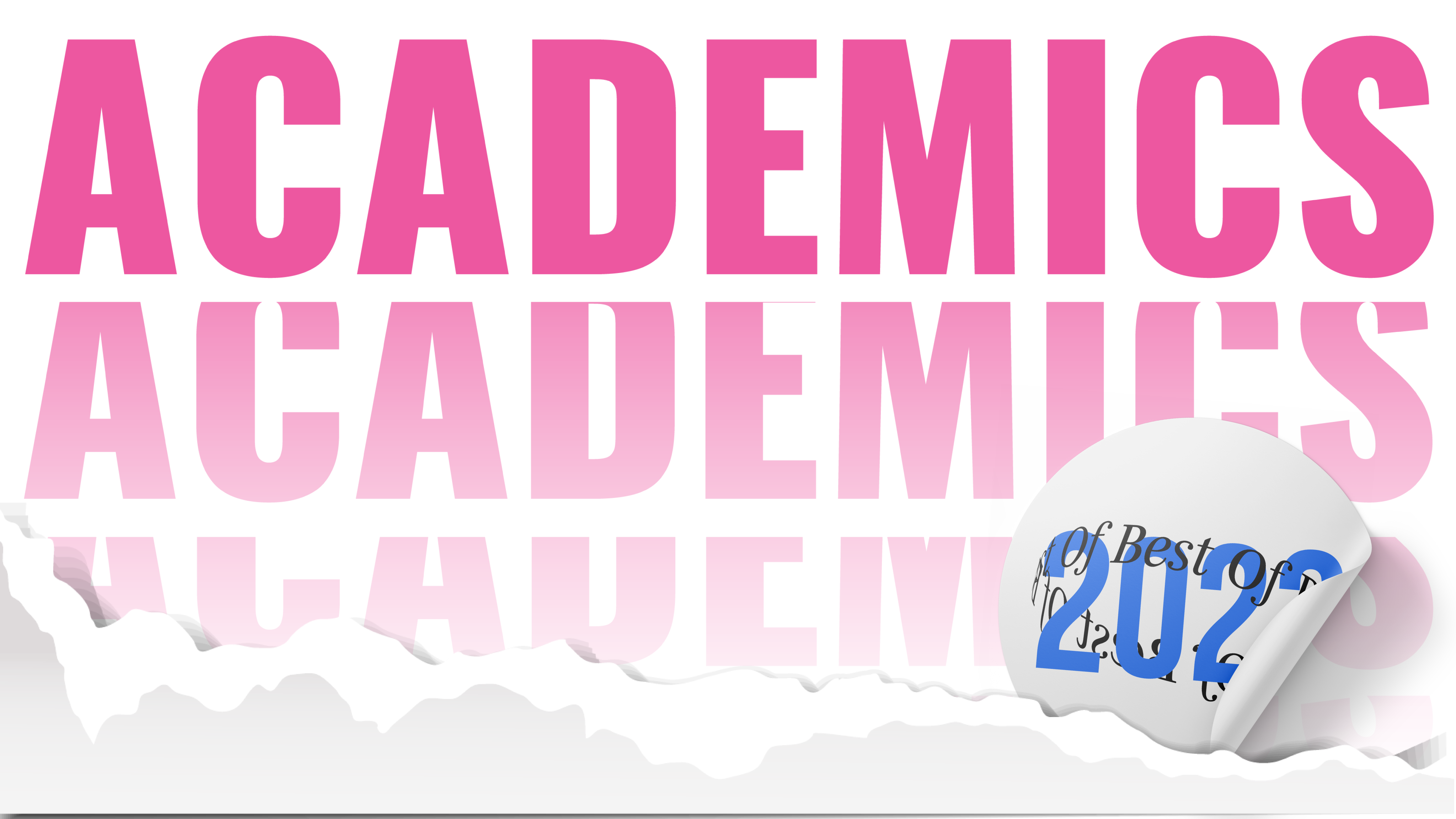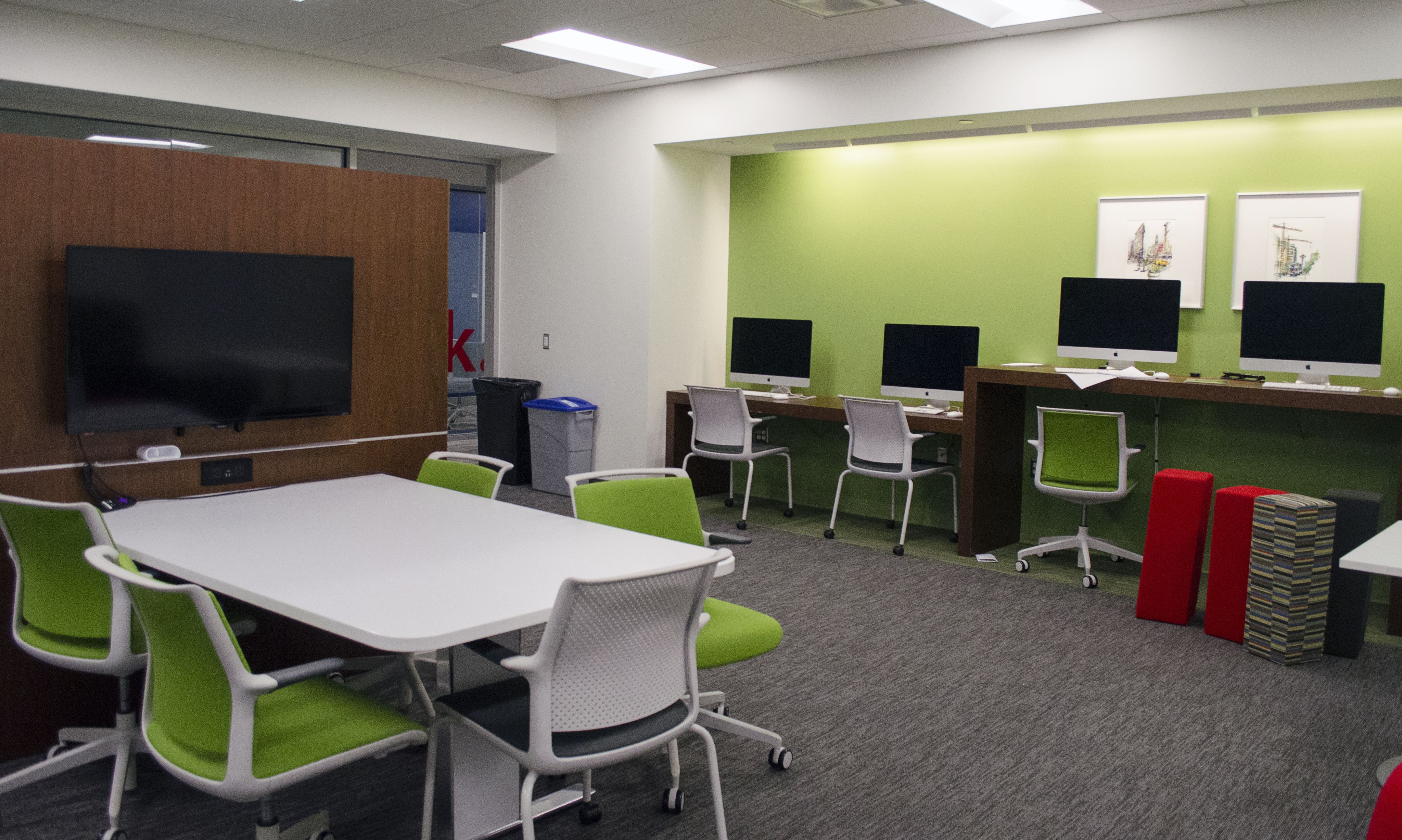 Best Major
Strategic Communications
By Sarah T. Moore
For the third year in a row, strategic communications has been voted Elon University's "Best Major." One of the seven majors in the School of Communications, strategic communications focuses on the communication techniques and processes between an organization and its audience, according to the university smart catalog.
Professor Vanessa Bravo serves as the department chair of strategic communications. Bravo said she was proud of the major and the work of her colleagues was once again recognized by the school community.
"It also recognizes the valuable combination of professional experience, academic background and research expertise that they all possess," Bravo wrote in a statement to Elon News Network. "It is a wonderful group of professors who care deeply about their students, and it shows."
Bravo suggested that any students interested in pursuing strategic communications take COM1000 Communications in a Global Age. The course provides a general foundation for the field of communications.
"This major is the combination of skills that make a professional successful in this field: strong writing, critical thinking, strategic planning, creativity, knowledge about what is going on in the local community and beyond, data-driven decision making, cultural competency, and the ability to communicate between the organization and its audiences in ways that are clear, simple and useful," Bravo wrote.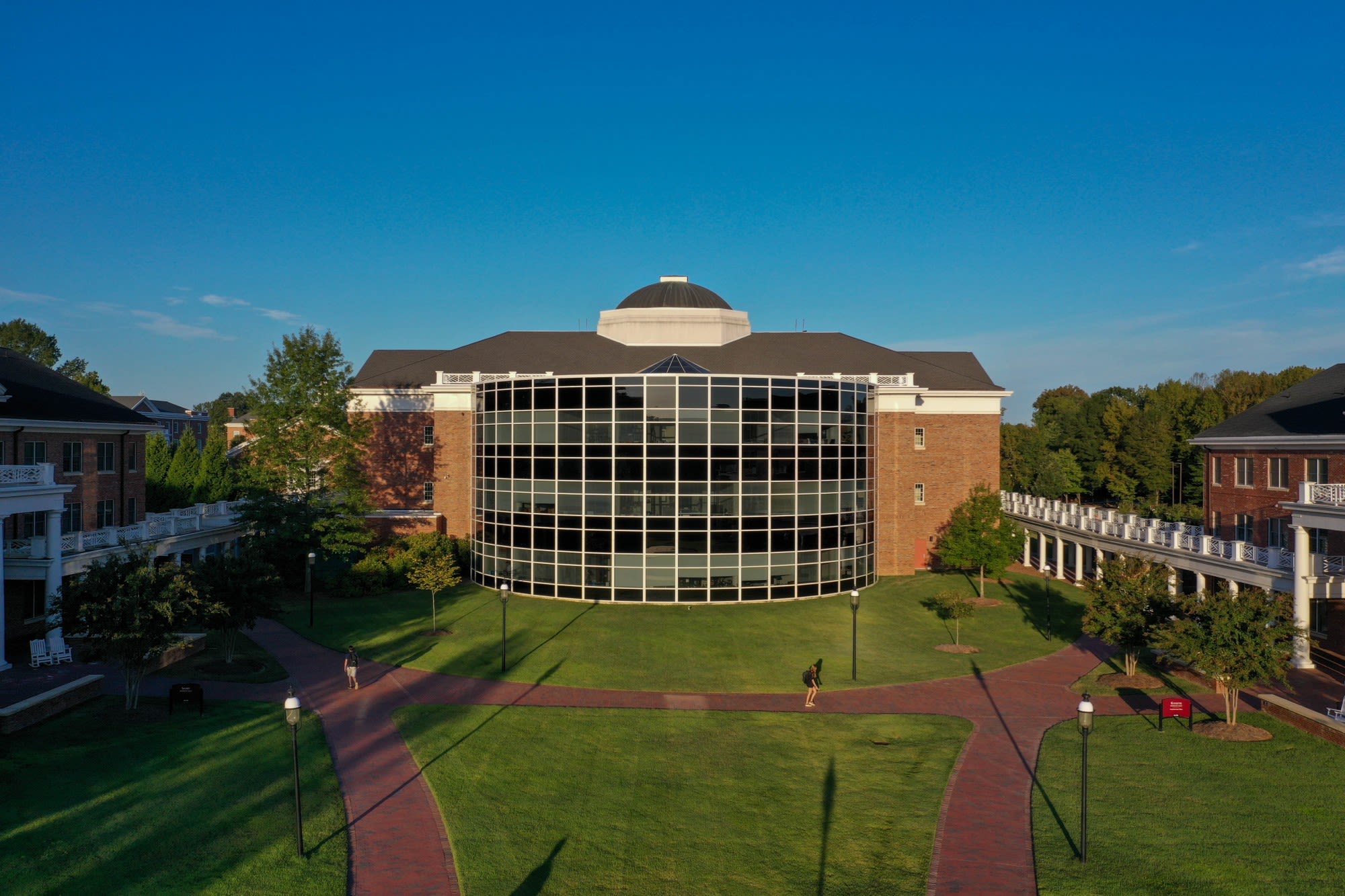 Best Minor
Business Administration
By Ryan Kupperman | News Editor
Business Administration has been voted Elon University's "Best Minor." With nearly 2,000 undergraduates majoring in business in the 2022-23 academic year, it's no surprise that students are working business into their degree somehow.
Sophomore Caroline Putman is pursuing a major in Strategic Communications and a minor in Business Administration. She said she feels that a minor in Business Administration will make her a critical asset in her goal of going into nonprofit communications after graduating.
"Everyone that I've talked to that works in that industry is like 'You need to have an understanding of the numbers, just so you can kind of do it all,'" Putman said. "Having that solid foundation will be really beneficial for me in the long run."
While she feels it is a great education to have in her pathway, Putman said that it is invaluable in the majority of pathways Elon offers.
"I think that it's really good, not even just from a comm perspective, but like really just to have an understanding of how business works," Putman said. "It can be very surface level, just kind of have an understanding of how finances work, because that makes you a really valuable asset."
To anyone on the fence about minoring in business administration, Putman encourages them to jump on the opportunity.
"Do it," Putman said. "It's super valuable … having an understanding of that education is really, pretty universally appreciated and needed."
Although only half way through her sophomore year, Putman said she is excited to continue pursuing her minor.
"I love minoring in business administration," Putman said. "The faculty that I have interacted with have been really great and understanding and then a lot of the in-class experiences are very relevant for what I want to do with that minor."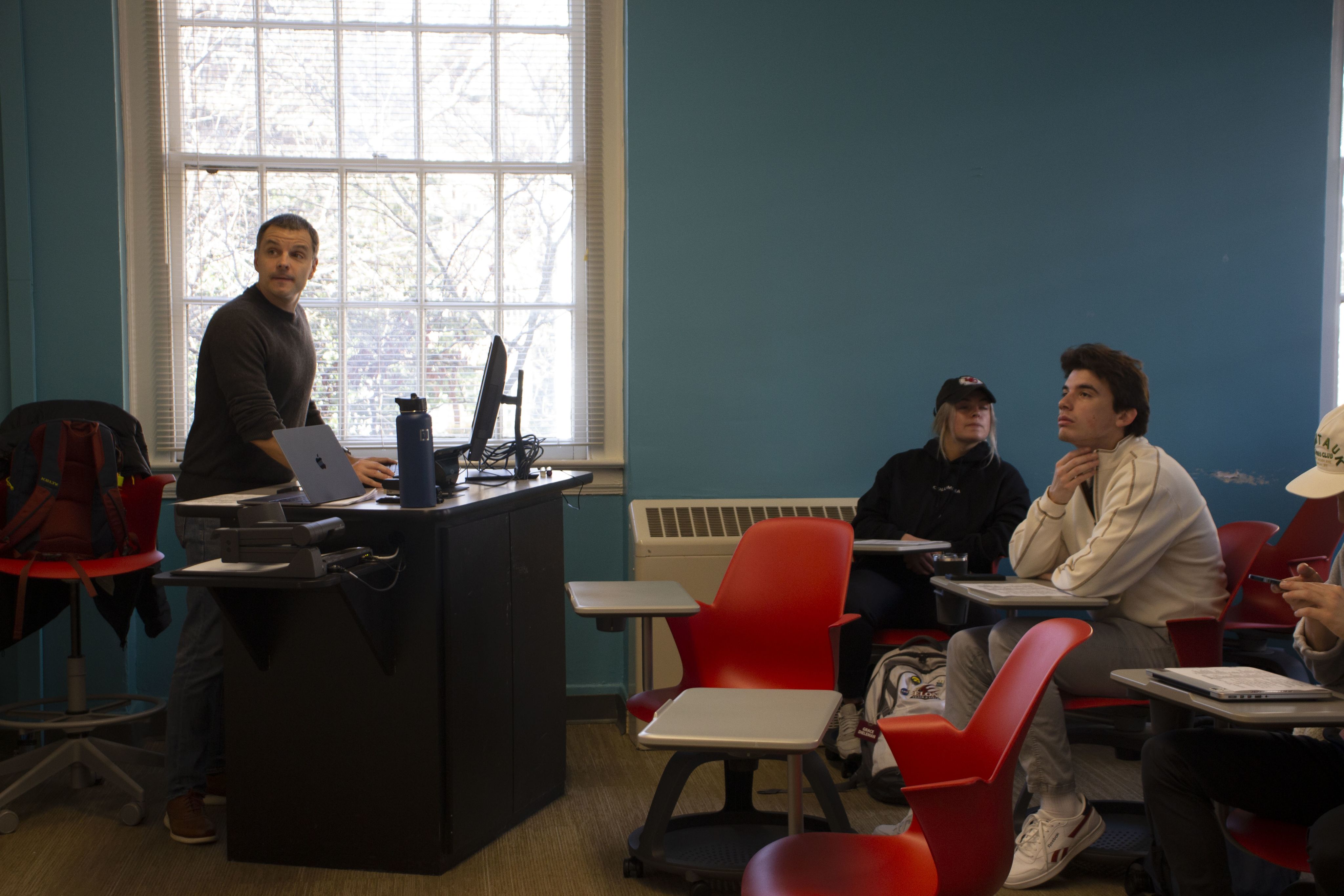 Best Professor
David Bockino
By Abigail Hobbs | Chief Copy Editor
David Bockino has won "Best Professor" at Elon University after teaching at the university for nine years.
Bockino, professor of sport management, attributes some of this honor to being the director of the communications fellows program.
"I've definitely developed good relationships with a lot of students, obviously being fellows director has helped me spend time with some students to get to know them and help them on their path to internships and jobs, even beyond the classroom," Bockino said.
Bockino said he enjoys having conversations about current media and sports topics in his classes
"I like to try to have as many conversations and discussions in my classes as possible," Bockino said. "I don't want to just be talking to students but whenever we can just have a fun conversation that touches on important subjects and leaves everyone feeling like they had the chance to think a little deeper about something, that's always a good day.
Bockino said Elon stresses making good connections with the students, and he is happy to oblige.
"Elon teaching is expected to take place not only in the classroom, but outside of it as well, and I think everyone who teaches that Elon enjoys interacting with students and I'm sort of the same way," Bockino said. "I like to help students out all the time whenever they come for help and hopefully, I've been able to do that a little bit."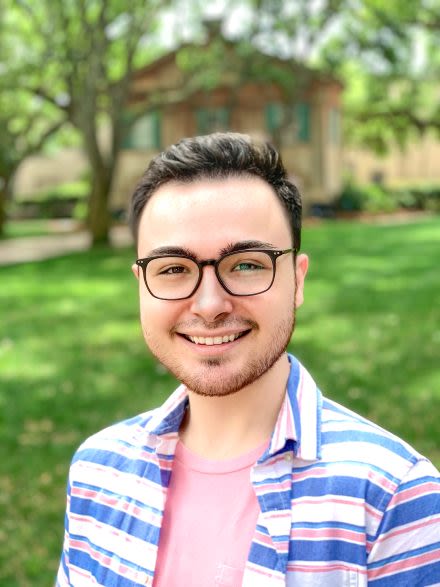 Best Staff Member
Tanner Gill
By Erin Sockolof | Opinions Editor
Tanner Gill, community director for the Danieley Neighborhood, has been voted the "Best Staff Member" by Elon University students, staff and faculty.
Gill said he tries to create a positive environment for the residents he oversees as well as the people he works with.
"I have a deep sense of responsibility to and love for my student staff, my team and Danieley, and so I invest much of my time and energy into them," Gill said. "To me, showing them I care means supporting them, listening to them, advocating for them, challenging them, hyping them up, mentoring them, being present for them and fostering a relationship that goes beyond supervisor-supervisee/professional-student and being authentic and vulnerable. I feel that our genuine connections help us to strive to be the best versions of ourselves so that we can in turn inspire others to do the same."
Gill said he fosters a nurturing and supportive community for his residents and staff by building a community with the Danieley residents.
"I wear multiple hats as part of this role," Gill said. "I also adjudicate conduct cases, provide support to students navigating hardships, complete assessment work, build community development tools, facilitate neighborhood programming and serve on-call as a first responder for emergency situations on campus."
Sophomore Danieley resident Raj Das Gupta said Gill helps residents when they have an issue, questions or just need some assistance.
"I have had a few interactions with Tanner Gill, but when I have had those interactions, they have been fantastic nonetheless," Das Gupta said. "He has been great help in getting us suited within the dorm. We had a problem in our dorm, and he had situated within no time."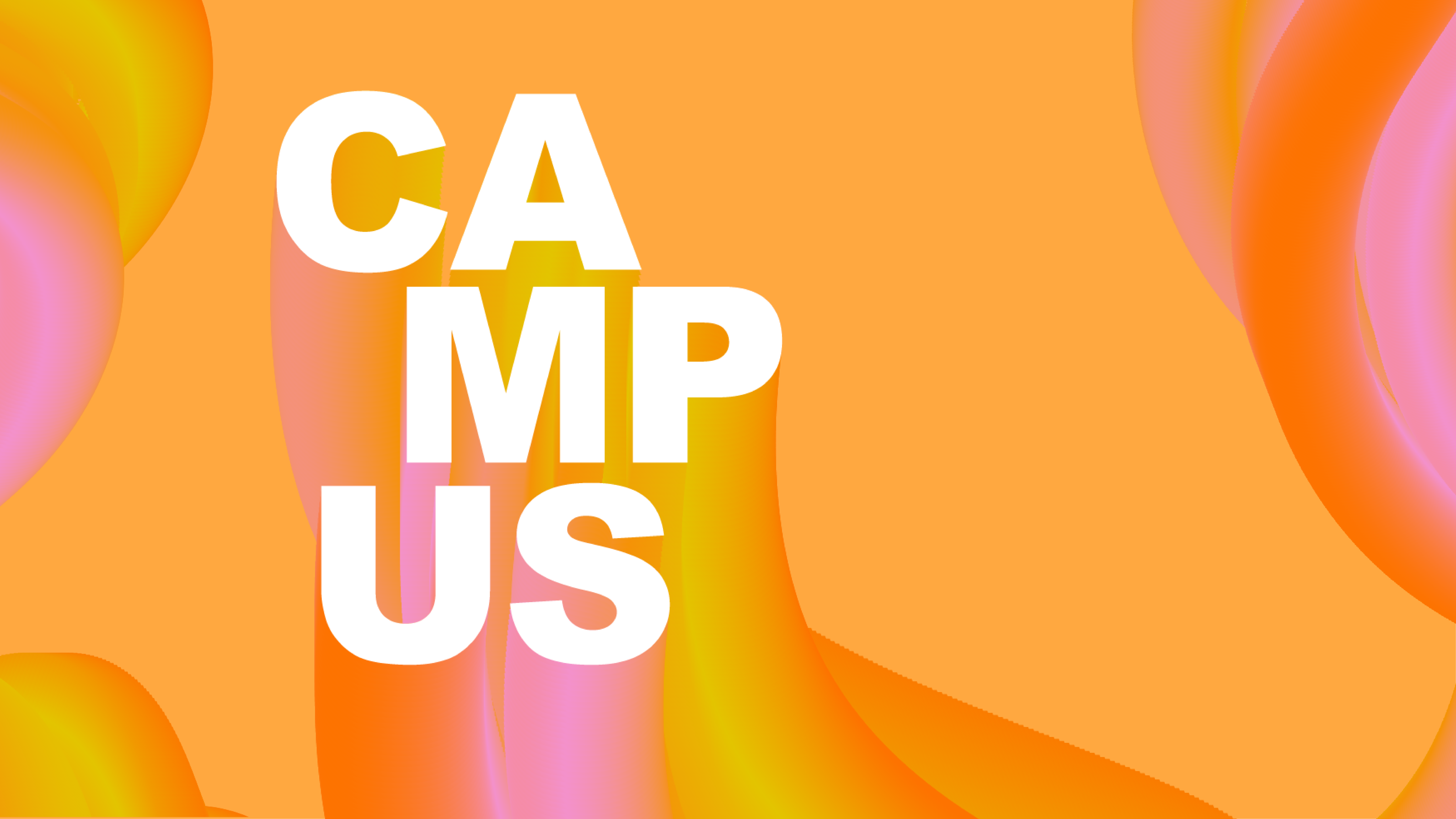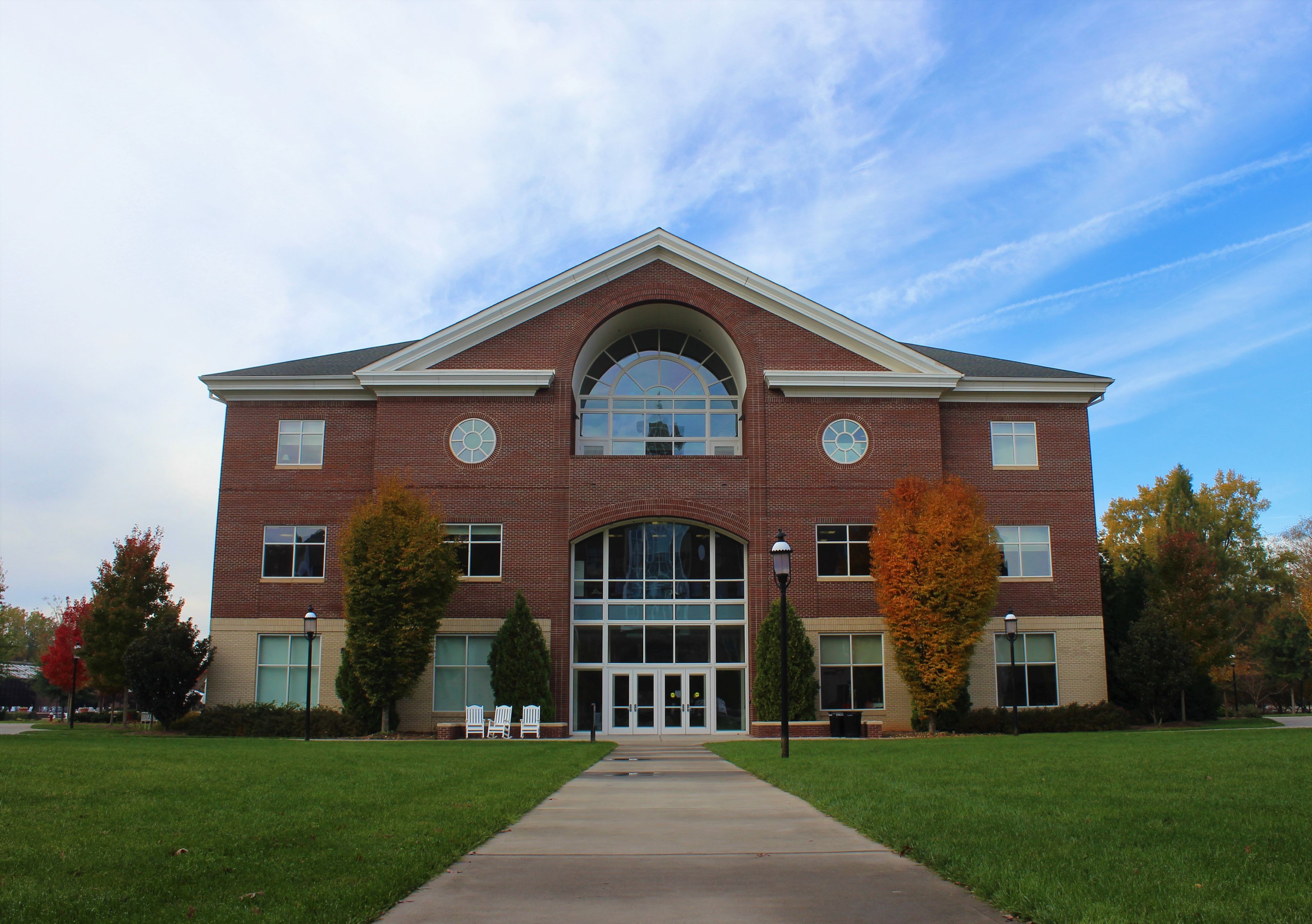 Best Residential Neighborhood
Global Neighborhood
By Erin Martin | Executive Producer of ENN On Air
Global Neighborhood has been selected this year as "Best Residential Neighborhood" by staff and students. The theme of the Global Neighborhood is "Thriving as a Global Citizen" and the theme for 2022-2023 is "Inner Peace/Outer Peace." It is located beside Lake Mary Nell and is home to 595 students. The community is split up amongst five residence halls and is roughly 67% freshmen, 27% sophomores, 4% juniors and 2% seniors.
This neighborhood offers a little bit of everything, with Lakeside Dining Hall, Moseley Student Center, Koury Gym, Elon athletic fields, the Center for the Arts and Loy Center all surrounding the community there is always something for students to do. The neighborhood was created to foster global engagement and immersion amongst students and staff.
Community Director for Residence Life Mariann King said she feels that living and working in the Global Neighborhood is a very impactful experience.
"I get to be part of a community that is committed to creating a place that people can call home," King said. "I know that the Global Neighborhood feels like home to me, and seeing students find this same sense of belonging here is very rewarding."
Global is home to six different living learning communities, including African Diaspora, ASHES, Creative Arts, International, Performing Arts and Polyglot. The community also features Global Commons, the 50,000 square feet building that is home to study rooms, the Great Hall, the Global Neighborhood Office, faculty offices, the Elon Esports lounge, the Core Curriculum Center and Isabella Canon Global Education Center.
Each residential hall in Global has a unique house name and identity — Orinoco, Thames, Tigris, Yukon and Zambezi — all of which are rivers on different continents. Each house then competes throughout the year racking up points by attending events in hopes of being awarded the House Cup.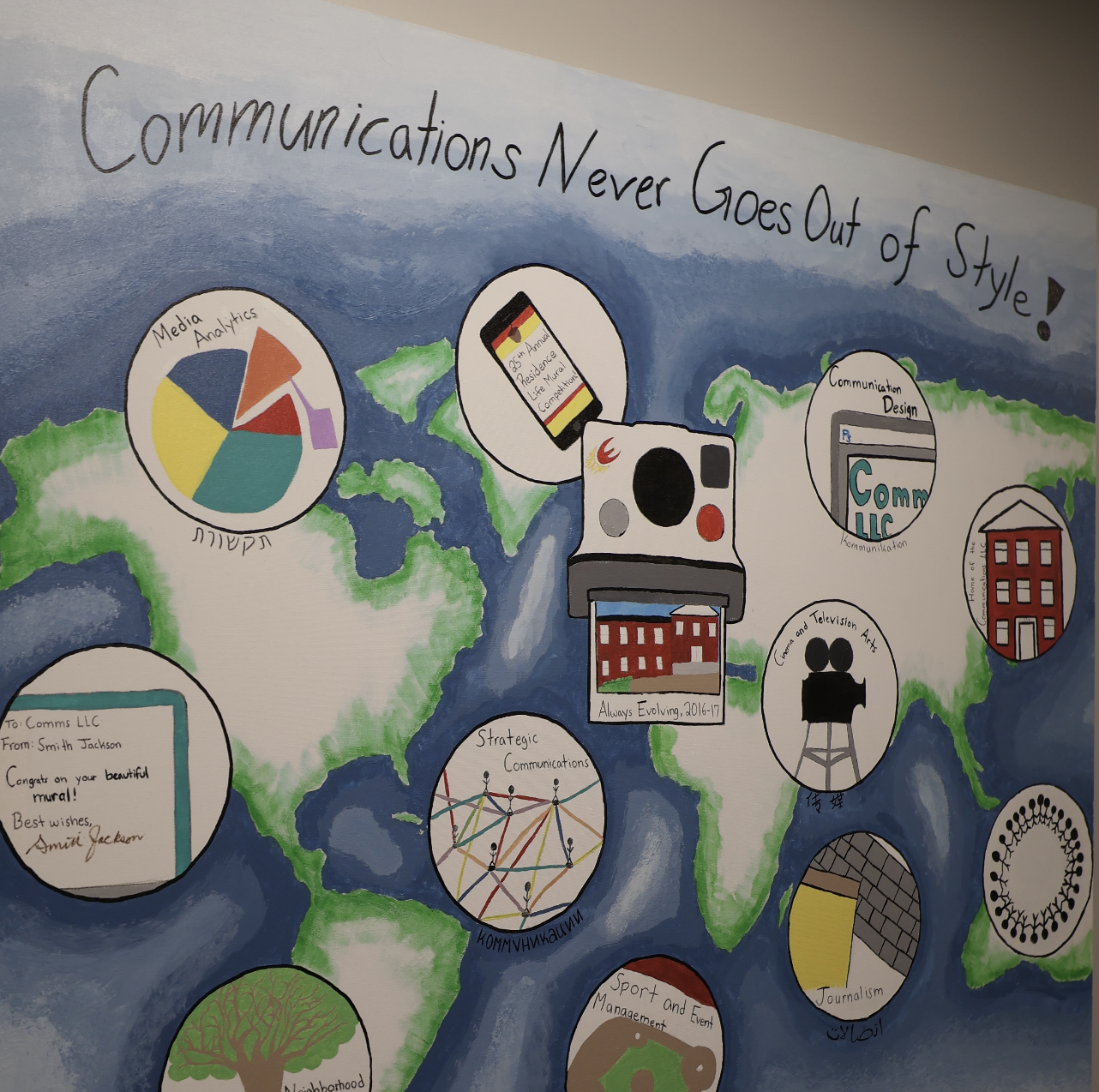 Best Living Learning Community
Communications
By Avery Sloan | Politics Editor
The Communications Living Learning Community, situated in the Historic Neighborhood next to Elon's School of Communications, is home to roughly 30 freshmen every year who have a shared interest in communications. The residential assistant junior Morgan Seate said that while residents have an interest in communications, there is a wide variety of majors and organizations students are a part of within the LLC.
Seate said she is mainly there to advise students and help provide programming. Seate said she's put together things like movie nights for her residents, yet has found that they are largely self starters and have already gotten involved in the organizations they want to be a part of.
"My residents are very self driven," Seate said. "They're like, 'We found this on campus, we're doing this,' because like there's so much to do within like Cinelon and things like that, … they're very good at finding the resources themselves."
Seate said the interests of the residents within the LLC change year to year and influences the kinds of programming and advising for an RA to give. Seate said many residents are closer friends than an average floor as many of them have classes together, on top of the shared interest of communications.
She also said part of the unique experience of living in an LLC is having a closer relationship to professors and easier access to networking. Seate said she anticipates in the spring semester having more residents reach out with questions about things like internships.
"Because the comm school just has so many different majors and stuff, it's pretty cool just seeing what everyone's interested in and things like that," Seate said. "And I think the networking is also what makes it kind of different than other LLCs is just that the comm school is so involved with things and the professors are very willing to help out."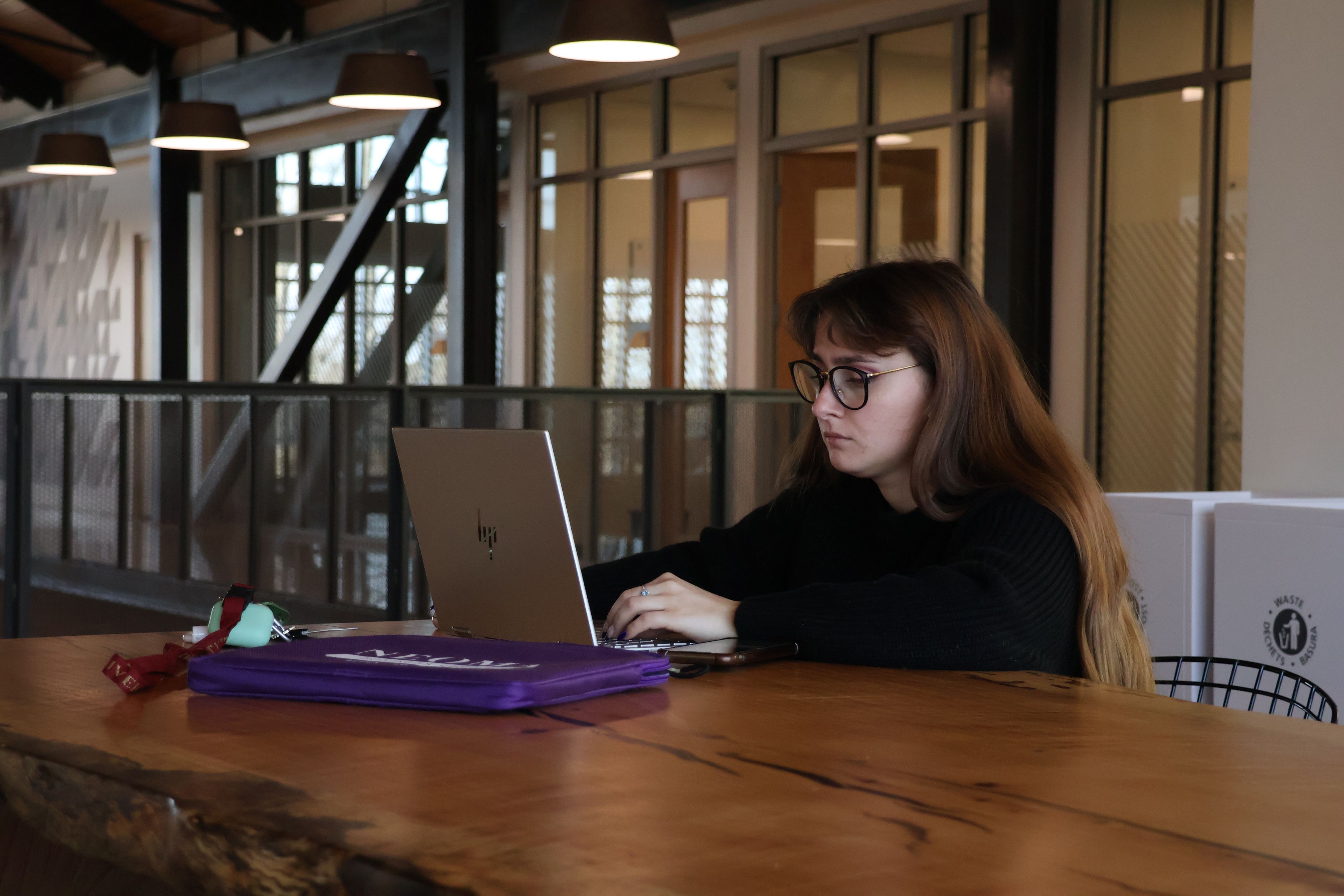 Best Study Spot
Innovation Quad
By Sarah T. Moore
The Innovation Quad is home to Elon's engineering program and department of physics, but it has become a beloved study spot for students across disciplines and has been voted "Best Study Spot." The two new buildings, Innovation Hall and Founders Hall, opened in August and feature a variety of laboratories and classrooms, along with study rooms and "student engagement spaces," according to the university's webpage about the project's construction.
Freshman Annika Lotsch said in previous Elon News Network coverage that she uses the study rooms in Innovation Quad.
"I love the Innovation Quad because there are study rooms where you can sit there alone or with friends, close the door and just study in peace," Lotsch said. "My go-to study spot is one of the rooms upstairs that has a window that overlooks campus."
The view is not the only thing that makes the Innovation Quad a go-to study spot for many students. The study areas in Innovation hall have regularly spaced outlets in the walls and tables that allow students to charge their devices while working.
Innovation Hall also features a colorful stairwell with translucent glass that responds to light differently depending on the angle it's being viewed from. According to an Instagram post by Elon Admissions, this is now "the most instagramable background on campus."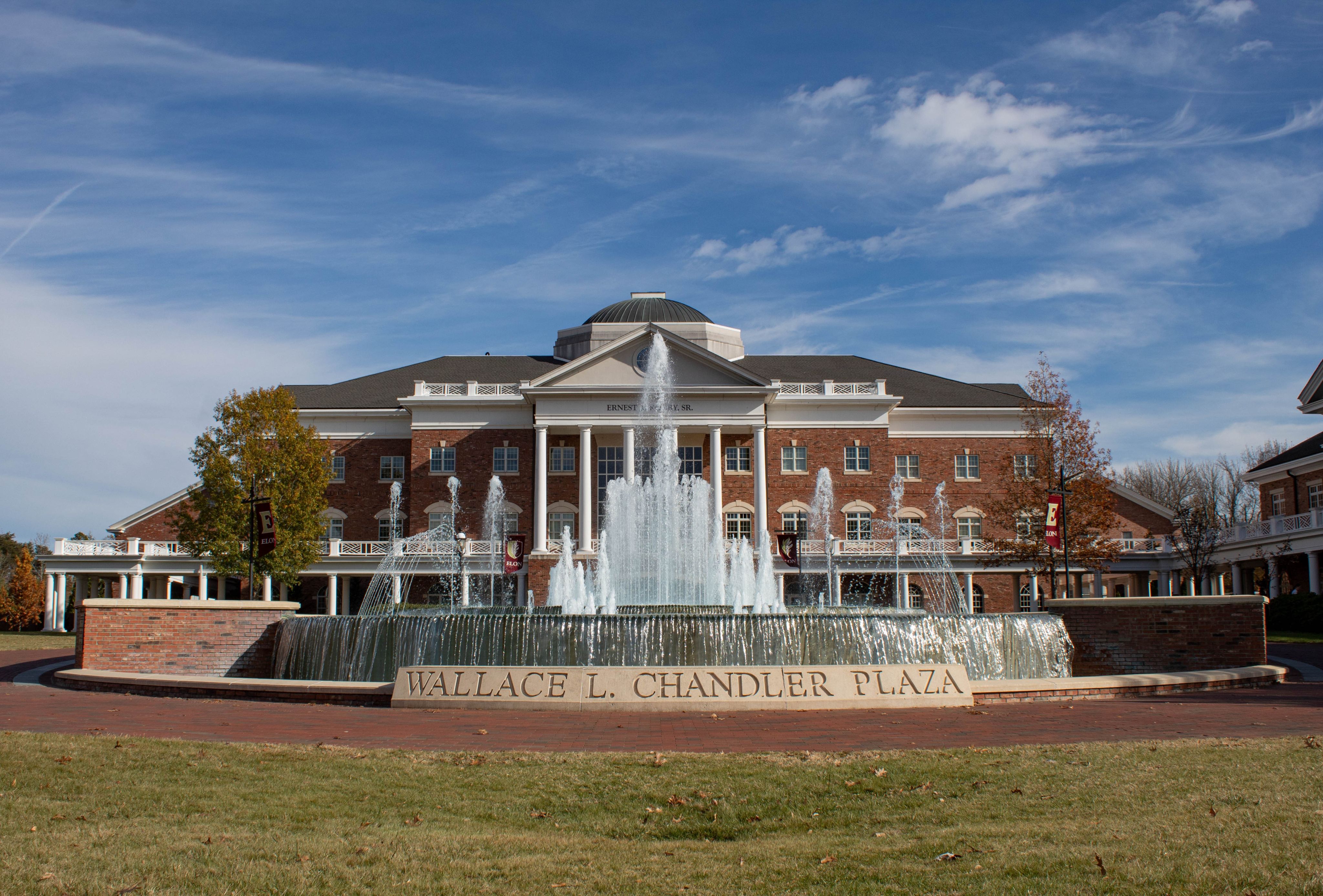 Best Fountain
Chandler Fountain (KOBC)
By Ryan Kupperman | News Editor
Elon's KOBC fountain was voted "Best Fountain" by the student body.
Sophomore Sarah Dawkins said she believes that the KOBC fountain is the only rightful winner.
"It is the best fountain on campus," Dawkins said. "It puts on a show more so than any other fountain."
According to Dawkins, the Alamance fountain does not even come close.
"The Alamance has very small sprays of water, while the KOBC Fountain has a very elaborate design to it with lots of different water spouts that form lots of different shapes and changes constantly throughout the day," Dawkins said.
Having lived in the Colonnades Neighborhood for the duration of her time at Elon, Dawkins said she passes the KOBC fountain at least four times a day and encourages any potential admirers to observe the fountain at mid-day.
"Go in the middle of the day to see the KOBC fountain because it's more likely to be doing the display of the different water shows," Dawkins said.
The cherry on top for Dawkins is not only its large display of streams, but also its multilayered spout system.
"I pass it multiple times per day and I always look at it," Dawkins said. "I never go by the KOBC fountain and don't take a look. It's beautiful."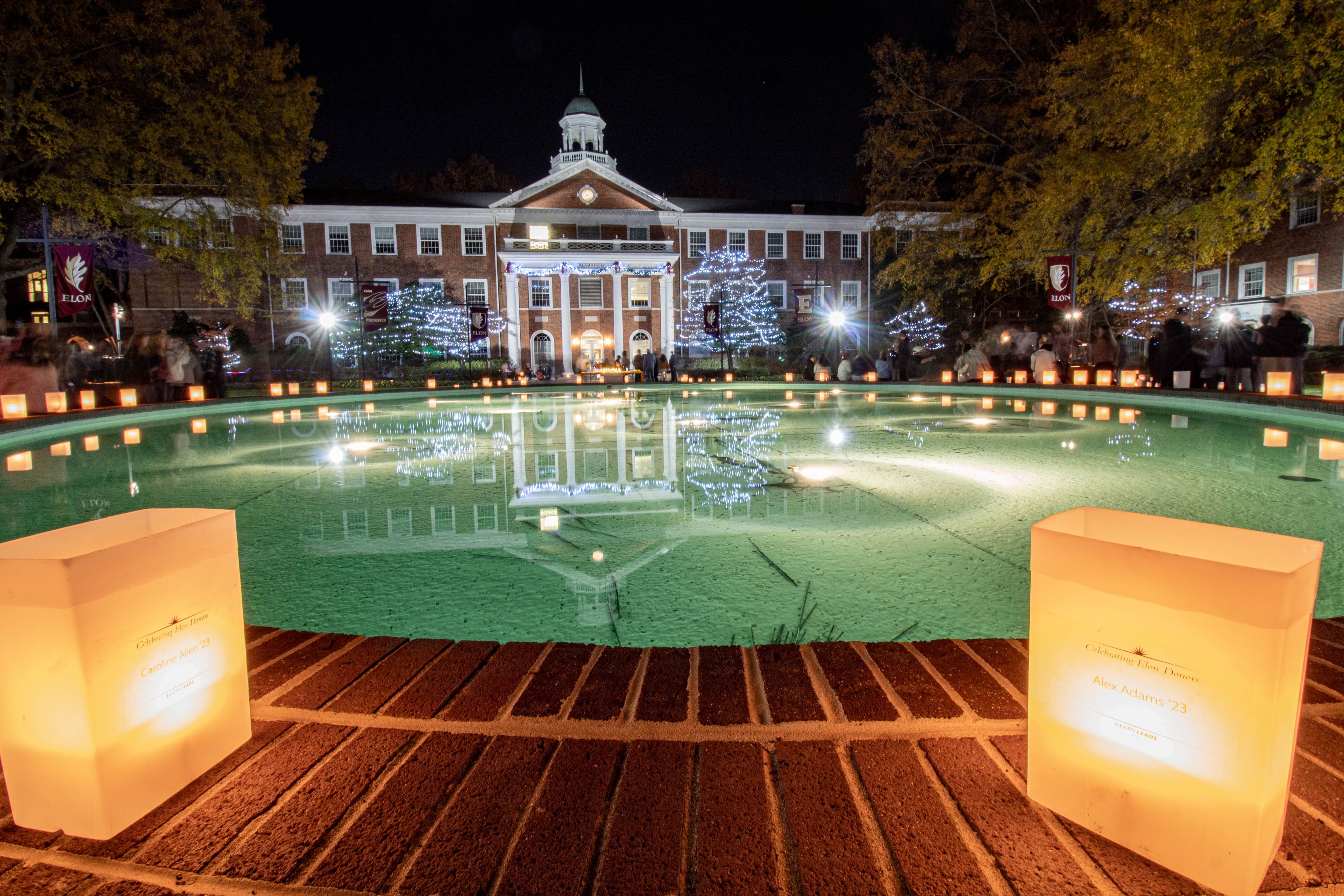 Best Tradition
Festival of Lights and Luminaries
By Miranda Ferrante | Managing Editor of elonnewsnetwork.com
Lights, luminaries, community and collaboration are just some of the aspects of the Festival of Lights and Luminaries that Kirstin Boswell, Elon University chaplain and dean of Multifaith Engagement, enjoys. The annual celebration, which highlights the diverse cultures, religions and spiritual traditions around the world and at Elon, was voted "Best Tradition" by the campus and surrounding communities.
"It's a combination of learning, of celebration, of collaboration, of fun," Boswell said. "I love how everyone around campus just really comes together around this tradition. Whether it's to participate in the planning of it, the organization of it, or just attending and then even the larger Elon community, seeing all the families that were there, with young children just enjoying the event was really gratifying."
Boswell said in her time with Elon so far, she's already seen the tradition grow.
"I think that as more and more people are seeing the expansive nature of what religion and spirituality and ethical and philosophical traditions are, as we're broadening that definition and broadening that understanding, I think that it only means that more and more groups of students and organizations on campus will want to participate and become involved," Boswell said. "We welcome that because we truly want this to be both a learning experience and also an example, kind of sampling of the commitment to diversity of thought that we have here at Elon."
The 2022 celebration was the first year Hillary Zaken, interim assistant dean of Multifaith Engagement in the Truitt Center for Religious and Spiritual Life, was involved with the coordinating of the event.
"I am just so grateful for the people, for the individuals in this community who have come together," Zaken said. "I have so much immense gratitude for everyone who was involved in this process, from the members of the team, to our campus partners, to the student leaders, to the folks who helped set up and clean up. It really brings everyone together and it's it this is the meaning of community to me."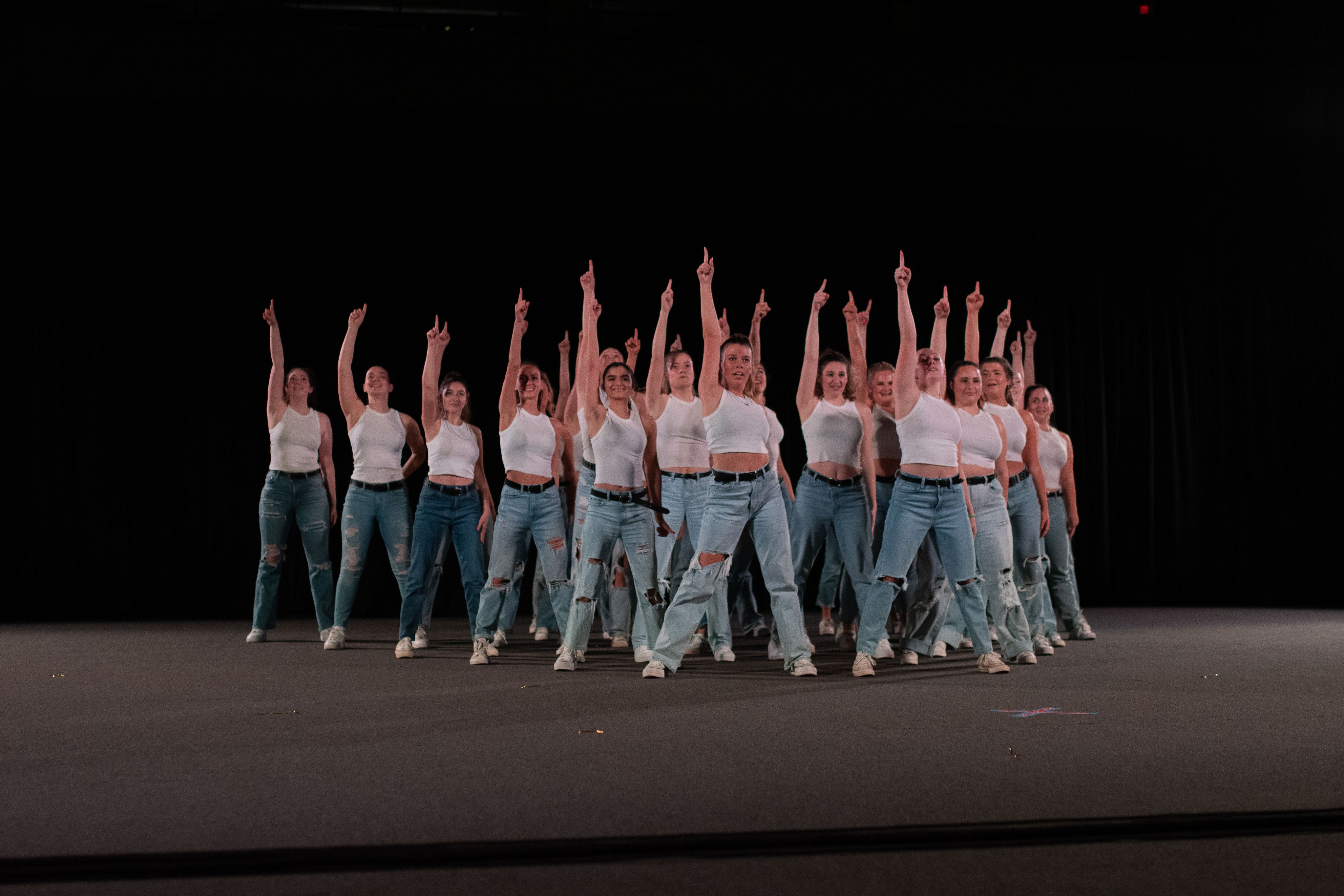 Best Performance
Greek Dance
By Abigail Hobbs | Chief Copy Editor
After its first rendition since 2018 due to COVID-19, Greek Dance was voted "Best Performance" at Elon University.
As a part of Greek Week, 16 greek organizations competed in a dance competition. Alexis Swider, assistant director of Student Involvement for Sororities and Fraternities, said the performance brought together the whole student body.
"I was really excited to see that the Greek Dance is a beloved tradition, not only in the fraternity and sorority community, but now in the larger and grander Elon community, is something that is special to everyone," Swider said. "It was a really neat way to see the full community come together."
Swider said this experience was exciting as she worked with Student Government Association, sound and light specialists, and others to make the event as grand as it could be.
"I worked with our sounds and light specialists, who has done other campus events, to really make sure that the event is something at a grander scale, recognizing that we were hoping to have a ton of people come and engage with the event, as well as wanting our affiliated students in the fraternity and sorority community to feel special and feel excited to be part of something that they've been working so hard for throughout the fall semester," Swider said.
Greek Dance was held Oct. 27 in Schar Center.
"I am happy and super excited to see how we can continue to grow the grandstands into future fall semesters," Swider said.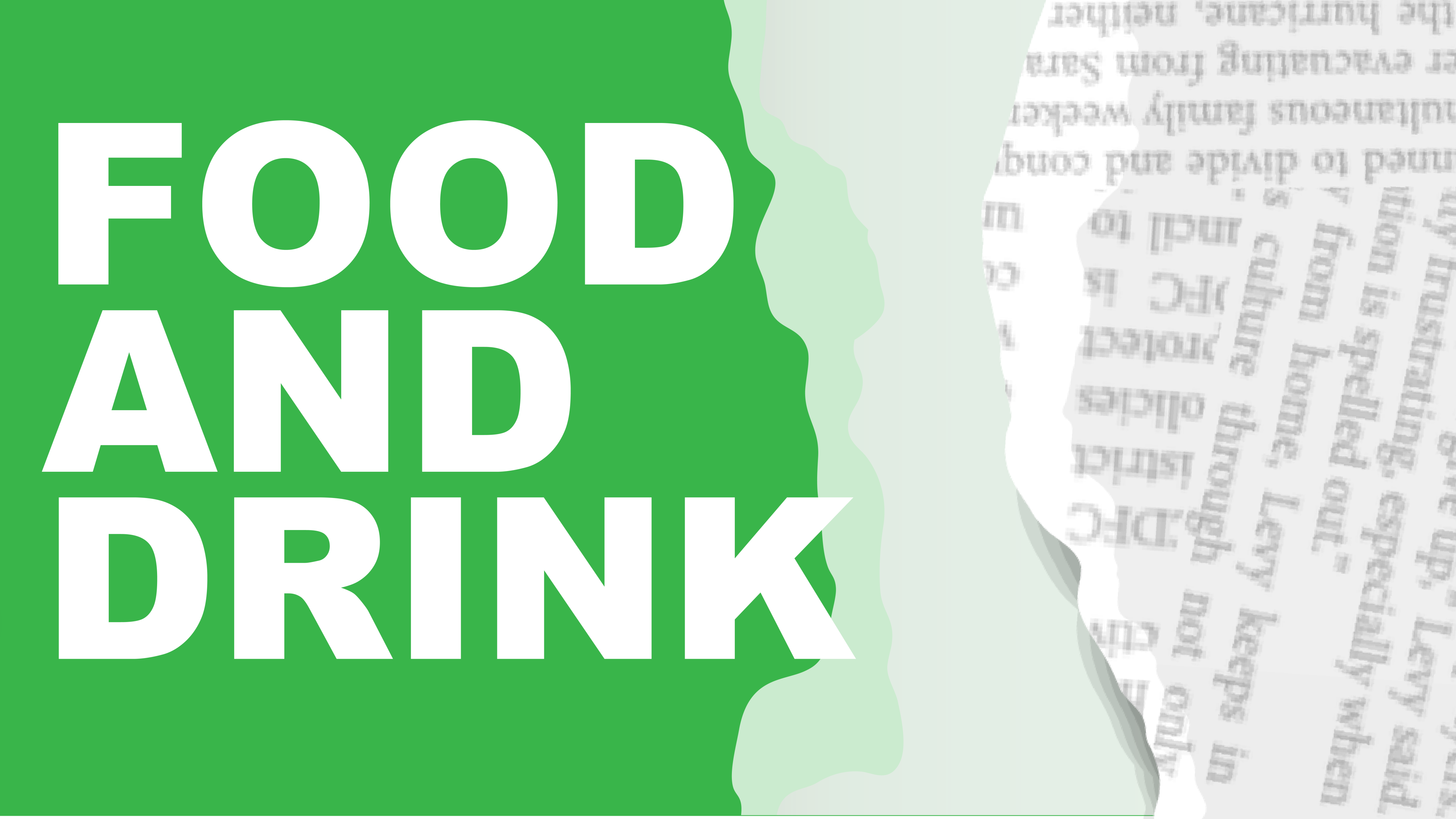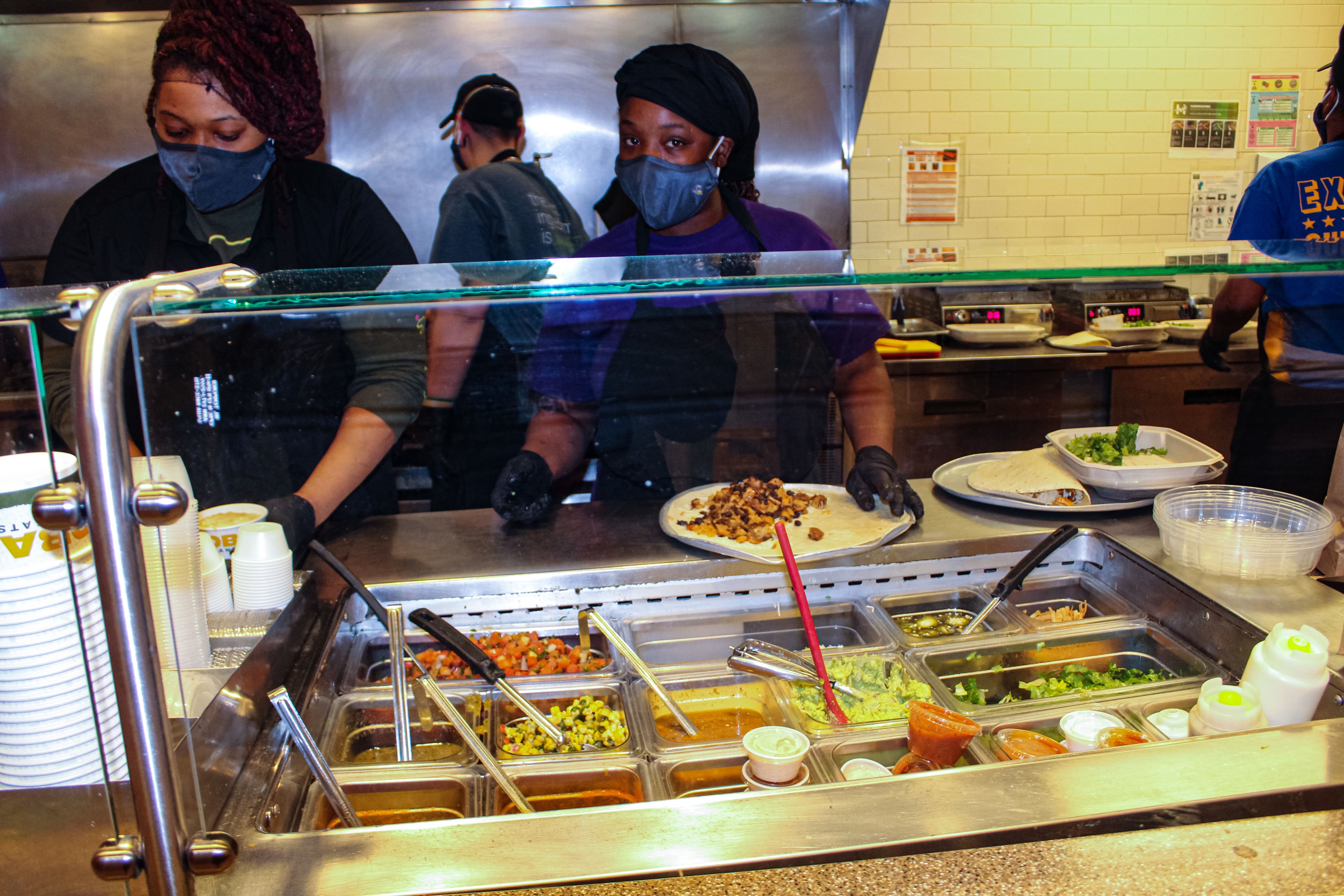 Best On-Campus Restaurant
Qdoba Mexican Eats
By Anjolina Fantaroni | Social Media Manager
The winner of "Best On-Campus Restaurant" this year is Qdoba Mexican Eats. Having several hundred locations across the country, Qdoba can be found on many college campuses, including Elon's. Consisting of bowls, burritos, tacos and more, its menu widely displays many choices. Students can customize their orders in different ways, as the workers greet students and make their meals as students order.
Located in Danieley Neighborhood, the restaurant has a large dining room with many students coming in and out throughout its hours of operation.
Sophomore Monique Grew said she goes to Qdoba at least once a week because of how close it is to her apartment.
"It's definitely popular with students that live in Danieley especially because we're farther away from the dining halls," Grew said. "My building is steps away from Qdoba, which makes it really easy to stop by as I'm walking home. And it's always open later than most dining halls, which is a big factor."
Grew says that when she enters the restaurant, there is always a long line of students waiting for their meals, which shows how popular it is for lunch and dinner.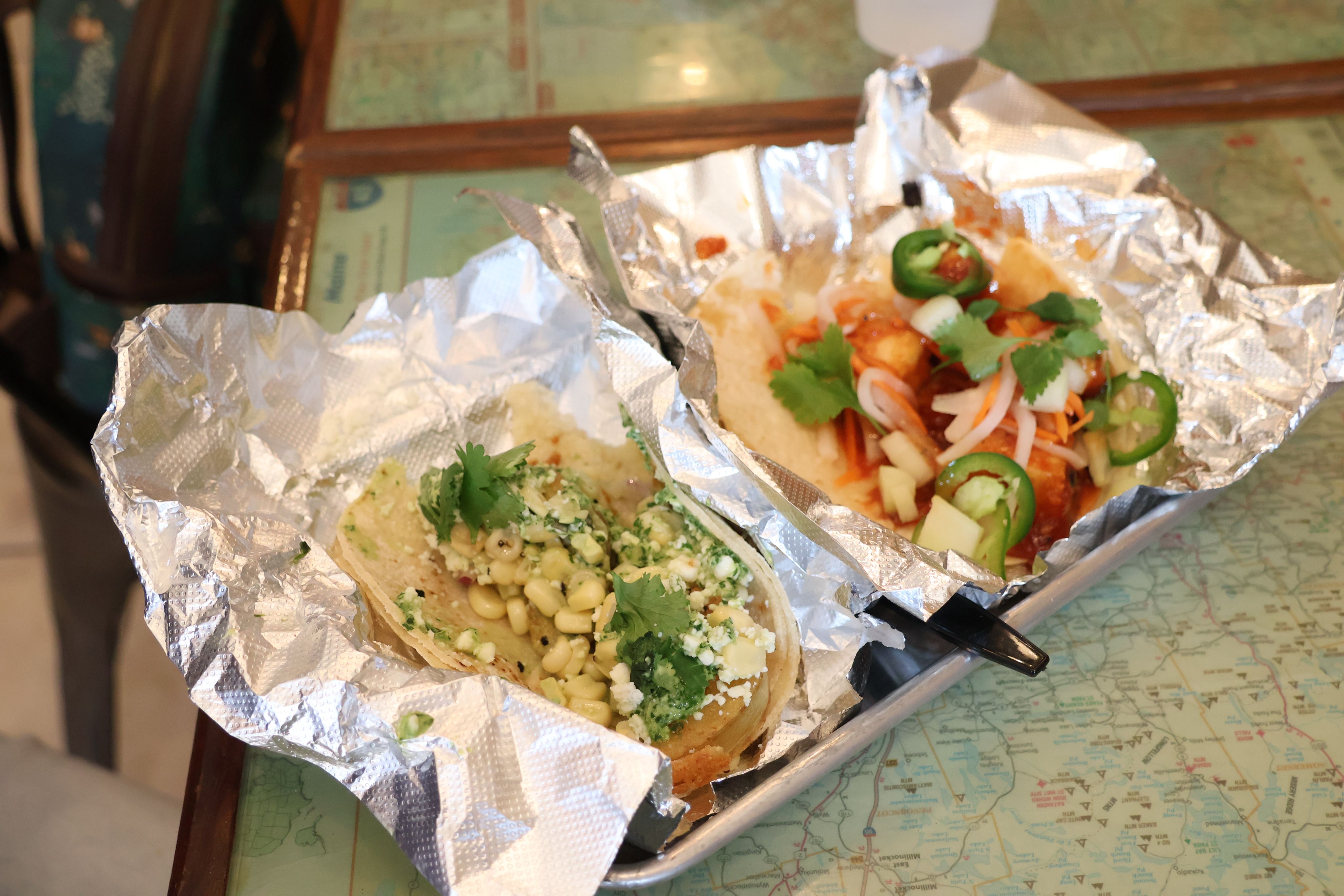 Best Off-Campus Restaurant
Tangent Eat+Bar
By Sydney Spencer | Sports Editor
Open for lunch and dinner, Tangent Eat+Bar has continued to be a favorite among the Elon community. Located on West Lebanon Avenue, Tangent is a short walk from campus, drawing in an abundance of students and staff.
Front of house manager Mark Woody has worked at Tangent for almost six years, and said he was excited to have been voted "Best Off-Campus Restaurant" by the Elon community.
"It's really great," Woody said. "We love that everyone loves eating here."
Woody said his favorite thing about working at Tangent has been the relationships that he has built within the Elon community, specifically the students on campus.
"I've seen quite a few students go from freshmen to seniors, seeing their whole development from there," Woody said. "The constant change of customers from students going in and out, as well as the parents, is always fun."
Using new ingredients daily, Tangent's menu is constantly changing, offering a variety of what it is known best for: its tacos. From the chicken and waffle taco to the turmeric chickpea taco, Woody said Tangent's choices are extremely unique.
"You don't really find the kind of things that we sell around here," Woody said. "There's taco restaurants left and right, but I don't think there's a taco restaurant around here that offers a lot of the things that we do."
Along with tacos, Tangent also offers side orders, desserts and beverages. Woody said that there is something on the menu for everyone.
"I definitely feel like everyone should at least try it, there's at least one or two tacos here for everyone," Woody said. "Once people do give it a shot, they will fall in love with the stuff that we sell. We all take a lot of pride in what we do, and everything is made with love and care."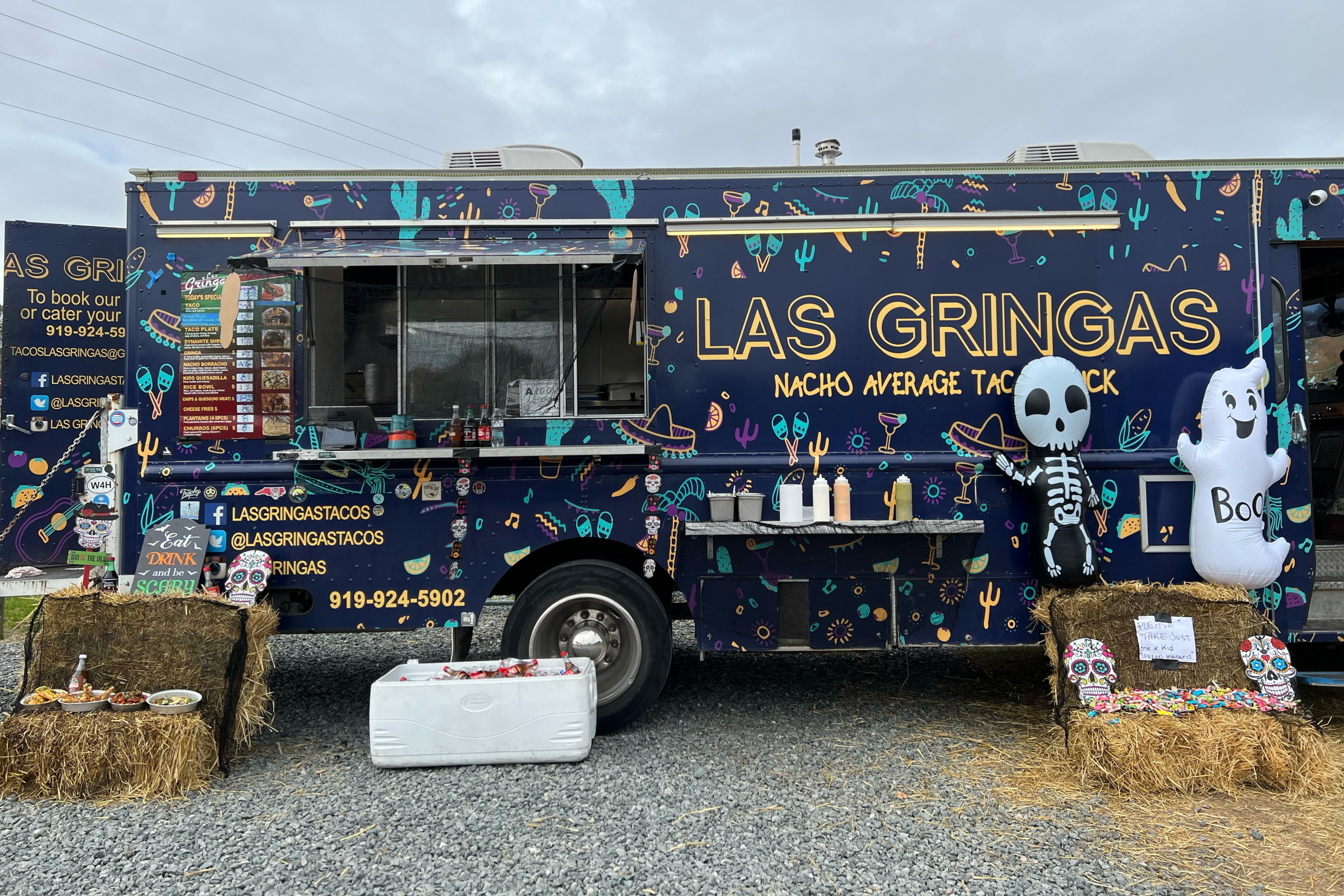 Best Food Truck
Tacos Las Gringas
By Abigail Hobbs | Chief Copy Editor
Marco Espindola quit working in restaurants to show his creativity while cooking in his food truck Tacos Las Gringas, which was named "Best Food Truck" by the Elon community.
"At least for me, it is like I achieved my goal," Espindola said. "There's a reason that I quit working for restaurants because I want to be able to create something on my own. I used to work in places and I wasn't able to use my creativity or my ideas or my craziness, if you want to call it, so it's like one of those things like, 'Thank you, it's been worth it.'"
Espindola said he credits their customers for allowing Tacos Las Gringas to give back to the community.
"I am a firm believer that you have to give back. Because of you guys, we were able to give back to a … local homeless shelter, we can do donations for meals when a hurricane happens, things like that," Espindola said. "So hopefully next coming year, we will go back to Elon and be able to keep providing meals for not just you guys but for the community whenever they need something."
Espindola said in the coming years he also plans on opening a specialty egg roll food truck as well, featuring varieties like mac and cheese and Philly cheesesteak egg rolls.
"We're going to create a different concept, … this new concept I think is gonna be really good too," Espindola said. "So hopefully we can bring that truck to Elon too."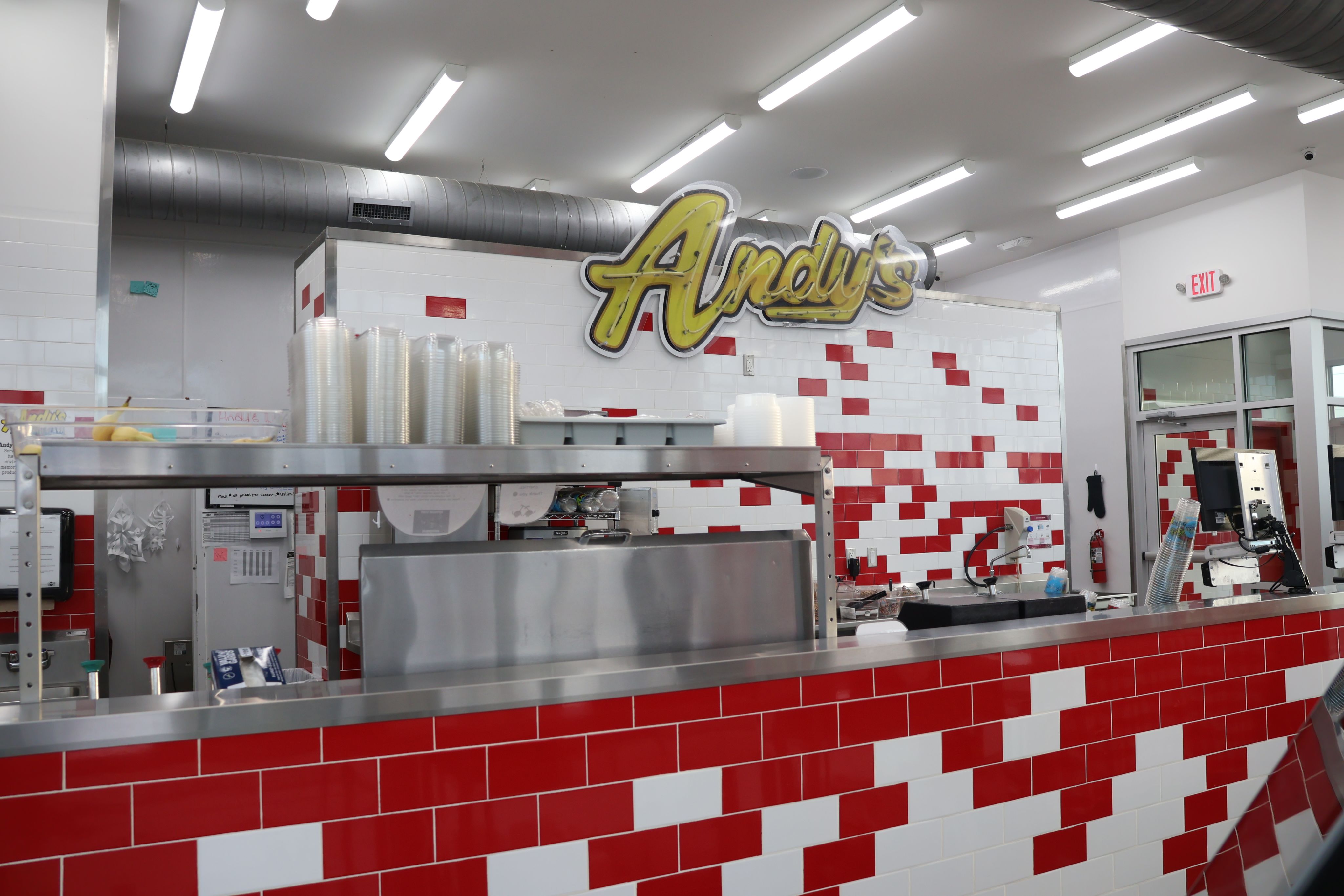 Best Dessert
Andy's Frozen Custard
By Sarah T. Moore
The decades-old chain only came to Burlington three years ago, but Andy's Frozen Custard has already found a community of returning customers in Alamance County. Only three miles away from campus, Andy's has become a go-to spot for several students looking for a sweet treat. The franchise has also partnered with the university's Student Union Board in the past to vend at events, such as the fall carnival.
Manager Sage Robinson has been working at the Burlington location since it opened and was proud to hear the establishment was voted "Best Dessert" for the second year in a row.
"I'm glad everybody enjoys it," Robinson said. "We put a lot of hard work into it, so it feels nice."
With over 20 different menu items, Andy's offers a variety of custard-based sundaes, splits and shakes. The chain also sells concretes, which are servings of frozen custard blended with different topping options, and jackhammers, which are concretes with a filling.
"I would definitely recommend the Bootdaddy to anyone," Robinson said. "It's hot fudge, caramel and Oreo all blended into the vanilla custard."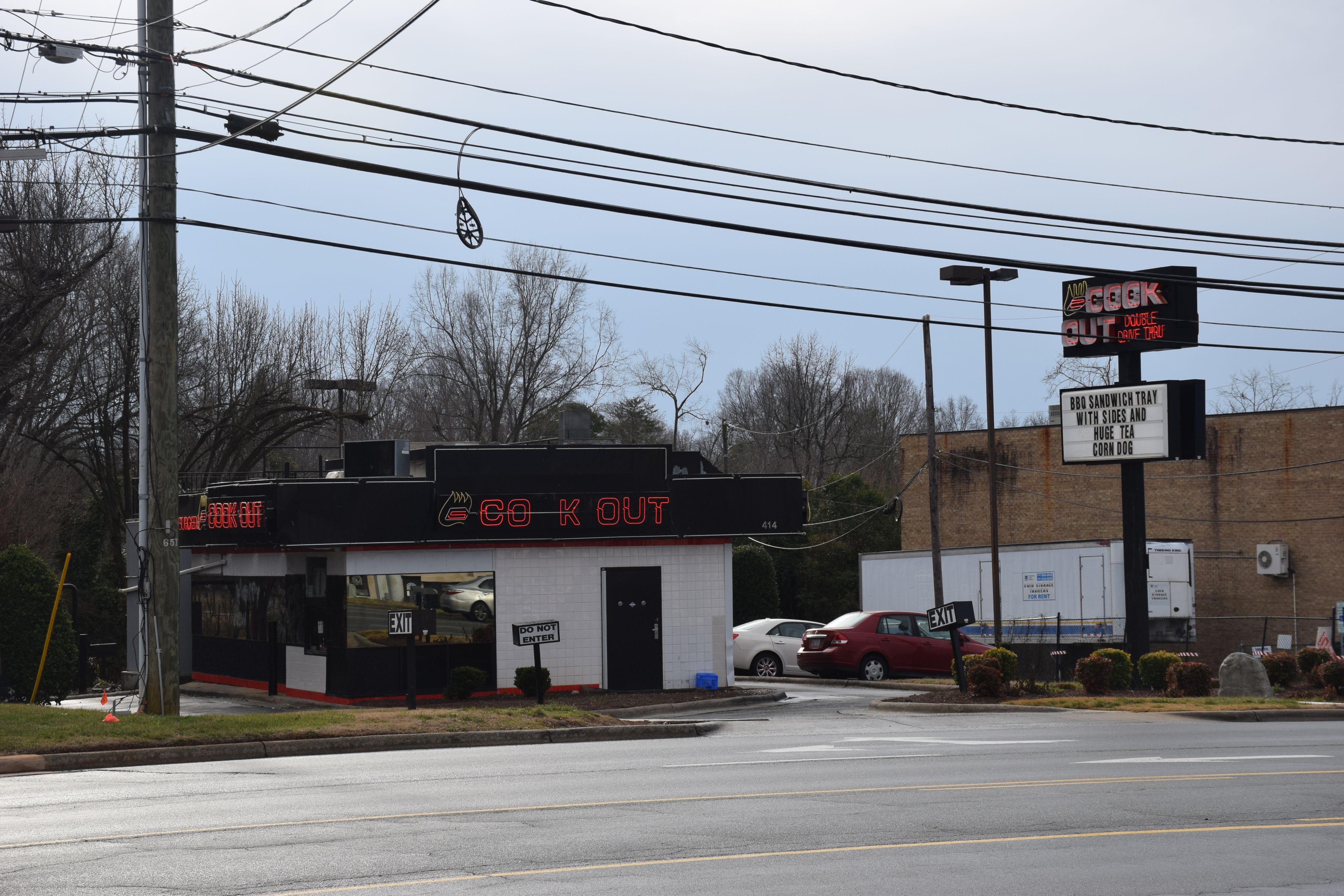 Best Late Night
Cook Out
By Anjolina Fantaroni | Social Media Manager
The winner of "Best Late Night Restaurant" this year is Cook Out. Located at 414 Huffman Mill Road, the chain closes at 3 a.m. on weeknights and 4 a.m. on weekends. With the menu ranging from burgers and fries, to hot dogs and milkshakes, there's a wide variety of meals to choose from.
Freshman Caden Strickland goes to Cook Out with friends frequently for the cheap prices and fast service.
"I usually go around twice a week, and it's my friends and I's favorite late night snack," Strickland said. "It's super convenient because it's open until 3 a.m., so we'll drive around at around midnight to get food."
Strickland says that his favorite menu items are the cheeseburger plates, Cajun fries and cheese curds.
"In my opinion, Cook Out is better quality and much faster than other fast food restaurants in the Elon and Burlington area, and that's why we choose to go there."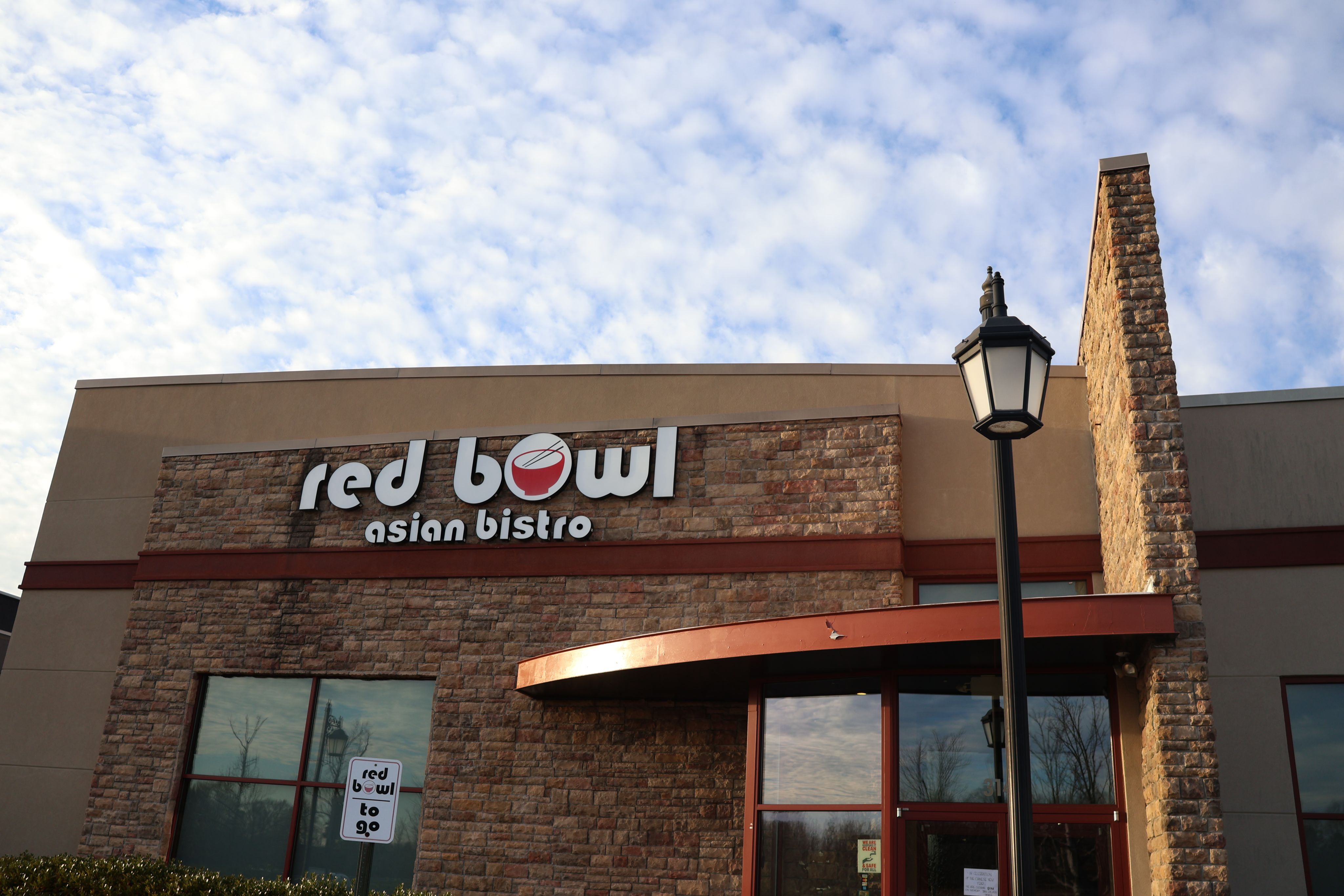 Best Asian Food
Red Bowl
By Betsy Schlehuber | Lifestyle Editor
Located in Alamance Crossing, Red Bowl Asian Bistro has been named "Best Asian Food" by the Elon community for 2022. Red Bowl offers a diverse menu filled with Japanese, Chinese, Thai and Vietnamese dishes, as well as a sushi bar and stir-fry bar.
Junior Georgia Daniel said she likes Red Bowl because it's one of the few places in Burlington that accommodates her dietary needs.
"They're very open about what options they have that are vegan, which is really nice and convenient, especially for other people who have dietary restraints," Daniel said.
Red Bowl's menu offers gluten-free, vegan and vegetarian options such as sesame tofu and shaguo tofu. Daniel said her favorite meal to order is the vegetable lo mein.
Not only does Daniel like the vegan options, but she also said she likes the quality of the food and service. She said she likes to go to Red Bowl with her friends.
"Usually if we have a big group of people, like eight or more, we will go there just because they can seat that many in Burlington," Daniel said. "That's not always the easiest thing to find."
And when Daniel can't make it to Red Bowl in person, she said she is impressed by how fast the delivery and takeout services are, especially as a busy college student.
"It's nice to be able to call a place and they say it's ready in 15 minutes and it's actually ready in 15 minutes," Daniel said. "Whenever I've tried DoorDash from other places, it'll say it will be ready within an hour and then three hours later, my food is still not there. So, it's just nice being able to go there, pick it up and know it's going to be the same quality every single time."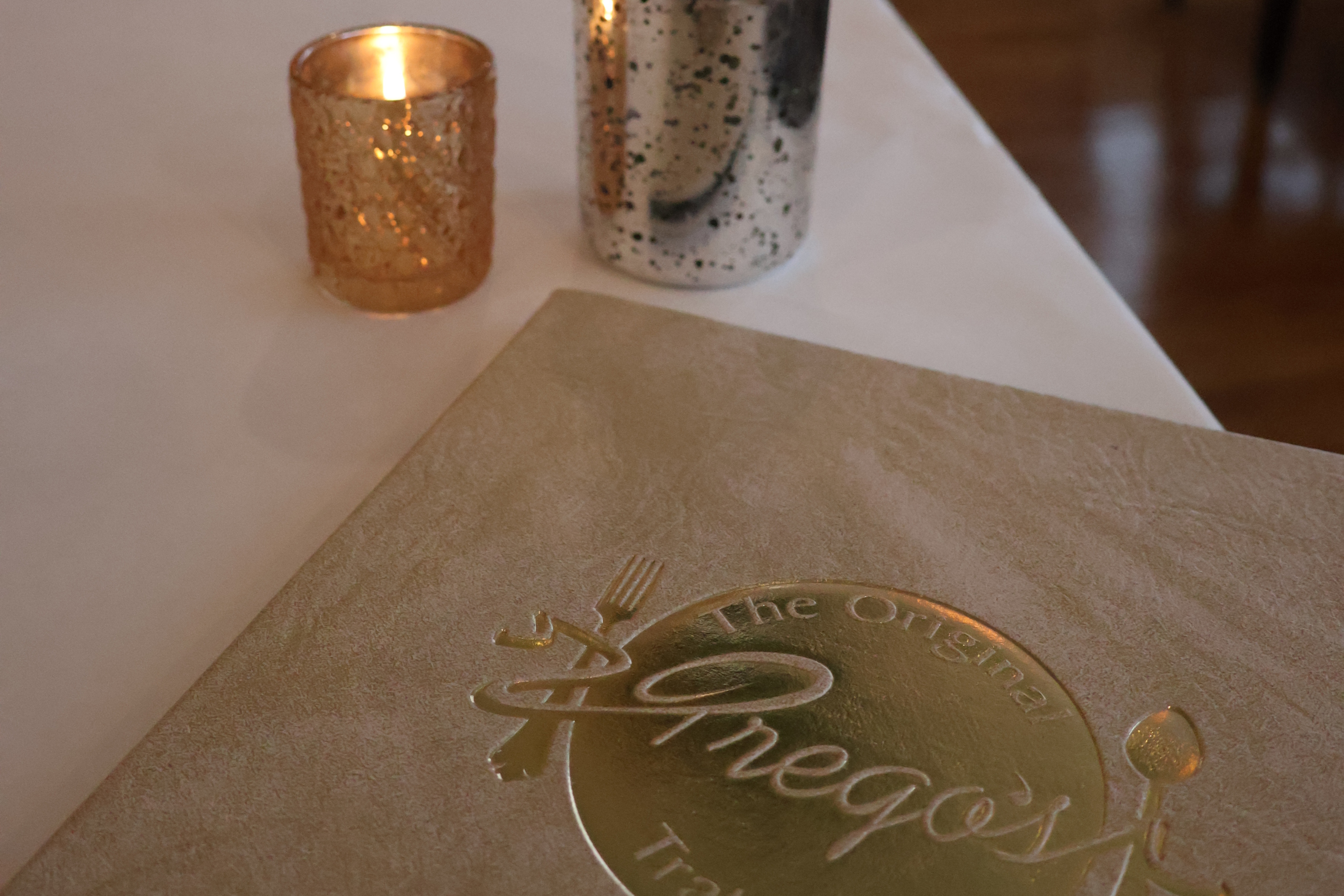 Best Italian Food
Prego's Trattoria
By Betsy Schlehuber | Lifestyle Editor
Located on Huffman Mill Road, Prego's Trattoria has been named "Best Italian Food" by the Elon community for the 2022-2023 school year. Prego's offers New York-style Italian food.
Senior Jay Bennett has lived in the town of Elon since she was four years old and enjoys going there with her family since they get along well with the staff. Bennett said that on her mother's birthday, her family went to Prego's for dinner and, with the help of one of the waitresses, Bennett was able to surprise her mother with a cannoli with a candle in it by writing a note for the waitress while she was ordering a drink.
"I totally thought I was busted because it was the most obvious move I could pull," Bennett said. "But then they came out with the cannoli and candle after dinner and my mom was so surprised. She had no idea."
Bennett likes Prego's because she said it's more authentic than other Italian restaurants she has been to in the area.
"A lot of the places in Burlington are super Americanized-Italian and it's the type of Italian that just sinks to your stomach like a rock," Bennett said.
Bennett's favorite dish to order at Prego's is the chicken piccata, a dish Prego's makes with shiitake mushrooms, because it's a light dish that's not greasy and easy to eat.
Bennett also said she enjoys its homemade fettuccine and zucchini with blueberry goat cheese. She said dishes like those are what set Prego's apart from other Italian restaurants in the area.
"They have specials that you wouldn't find at any other restaurant," Bennett said. "At all the other restaurants, it's like a copy-and-paste menu everywhere you go."
Not only is the menu unique, Bennett said, but the food also feels healthier than at other Italian restaurants. Although she said she doesn't think the food is cooked healthy on purpose, she said the food "feels pure" and the ingredients feel fresh, natural and well-made.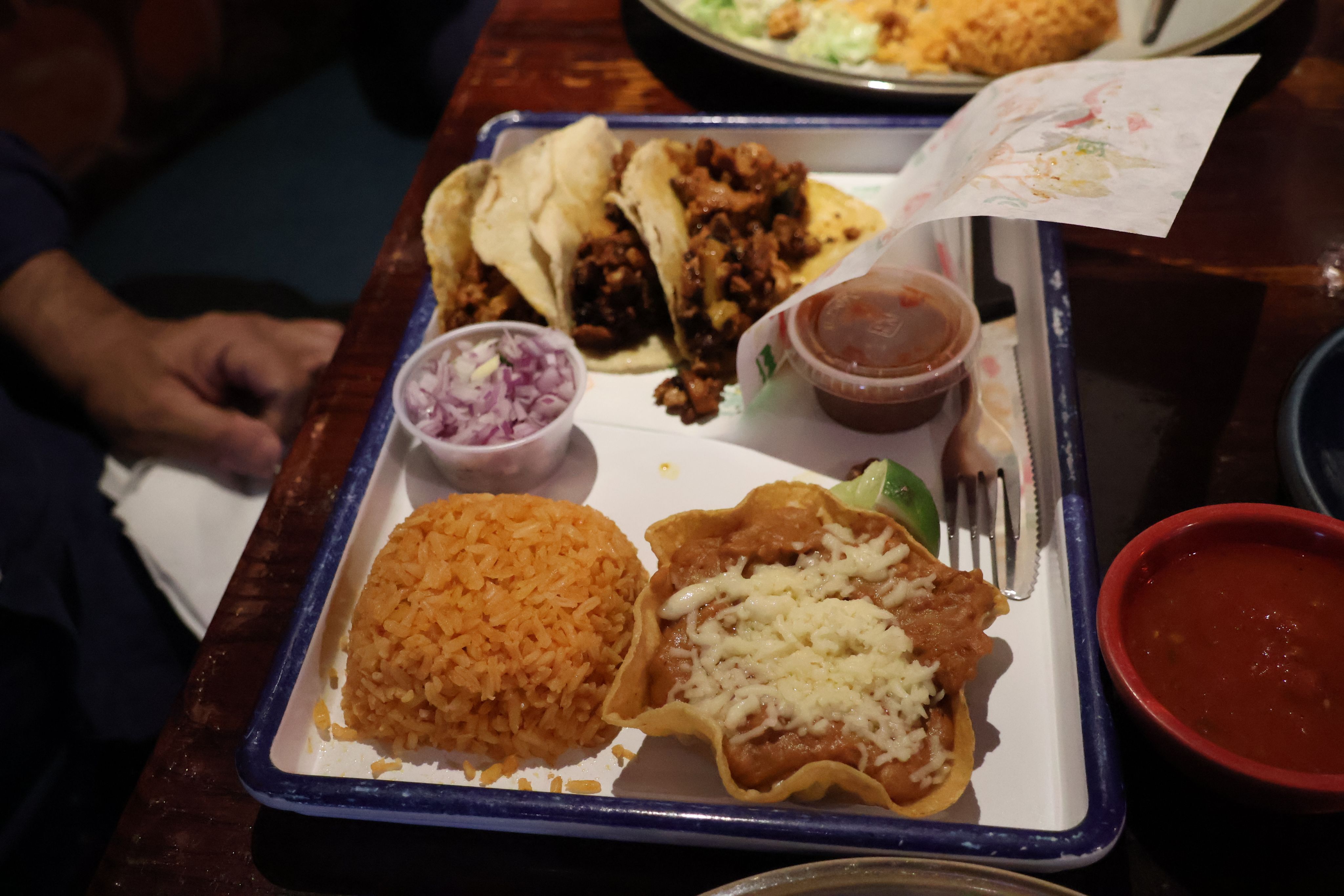 Best Mexican Food
San Marcos
By Ryan Kupperman | News Editor
San Marcos has been voted "Best Mexican Food" by Elon University students. The franchise has six locations across Virginia and North Carolina.
Mario Lopez, a San Marcos general manager, said he is happy that they have earned this recognition.
"It makes me feel really good and makes me feel really proud of what we're doing over here, of our food and the quality of service that we provide every single day," Lopez said.
Lopez also said that he believes the recognition comes from a great relationship that the restaurant has with both Elon University and its students who frequent the location in Burlington.
Despite being grateful for the positive feedback, Lopez also said he is confident in San Marcos' quality of service, food and atmosphere and encourages customers to dine at competing Mexican establishments to get a sense of just how much San Marcos stands out.
"People should go try other Mexican restaurants and then come try ours," Lopez said. "They'll see the difference in the quality of our food."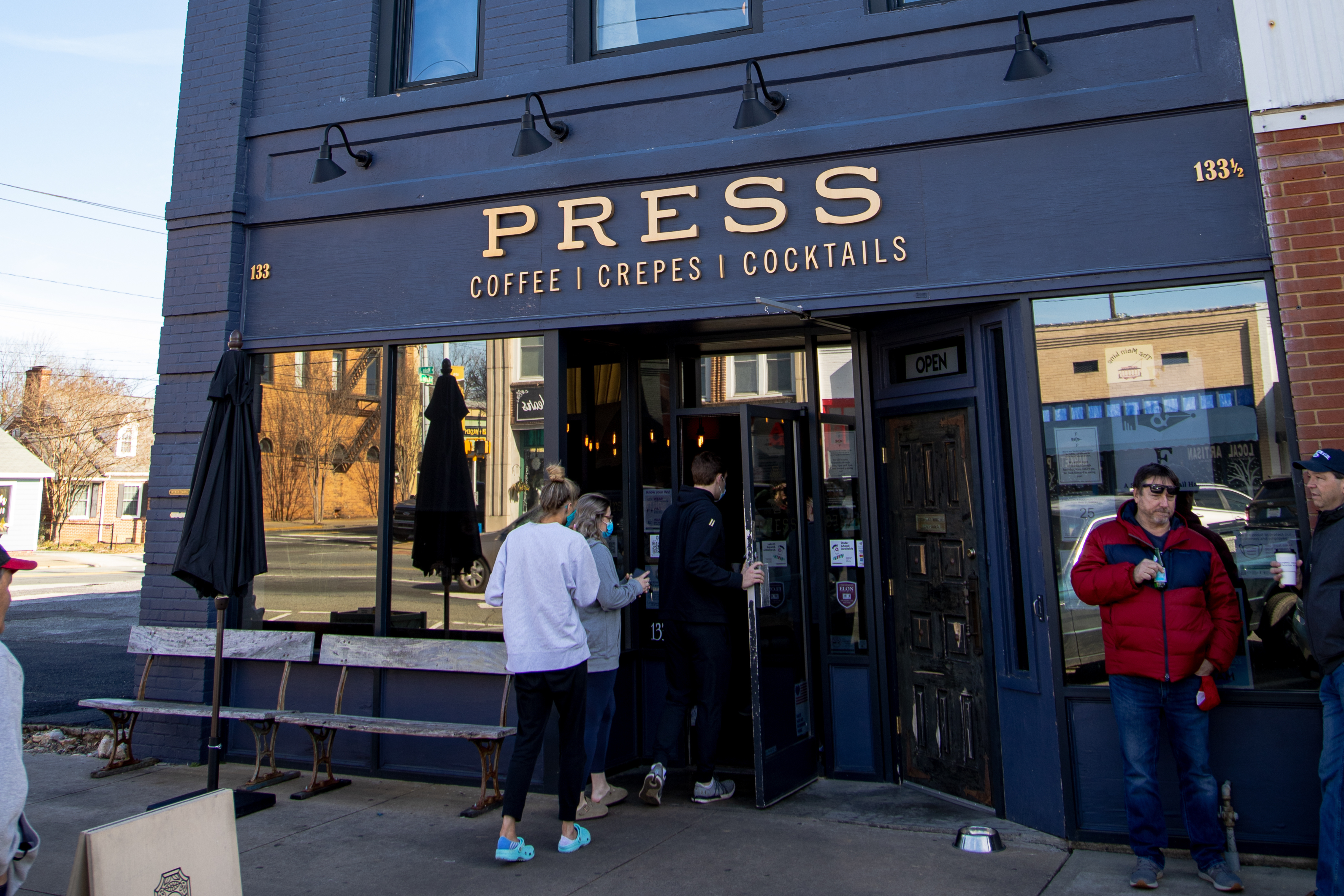 Best Brunch
Press Coffee+Crepes
By Sydney Spencer | Sports Editor
Located in downtown Graham, Press Coffee+Crepes is just a short drive away from Elon's campus, serving breakfast, brunch and lunch to the community at large.
General manager Ashley Aguirre said she was honored to have been voted "Best Breakfast/Brunch Spot" by the Elon community. Having managed Press since June 2020, Aguirre said she most enjoys the connections she has made while working over the years.
"I get to meet a lot of really awesome people, whether it's our staff or the guests who come in," Aguirre said.
With a vast and constantly rotating menu, Press offers a variety of breakfast, sweet, savory and specialty crepes.
"Our choices are really stepped up, it's not just bacon and eggs on a plate but it's something a little bit nuanced, a little bit different," Aguirre said. "Of course, it is still bacon and eggs on a plate, but we wrap it in a crepe with yummy toppings."
On top of crepes, Press also offers cocktails and a wide array of coffees to choose from. Aguirre said having good coffee with breakfast is the key.
"Our coffee is wicked good, so you have to love a good cup of coffee, which feels like even more of a feat when going out to breakfast," Aguirre said. "The amazing coffee just seems to tie the ribbon into a little bow."
Aguirre said she hopes that Press will continue to provide the community with a new food experience to enjoy.
"Because folks are looking for something new and different, we get to offer that to them, which is really fun," Aguirre said. "People come in, they don't even know what a crepe is, and they leave and they're not only full but they've had a new food experience, which is really exciting."
Writing is a medium of communication that represents language through the inscription of signs and symbols.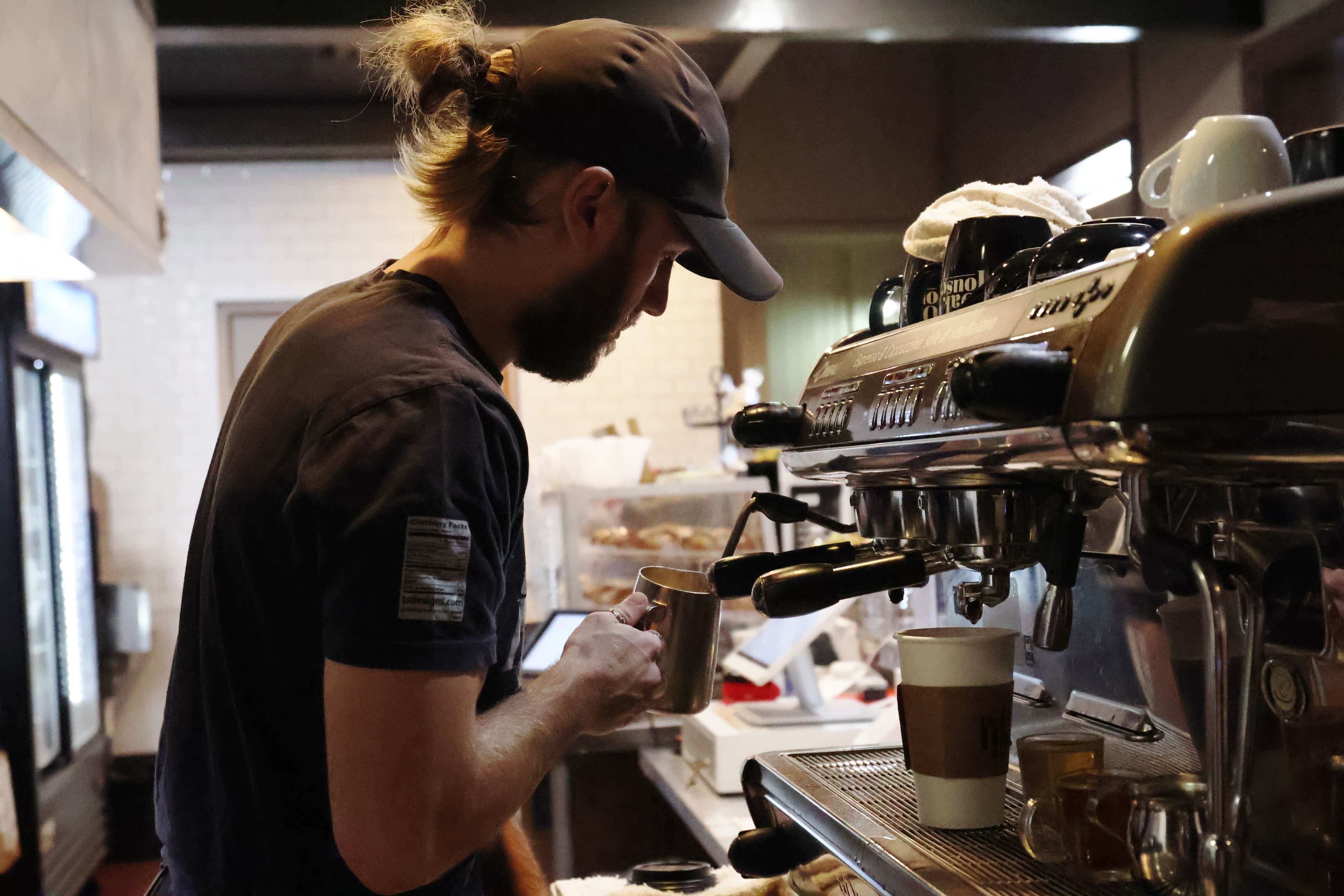 Best Coffee
The Oak House
By Avery Sloan | Politics Editor
The Oak House has become a homebase for senior Megan Curling throughout her time at Elon University. She said the less formal setting, located in downtown Elon, has helped her both to de-stress and to get work done. The Oak House won "Best Coffee."
"I might not be the best of friends with everyone that works there, but I genuinely think nine times out of 10 that I go in there I at least know the name of the person working and they tend to know mine as well, which is always a good feeling," Curling said.
Curling said that it is clear to her that the owner, Phil Smith, and the rest of the staff work to make The Oak House a welcoming environment.
"Phil and all of the students who work there, I think always try really hard to make sure that it's a comfortable atmosphere," Curling said. "Whether that's the seating or the music. I think it's all very intentional to create the atmosphere and the experience at Oak House to differentiate it from the rest of campus."
Curling said before coming to Elon in her hometown of Winston-Salem, being in a coffee shop to get work done has been something she's gravitated toward.
"I spent a lot of time at one coffee shop in Winston where I'm from and it definitely was the same kind of energy for me in high school," Curling said. "I think Oak House definitely became that of like, somewhere to go after class and de-stress and be able to work on my stuff but also do so in an enjoyable environment."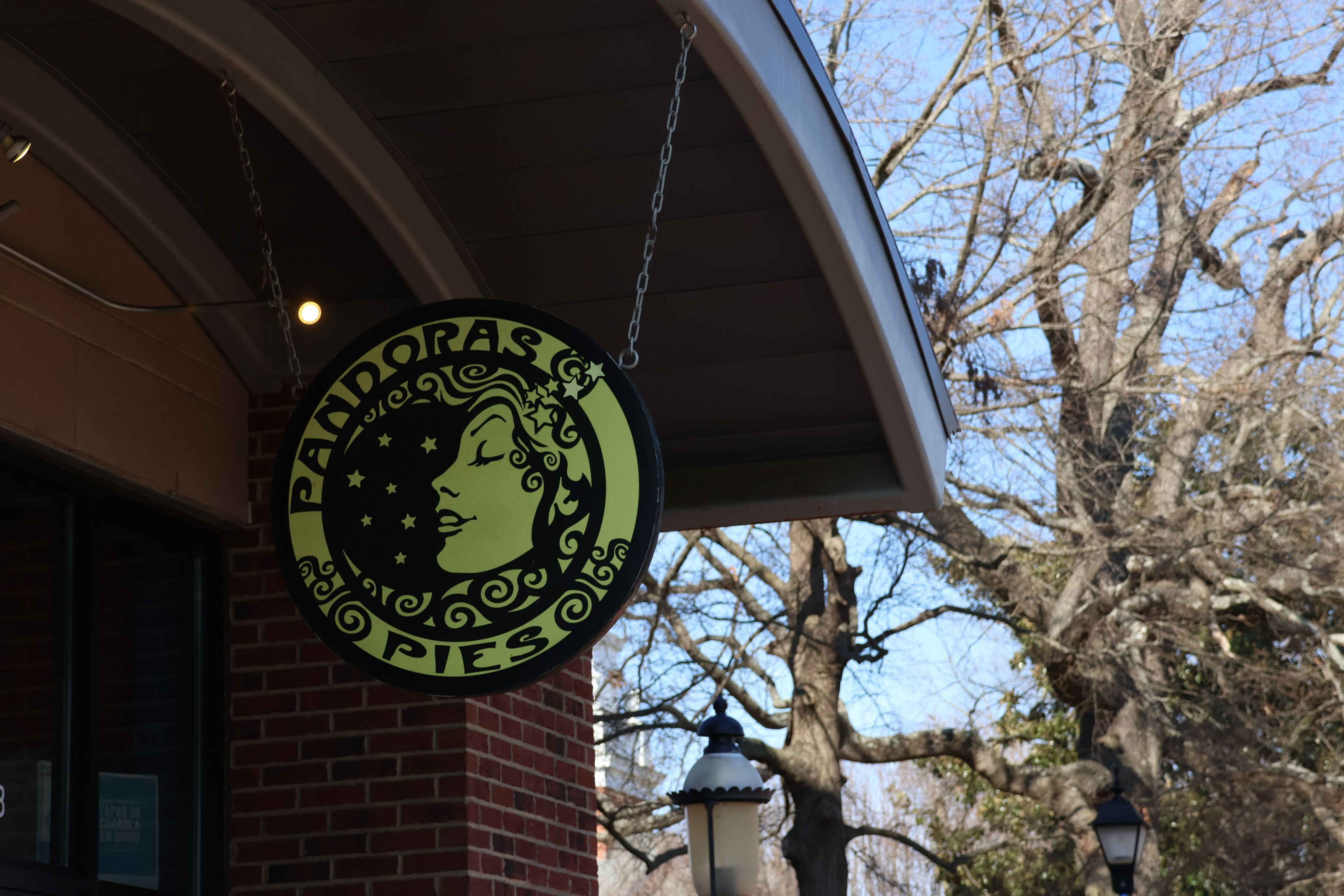 Best Pizza
Pandora's Pies
By Erin Martin | Executive Producer of ENN On Air
For another year, Pandora's Pies has been voted "Best Pizza." Pandora's is not only celebrating the title but also 10 years of business this month. Pandora's menu features a variety of pizzas along with salads, sandwiches and its famous garlic knots.
The current owner, Kimberly Holt, has worked at Pandora's since day one and said she believes that their pizza making process is what makes the difference.
"We are as farm to table as possible, with as many local ingredients, we make everything from scratch, everything is made in house," Holt said. "That's what sets us apart."
Some of their housemade ingredients include the dough and sauce which is used to craft their crowd-favorite pizza.
Holt said getting this recognition is important to the restaurant.
"It means a lot that the Elon people think that we're the best pizza," Holt said.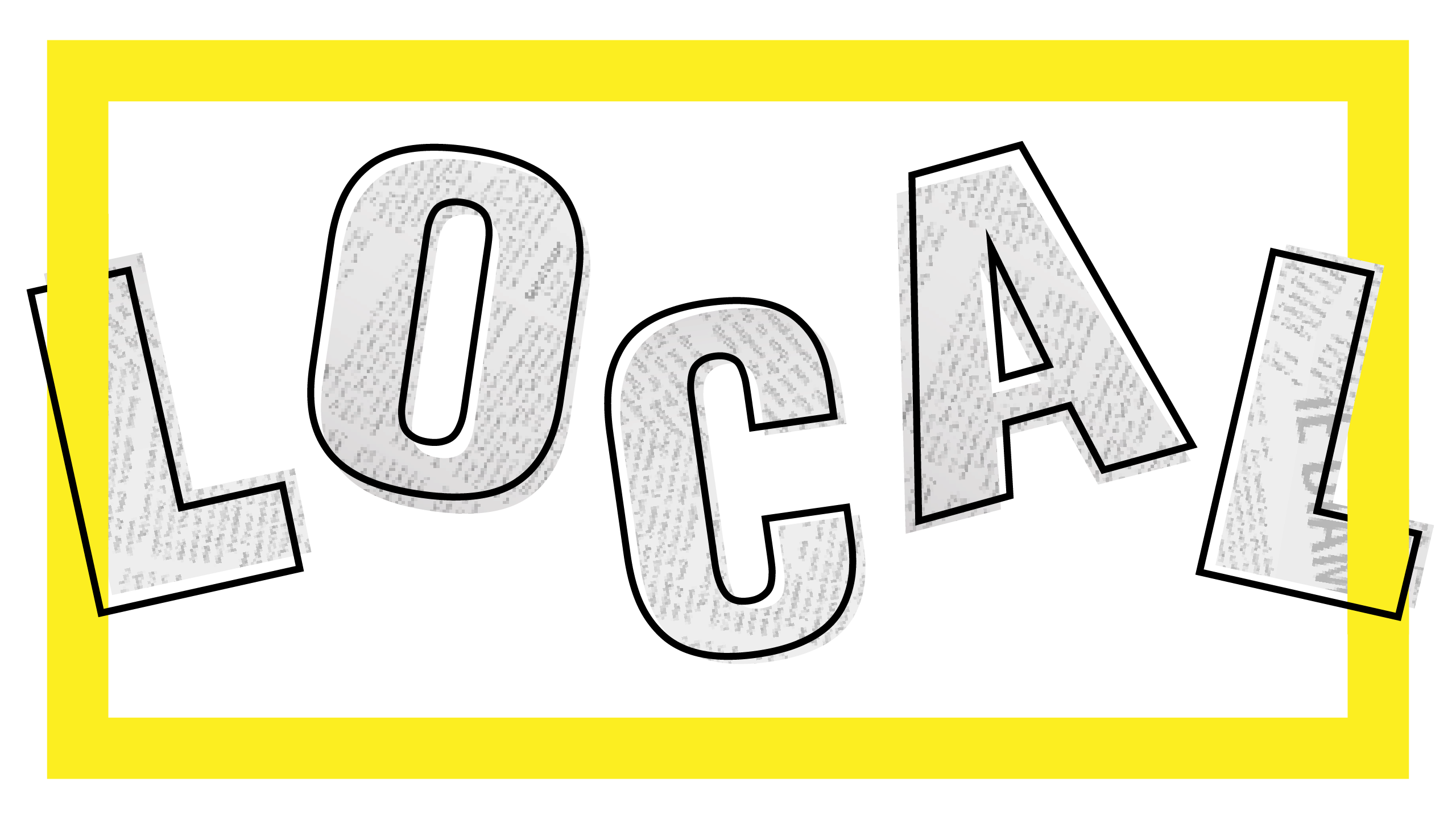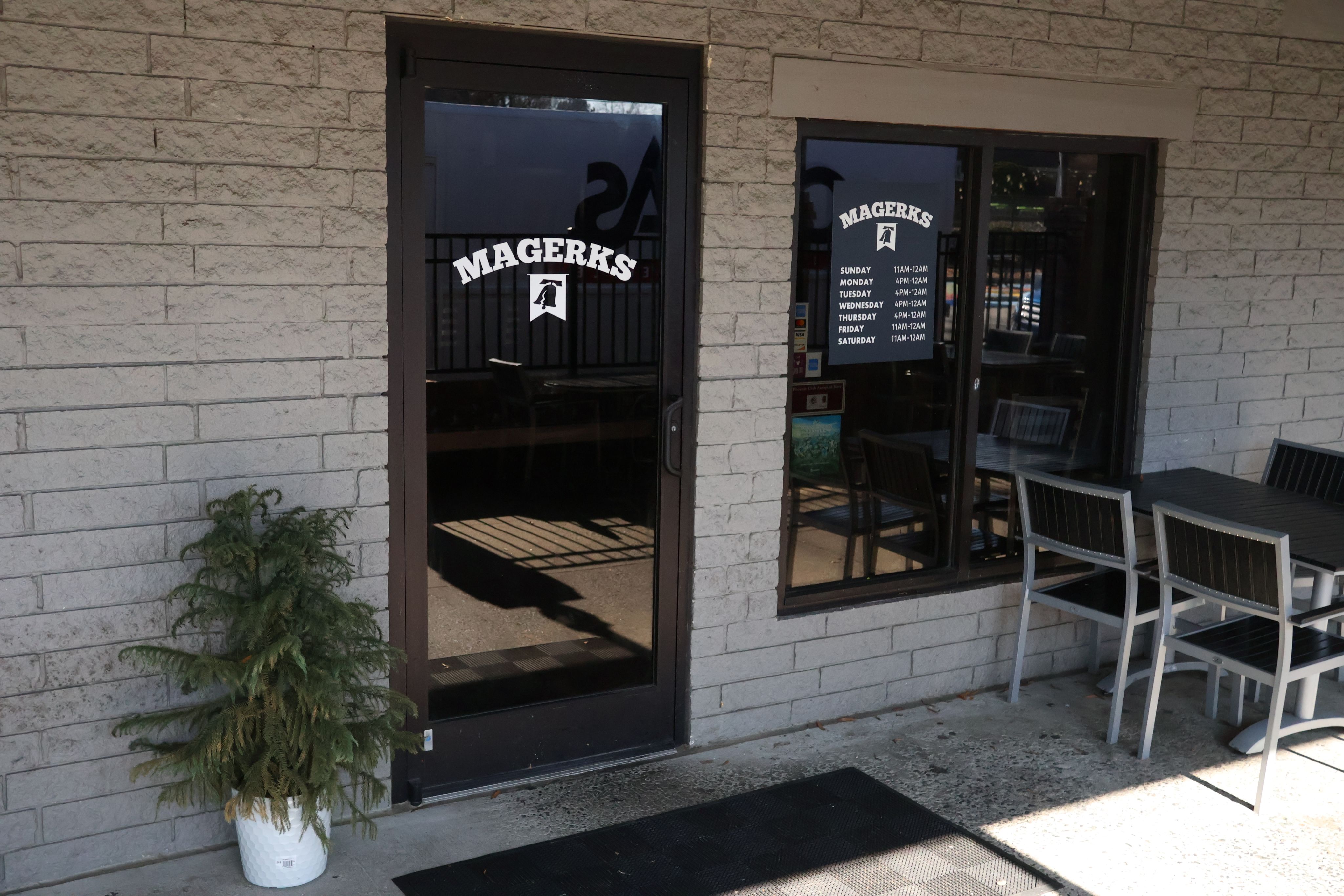 Best Town of Elon Business
MaGerks Pub & Grill
By Miranda Ferrante | Managing Editor of elonnewsnetwork.com
The Philly-inspired MaGerks Pub & Grill opened beside Elon University's campus in 2018 on West Lebanon Avenue. The bar and restaurant, voted by the campus and surrounding community as the "Best Town of Elon Business" is one of the chain's six locations throughout Pennsylvania, Maryland and North Carolina.
MaGerks serves a number of American pub-style dishes from signature cheesesteaks to nachos, mozzarella triangles and "fresh crafted crush cocktails."
Elon MaGerks' general manager, Sammerah Qawasmy, said the Elon location was founded when the owner, Jon Dolaway, dropped his daughter off to attend the university — he didn't see anything like MaGerks around.
MaGerks strives to be a fun neighborhood bar and restaurant for everyone, according to Qawasmy. She said they enjoy supporting both youth and college sports teams and engaging with the university and the local community.
Patrons enjoy specialty nights like music bingo on Thursdays.
"We are honored that our hard work has been recognized," Qawasmy said. "We are very proud of our awesome team."
Qawasmy said all of the businesses in the town of Elon are already so unique. At MaGerks, everyone from guests to staff has fun, something Qawasmy said creates a positive experience for everyone.
She enjoys working with the university community so closely. For Qawasmy, MaGerks is more than just a restaurant, it's part of the Elon experience.
"My favorite part about my job specifically is that I get to work with an age group that is just starting to experience adulthood," Qawasmy said. "They are in a learning environment already so I take an approach from that and get to coach them into the work world. Our relationships are a work family."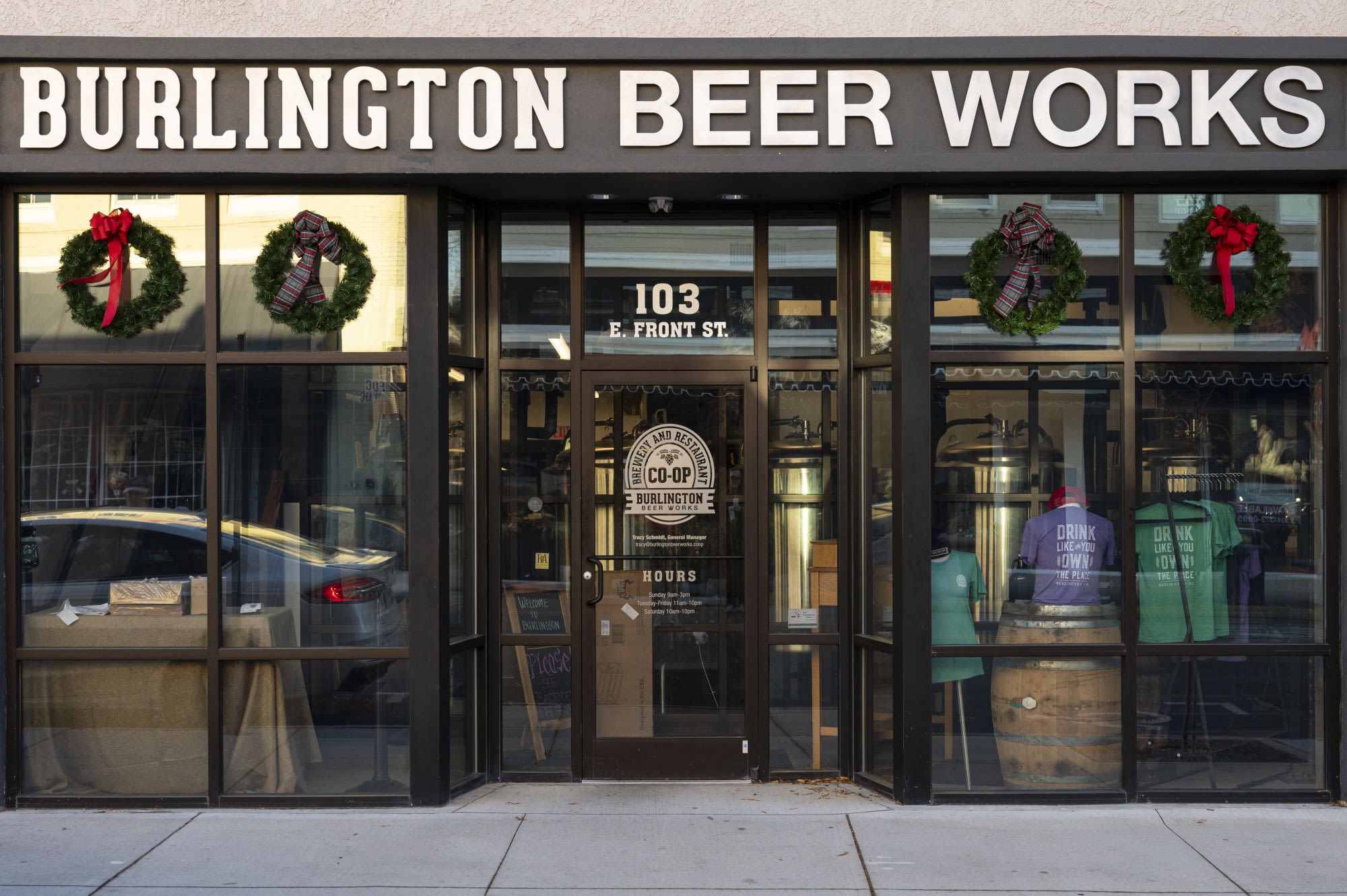 Best Downtown Burlington Business
Burlington Beer Works
By Sophie Rosenthal | Managing Editor of The Pendulum
Burlington Beer Works was voted "Best Downtown Burlington Business" by the Elon community.
Since opening in 2019, the restaurant and brewery has become the go-to spot in downtown Burlington for many Elon students. Junior Siena Gamberoni said the ambiance, service and quality of the food and drinks are part of what makes Burlington Beer Works stand out.
Rather than having individual ownership like a traditional business, Burlington Beer Works is owned by a cooperative board, which includes many members from across the local community. Among the board members are Elon University professor Elena Kennedy and Pandora's Pies owner Peter Ustach. Community members can also buy an ownership share in the business. The business is the first of its model in North Carolina and the third in the country.
Gamberoni, who has experience working in multiple restaurants, said she thinks the business model leads the way to a more enjoyable experience for both employees and patrons.
"I think the co-op model definitely adds to the success," Gamberoni said. "It separates Burlington Beer Works from other restaurants, which can sometimes have poor working conditions and miserable employees."
Burlington Beer Works partners with farms within Alamance County to source at least half of its ingredients locally, according to the business's website. Gamberoni said she likes seeing new items on the menu that are catered to the seasonal ingredients.
"That's something really important to me," Gamberoni said. "It highlights how much time and care they put into their craft."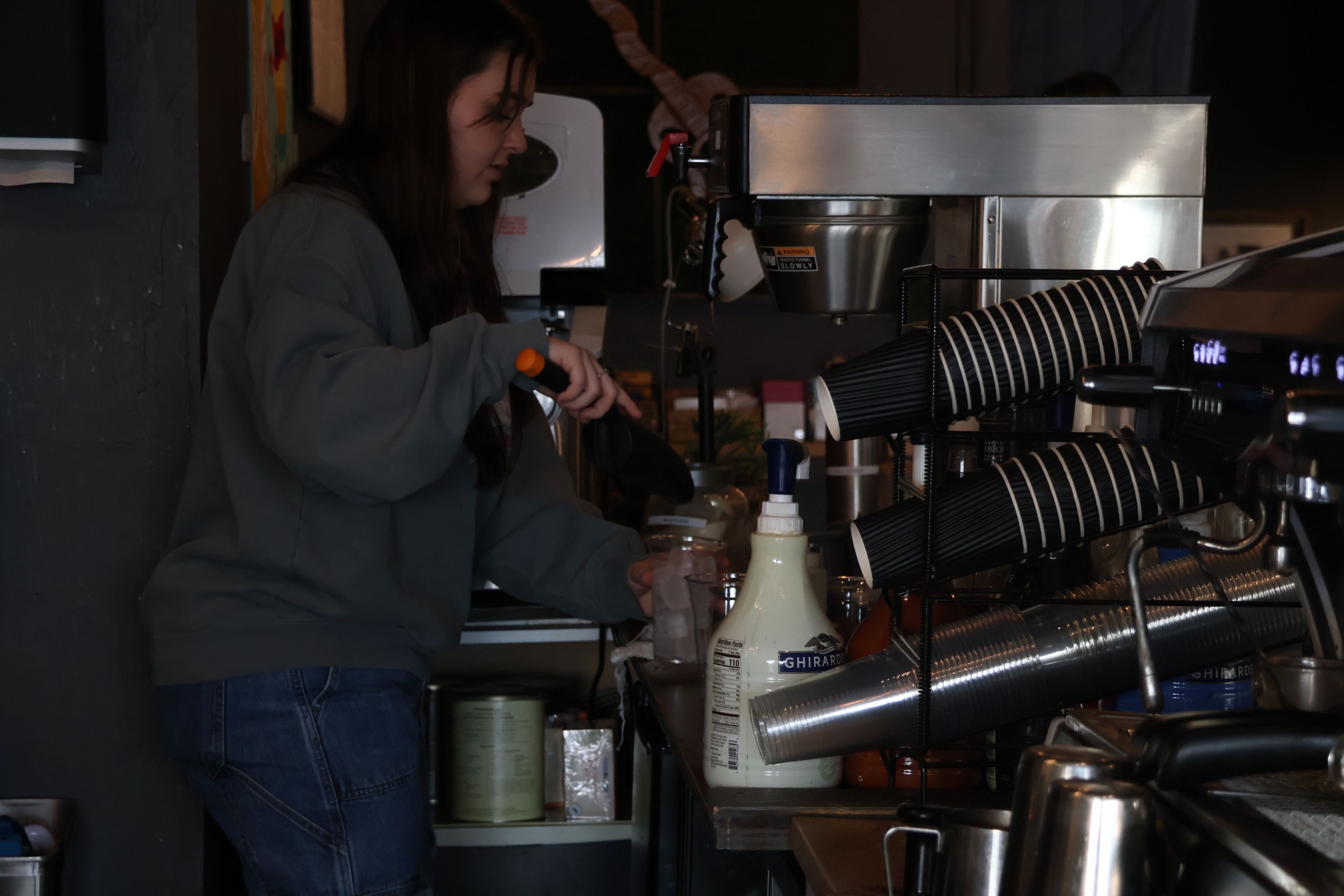 Best Downtown Gibsonville Business
The Gilded Bean
By Kyra O'Connor | Executive Director
When The Gilded Bean first opened its doors in 2021 in downtown Gibsonville, Owner Chuck Beard could not have anticipated the success the shop would soon garner as both a community hub and now as "Best Downtown Gibsonville Business."
"It certainly wasn't expected, and we're honored," Beard said. "Thank you so much."
Elon University students are a large part of both the Gilded Bean's customers and the shop's employees, Beard said.
"The business continues to grow," Beard said. "We're pleased, we get more students, especially that come to study here, and we like that, and we want to know more [of] what Elon students in particular are looking for."
Manager of the Gilded Bean Madeline Clements has worked at the Gilded Bean for over a year now and has seen the growth of the coffee shop firsthand.
"We love to build relationships and connections with people," Clements said. "If someone's looking for somewhere they just need to go to study, or if they need someone to talk to for the day, then we're always open. It's really beautiful."
One of Clements' favorite parts of working at The Gilded Bean is the creativity she is able to put into her job, from creating the menus to helping design the stickers sold at the front counter.
"It's nice to be able to pay attention to the tiny details," Clements said.
Both Clements and her coworker, Kacey Cooper, said working at The Gilded Bean is made special by Beard; he has built a community for Gibsonville residents and Gilded Bean employees alike.
"Even when he's not there, he's still working towards making sure that we're on our feet," Clements said. "People see that and respect that. … He's very well loved by everyone around here."
Cooper began working at the Gilded Bean nearly a year ago. Her mom also works in downtown Gibsonville and Cooper found the coffee shop to be the perfect fit.
"I really love the community — the community of downtown Gibsonville and the community at the Gilded Bean," Cooper said. "It just makes me happy how everyone loves to come in there and visit with their friends and get coffee and just have a good time."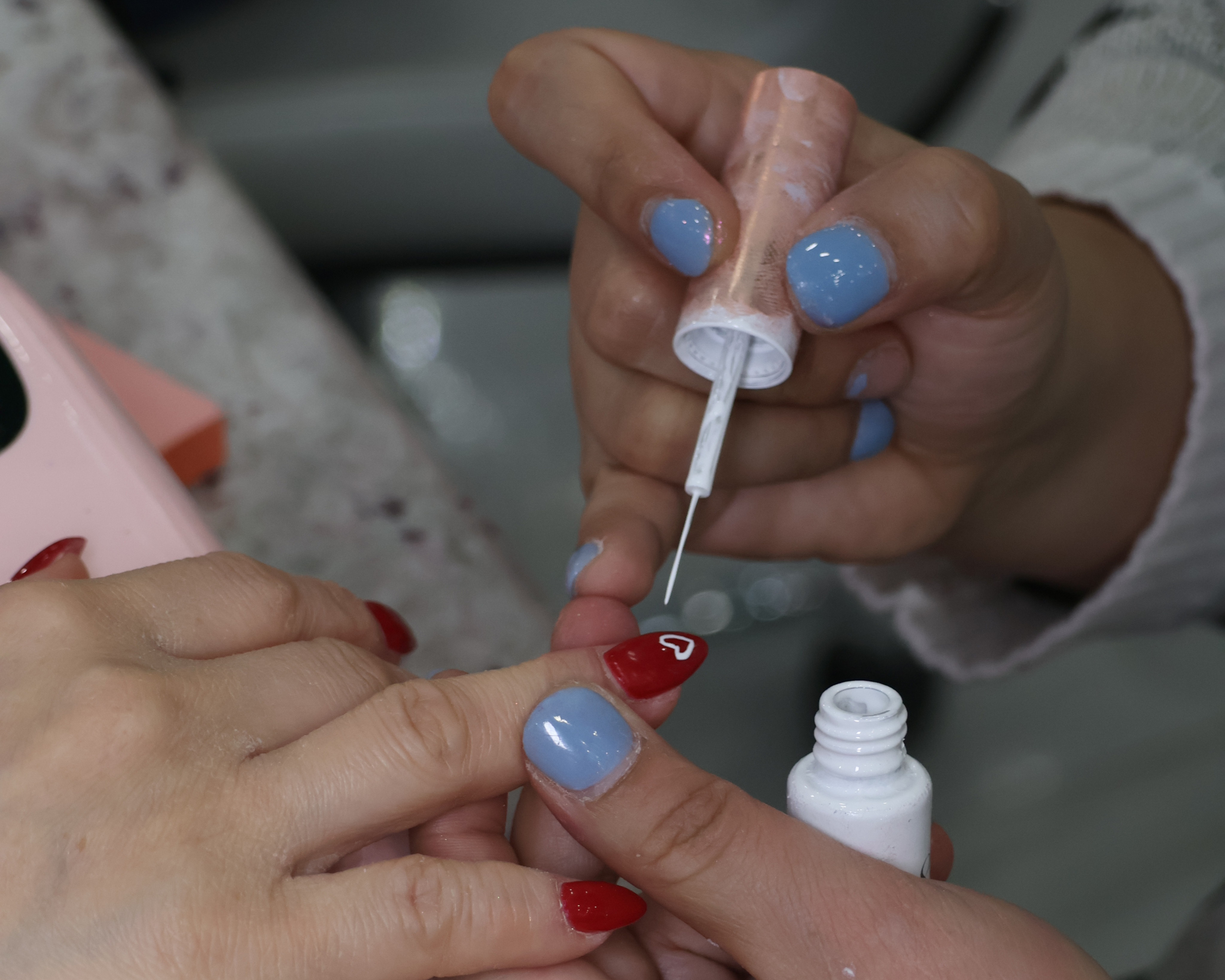 Best Nail Salon
Magic Touch Nails & Spa
By Hope Valenti
The Elon community voted Magic Touch Nails and Spa as the "Best Nail Salon."
After seven years working in the nail industry, owner Nick Vo and his family decided it was time to create a friendly, personal environment for customers. The family set their plans into motion and in July 2021, Magic Touch opened its doors to the public. It's been a popular location among the Elon community since due to its proximity to campus and competitive prices.
Junior Emma Russello frequents the salon for manicures and pedicures. She said she prefers the salon, viewing it as a smarter investment. To Russello, the quality of service is unmatched.
"Everyone is super nice and accommodating," Russello said. "I'm always getting promotional texts and emails and stuff. It's great because they're so cheap but my nails always look amazing."
Vo said Elon students and faculty make up a large portion of clients. Magic Touch provides a number of packages ranging from basic to deluxe including manicures, pedicures, facials and waxing. Technicians stay familiar with current trends, aiming to fulfill any requests.
"We are very blessed," Vo said. "Our business stays very busy."
The location accepts walk-in and call ahead appointments and offers 10% off for all Elon students and faculty.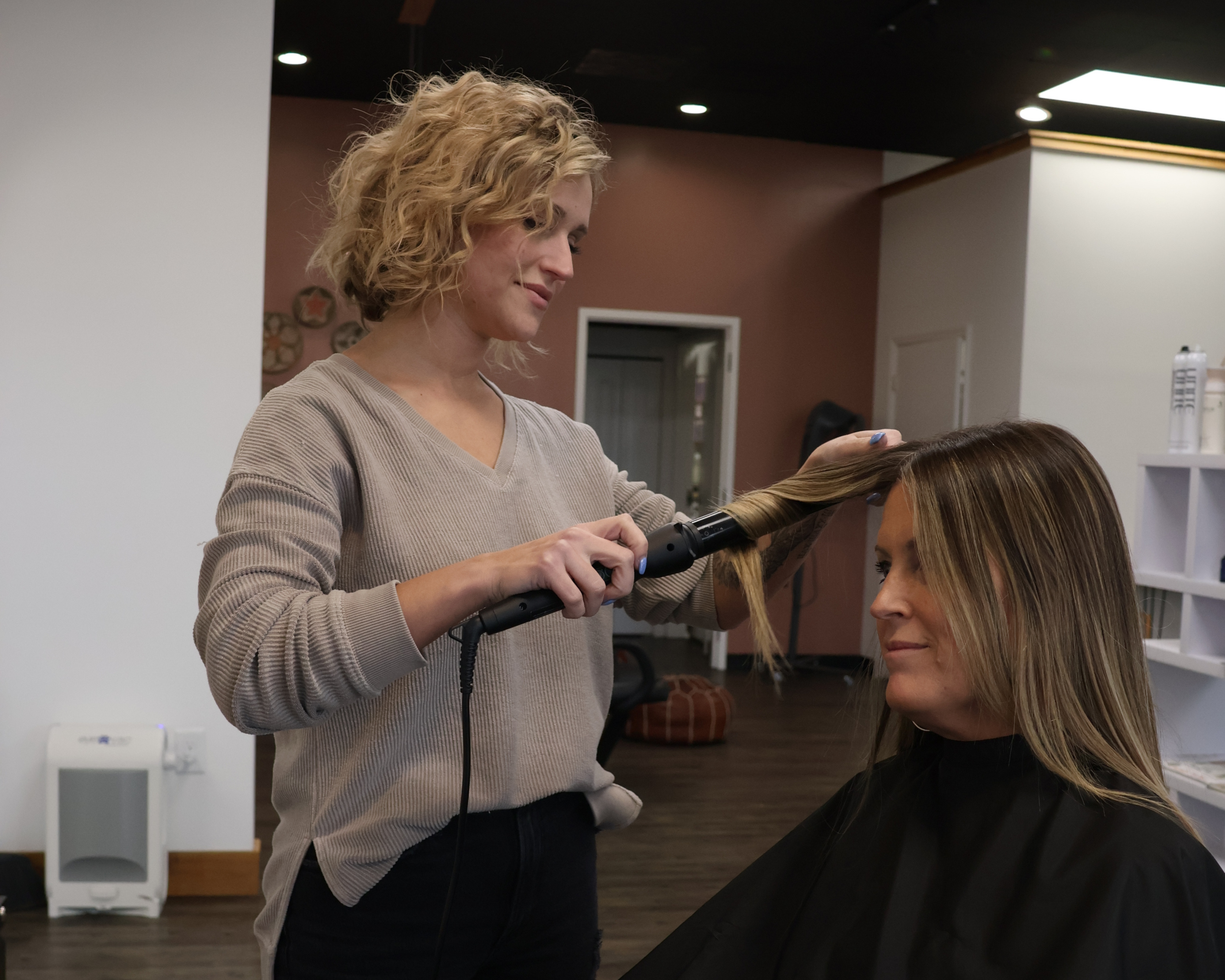 Best Hair Salon
Painted + Beauty Studio
By Hope Valenti
Despite being relatively new, Painted+ Beauty Studio has made itself known, establishing a notable reputation among the Elon community. The business was voted "Best of Hair Salon."
Stacy Qualls opened Painted in September 2018 in hopes of providing clients with an elevated experience and feeling of empowerment. Qualls said she has always had a passion for hair, and wanted to create a safe space to help women look and feel good.
"Hair day has and still is my favorite day," Qualls said. "I love the girl gang vibe Painted has brought together."
Qualls coined the term "PaintedBabes'' for customers, furthering the sense of community. Painted stays up to date on the latest trends, offering services such as hair coloring, extensions and cuts, among others. The location also features an esthetician and permanent make-up artist.
Qualls said Elon students can be found sitting in the studio chairs daily.
"We absolutely love our Elon students," said Qualls. "Their fun and welcoming vibe matches our atmosphere entirely."
Sophomore Caroline Morrison said she trusts Painted over other salons in Burlington. She said each visit provides her with not only beautiful hair, but a confidence boost.
"When I leave, I feel so good," said Morrison, "like my hair looks great. I feel great. It's such an awesome environment."
Located on St. Marks Church Road, Painted is a six minute drive from campus. Prospective clients can schedule appointments on the business' website, www.paintedbeautystudio.com, where they are matched with a compatible stylist based on their desired services. Select stylists offer discounts for Elon students.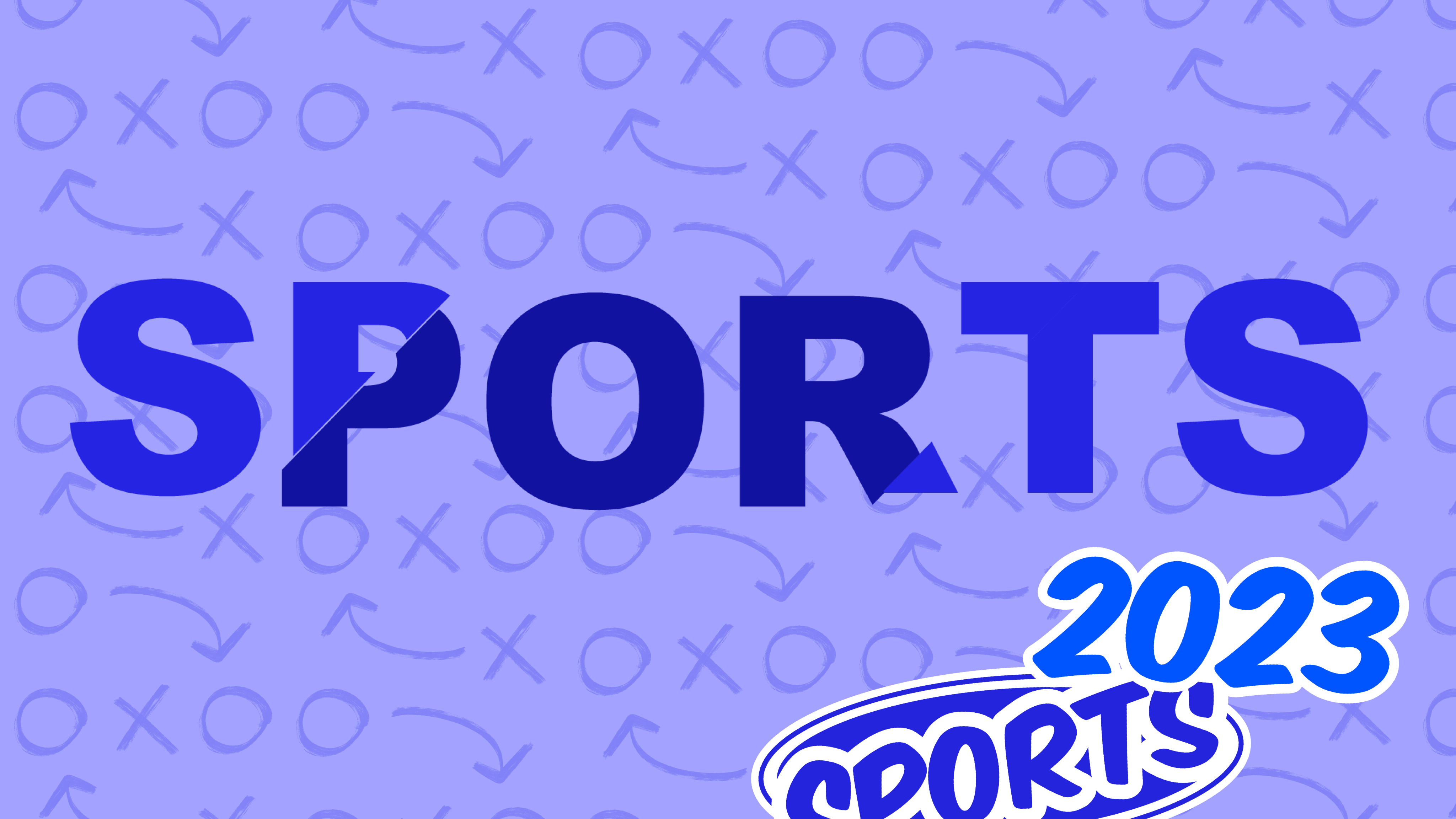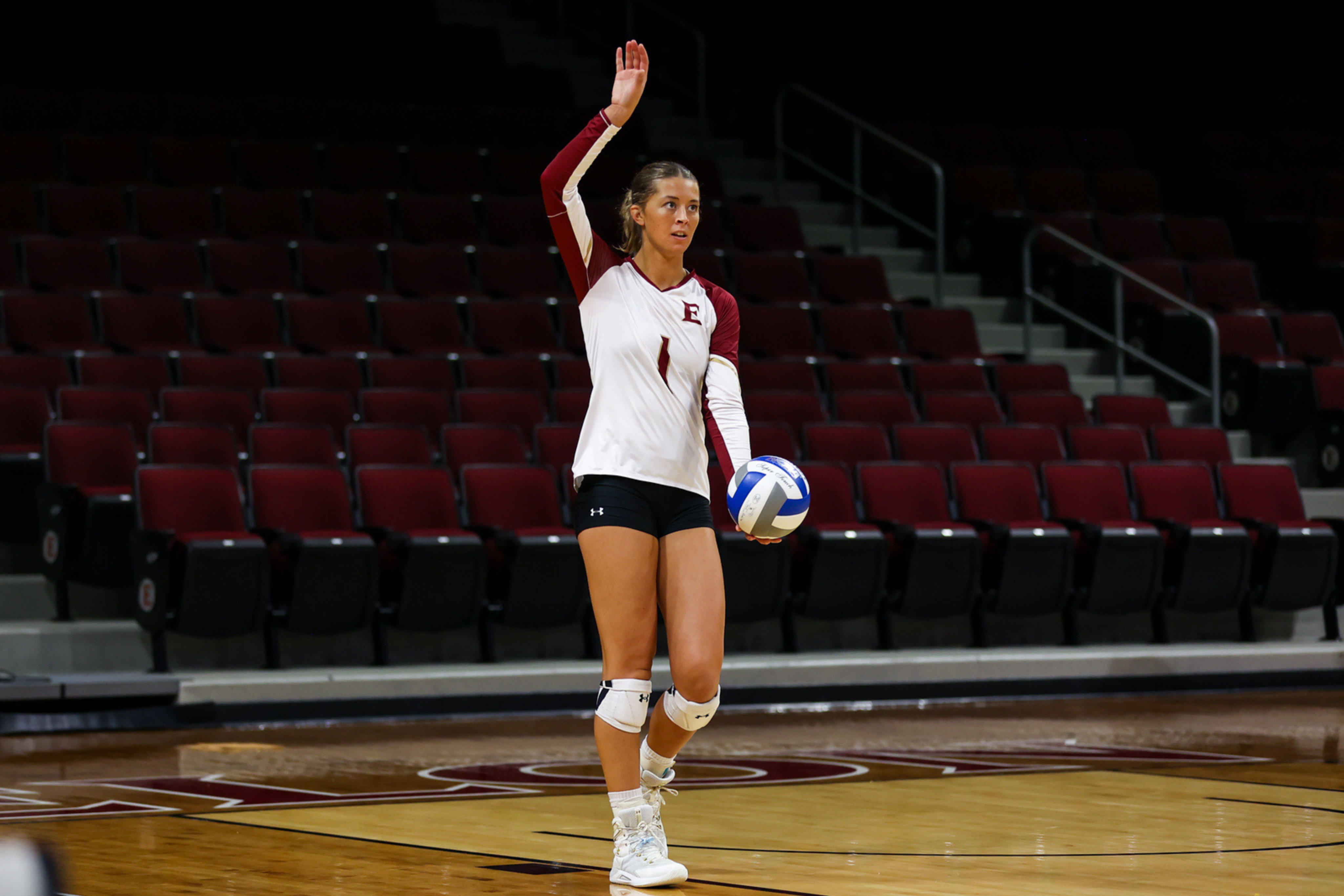 Best Sports Moment
Leah Daniel Breaks Scoring Record
By Jacob Kisamore
After senior Leah Daniel delivered her 10th kill against Towson University on Oct. 15, she began walking to the back of the court to serve and begin the next point. While Daniel did not realize at the moment the significance of the kill, she quickly figured out what she had accomplished as a celebration began inside Schar Center.
Daniel's 10th kill of the match was also the 1,462nd kill of her five-year career, which set a new school record for career kills at Elon. The previous record of 1,461 was previously held by Velma Degree '94.
As the public address announcer and video boards notified the crowd of the record, Daniel first shared a hug with head coach Mary Tendler before taking a moment to celebrate with her teammates on court.
"When I recognized it, my first thought was running up to my teammates and telling them thank you," Daniel said. "They've been there supporting me the whole entire journey. Even the people that have only been here for a year have pushed me on and off the court. I really couldn't have done it without the people I played with in the past or the people I played with now."
However, the celebration was short lived, as Daniel's record-breaking kill came in the third set of Elon's match against Towson, who entered the match as one of two remaining undefeated teams in the country. The Phoenix went on to win in five sets to hand the Tigers their only loss of the regular season.
For Daniel, breaking the long-standing record at home in such an important match made the achievement even more special.
"It was kind of surreal to have it happen during this game and to have us win," Daniel said. "It was just a very memorable night all around."
Mason Willett contributed to the reporting of this article.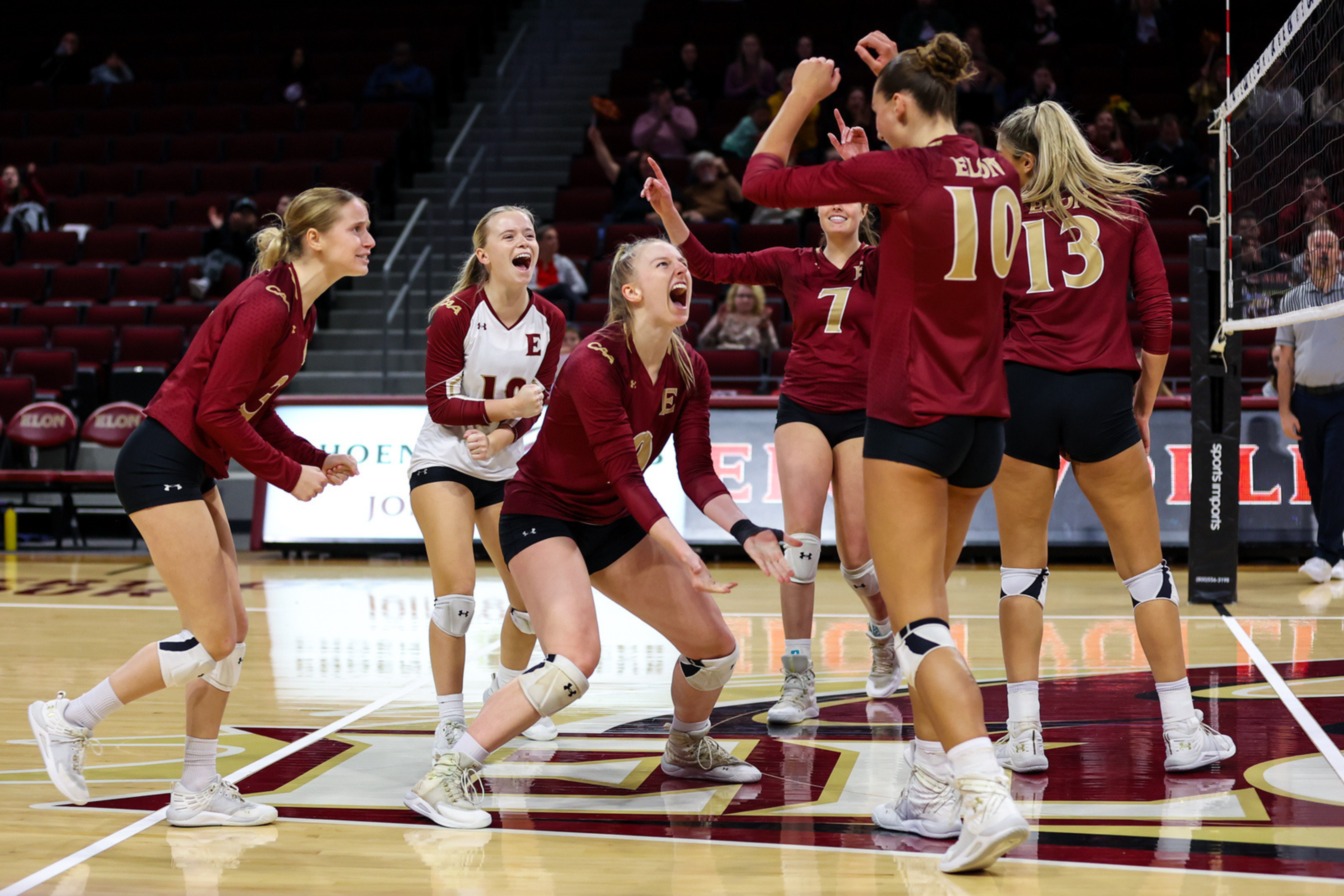 Best Women's Varsity Sport
Volleyball
By Sydney Spencer | Sports Editor
With a record breaking season for star athlete senior Leah Daniel as she became the Elon all-time kill leader with 1,619, and a regular season record of 13-13, Elon University volleyball was named "Best Women's Varsity Sport" by the Elon community.
Defensive specialist senior Alex VanWestrienen was excited and honored to have the program be noticed by the community.
"It's really cool that all of our hard work has been translating not only on the court but off the court," VanWestrienen said.
Over her past four years at Elon, VanWestrienen said she has noticed many improvements in the program. This season, the team was the No. 5 seed in the Colonial Athletic Association Championship Tournament, as it battled Northeastern, ultimately losing in four sets.
"We've really been working to rewrite the program because even just five years ago, we were not seen as a super competitive program within the CAA," VanWestrienen said. "So that's been our main goal with teammates and coaches."
VanWestrienen said that she noticed improvement when playing strong opponents, such as the five-set win against Towson on Oct. 15. This win marked Towson's only loss on the season.
"That was a huge win for us," VanWestrienen said. "We also played well against the big teams like Tennessee and NC State."
On top of their victories, VanWestrienen said that the team is extremely close, and that she is thankful for her coaches and teammates that help to inspire her daily.
"Something we talked about a lot this past year was playing every single game with a purpose and having a fighting spirit," VanWestrienen said. "Because when you're playing for something in your heart, you play so much better."
VanWestrienen said that although she is leaving, she is looking forward to seeing what is in store for the team's future.
"I think this team has incredible potential," VanWestrienen said. "And when we all come together and play as one cohesive unit, we're unstoppable."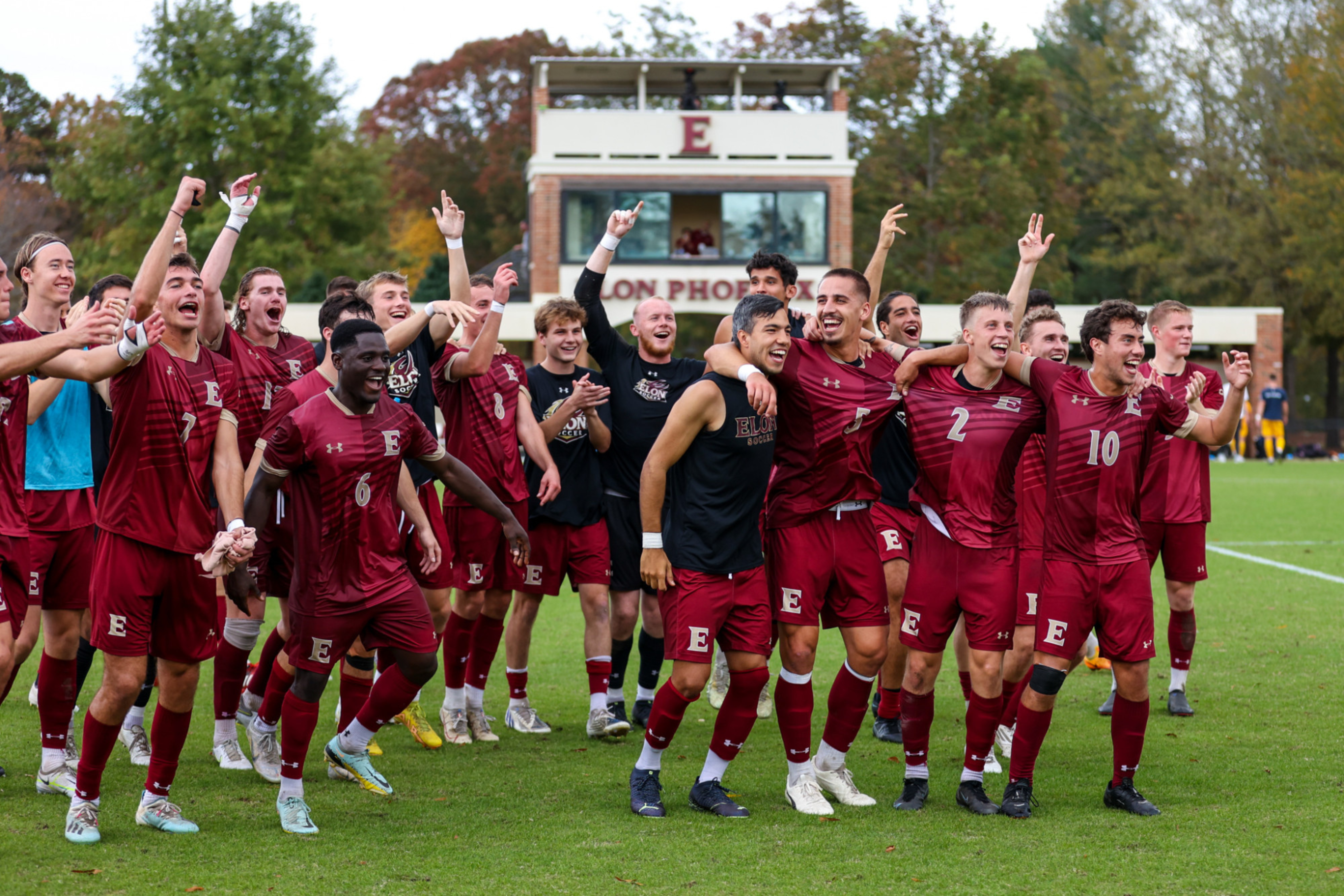 Best Men's Varsity Sport
Soccer
By Sydney Spencer | Sports Editor
After a record breaking regular season, winning the Colonial Athletic Association regular season title outright for the first time in program history, the Elon University men's soccer team was named "Best Men's Varsity Sport" by the Elon community.
Graduate student goalkeeper Ryan Bilichuk was a large part of the Phoenix's effort, posting a single-season school record 11 shutouts. Bilichuk said it was an honor to receive this recognition.
"Every time we go out on the pitch, we represent Elon," Bilichuk said. "The students, the faculty, the staff, employees, everyone. So to feel recognized by them is fantastic and motivates us to do even better next year.
After finishing the regular season with an overall record of 10-3-3, the Phoenix were unable to win the CAA championship title, losing to Hofstra University for the second year in a row by a score of 2-1.
Even with the loss, the Phoenix were able to secure an at-large bid to the NCAA tournament hosted at Rudd Field. Ultimately, the Phoenix were taken down by Marshall University 1-0.
Additionally, head coach Marc Reeves was named CAA coach of the year and senior defender Vemund Hole Vik was named CAA defensive player of the year. Seven Phoenix players were named to All-CAA teams, with Bilichuk being named to the All-CAA second team.
Of all these astounding moments, Bilichuk said his favorite was winning the CAA regular season title.
"The best moment I had this season was winning the regular season conference and lifting the trophy," Bilichuk said.
Bilichuk said he is optimistic about the future for the team and looking forward to next season.
"We have set the standard this season and plan to build upon that and accomplish even more next season," Bilichuk said. "With the support from the school and the fans, we are more motivated than ever."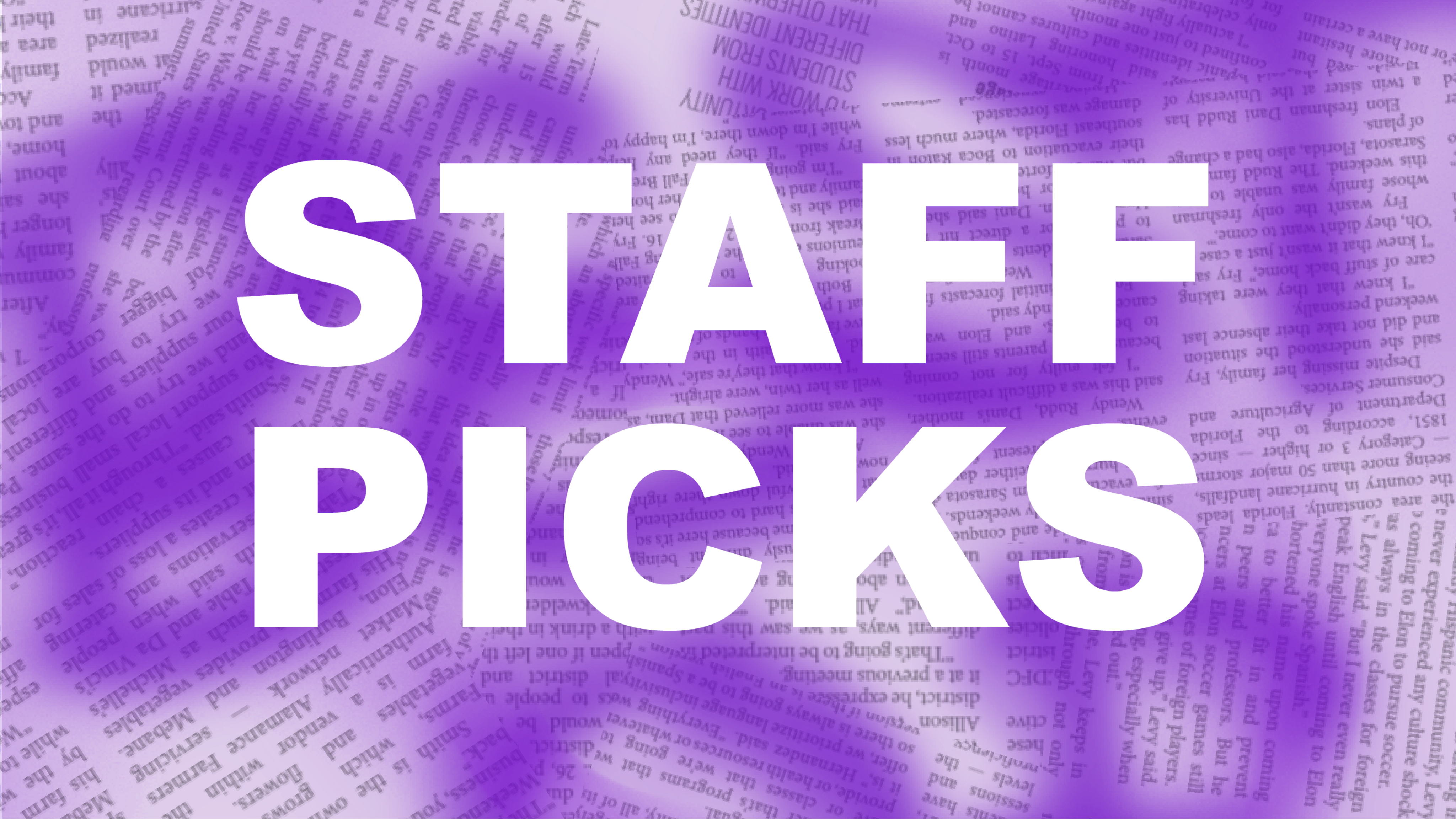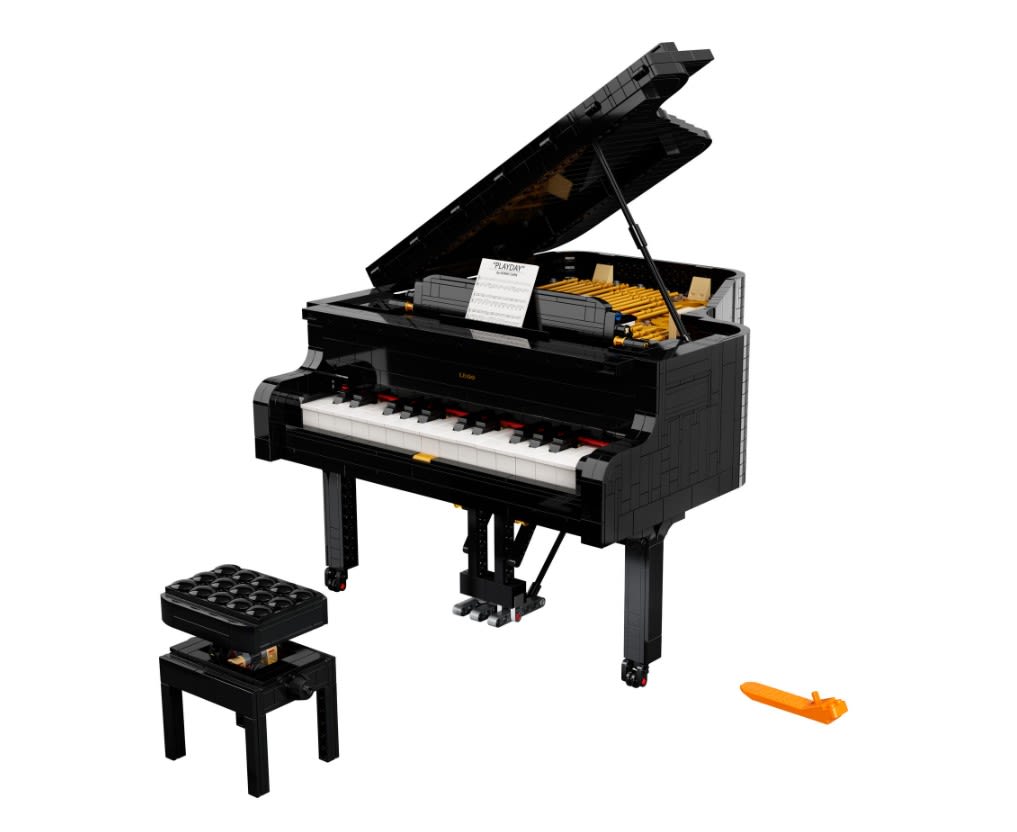 Best Lego Set
LEGO Grand Piano - SET #21323
By Erin Martin | Executive Producer of ENN On Air
The detail, size and parts are just some of the reasons why I think LEGO Set 21323, LEGO Ideas Grand Piano model kit, is the best LEGO set. The set was released on Aug. 1, 2020, and since then has become a very popular set with an average rating of 4.4 out of 5 stars on the LEGO website.
If you are looking for a sleek, detailed, brick-built, grand piano that you can play then this is the set for you. With 3,662 pieces, the Grand Piano will take around 2 hours to build. Once built the piano and its mechanisms can be used. All of the keys can be pushed, open the top and the pedal moves. The piano with the use of an included motor and the LEGO Powered Up App will allow additional functionality such as the option to play a song of your choice.
This set however is different from other sets because it was designed by someone outside of the LEGO Group. The set was created by Donny Chen, a musician and piano teacher from Melbourne, Australia. Chen wanted to build a functional model to explain how a piano works to his students.
He designed and created the set through the LEGO Ideas process, where anyone can create a LEGO set and,if the idea receives 10,000 supporters, LEGO will consider making it an official set. As of 2022, more than 35,000 project concepts have been submitted to the LEGO Ideas process with around 30 becoming actual LEGO sets.
The set is on the larger side of LEGO sets and measures at 8.5 inches tall, 12 inches wide and 13.5 inches deep. Due to the size of the set, it costs $399.99 but considering how many pieces are included, this set is priced well.
This set includes 3,662 pieces, which equates to around a 10 cent per piece price. This is a pretty standard price per piece, with the best LEGO sets being around 6 cents and the most expensive being around 14 cents. Considering the price per piece and the functionality of the set once built I would consider the pricing fair.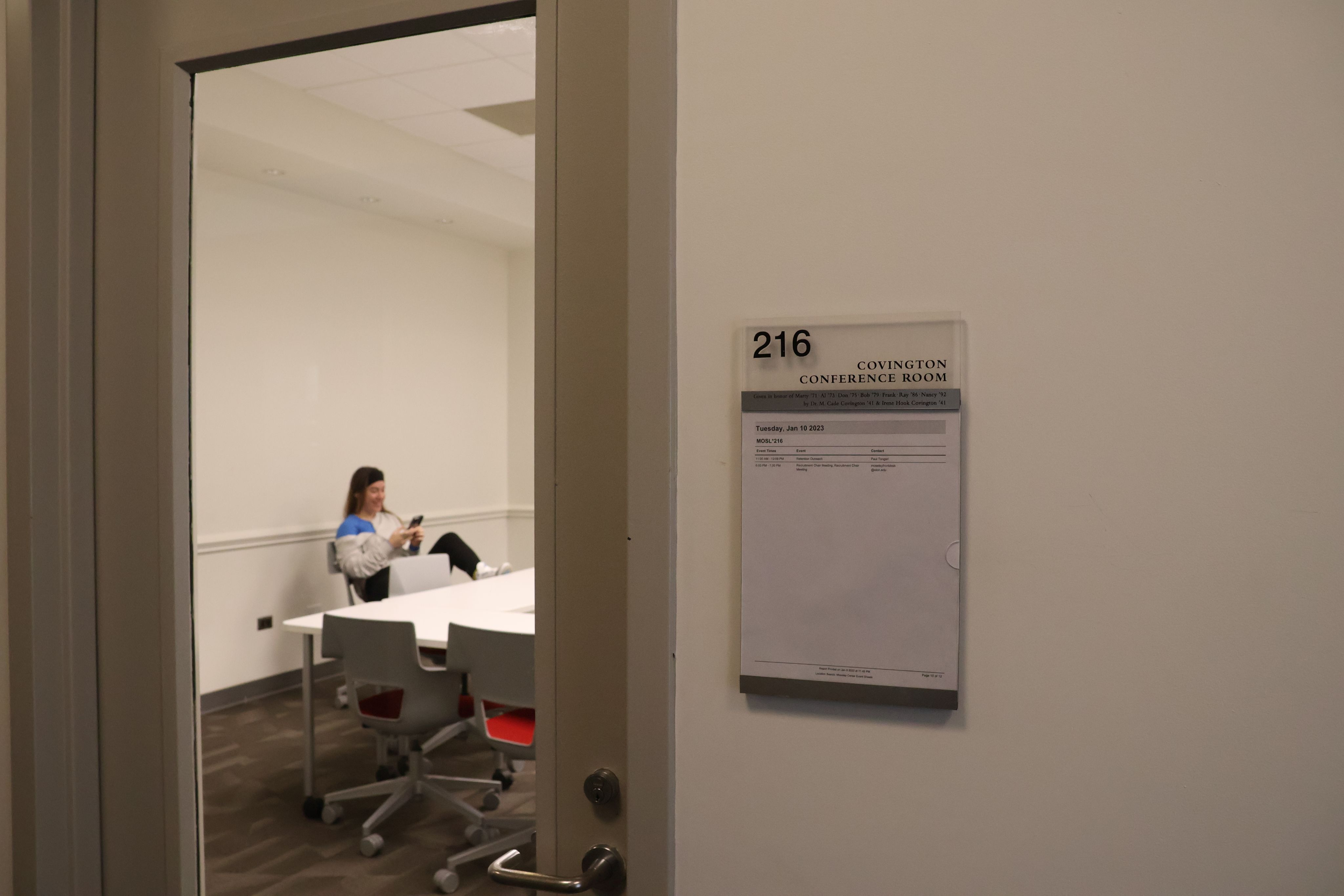 Best Moseley Center
Upstairs Study Rooms
By Avery Sloan | Politics Editor
Finding a place in a study in a campus with 6,337 undergraduate students, seems like it shouldn't be too daunting of a task. However if you don't know where to look, especially during midterms or finals, it can be difficult.
As a recent hire of the Moseley Student Center, where I spend my time at the front desk, I have found many of the resources in Moseley provided to students appear to be underutilized. Besides a handful of students who frequent the front desk to check out games, the ping pong paddles, billiards set, nintendo switch and other games stay behind the desk more than I anticipated.
However, I think the biggest hidden gems of Moseley are located upstairs. With six conference rooms, it is hard to find a time when there isn't at least one room available. While navigating upstairs Moseley can feel like walking through a maze if you are unfamiliar with the connecting hallways and multiple staircases, it would be challenging to actually get lost as it is not too large of a space.
The Moseley Center is also open most weeknights until 1 a.m., an hour that gives students a generous amount of time to study or spend time in the conference rooms, but also helps give students like me who tend to wait until the last minute, a very clear cut off time.
This year I have found living in an apartment, after my classes are done for the day it is easy to go back to where I live and not return to campus to get work done. However, a short walk and change in environment is sometimes exactly what I need to complete my work. With a close to guaranteed access to a conference room, upstairs Moseley has saved me multiple times when I need a place to go to concentrate.